By default, the basic autopilot settings are displayed for convenience
Below is an inscription on the state of market activity
and trade permits: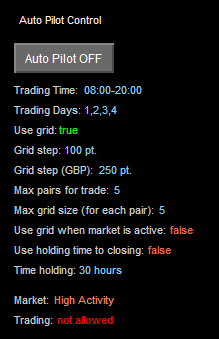 (Using the 28x5 activity matrix monitor, a simple calculation of activity is made and displayed
4 market activity states: Low Activity, Medium Activity, High Activity, Very High Activity)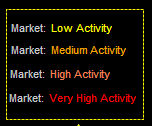 Simple inscription of permission for trading is displayed:


you can change the setting to show or hide the panel: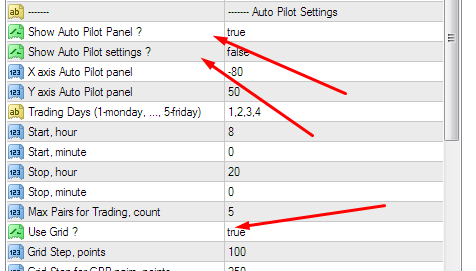 note that the averaging system is separate from the autopilot system, and if you hide the autopilot panel, select Use Grid ? = FALSE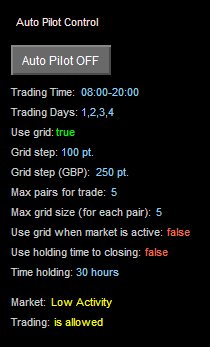 minimize:

=======================================================================
Settings:

Autopilot Display Settings
Panel position setting

week trading:
1 - Monday
2 - Tuesday
3 - Wednesday
4 - Thursdays
5 - Friday

(numbers of the day with any separator or even without separator, example: 123 1,2,3,5 1/2/3/4)


trade start/stop time (hour, minute)
order grid usage
Grid step for different pairs (adjustment):
with a high and very high market activity grid of orders is not used
Holding positions in the market in hours from the moment of their opening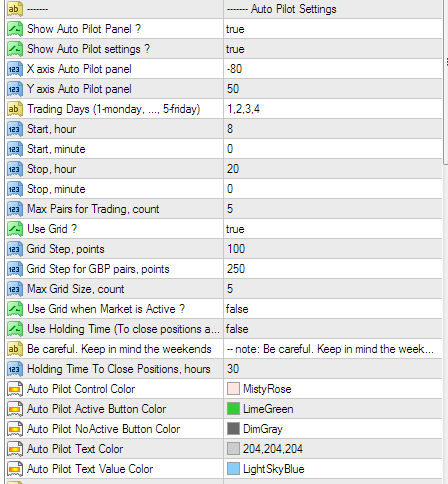 ===========================================================================
The use of manual trading or an autopilot system for daily work:
1) Every morning we first check the market activity
If the activity is low or medium, we wait for the signal by signals indicator
If in the morning the market activity is high, then on this day we do not trade
If there's any strong news for today, we're not trading that day.
2) When signals appear, we check the market condition again and trade in the direction of signals
the signal indicator is looking for reversals, and we trade in a calm market, in fact, we have a wide flat.
Therefore, either the price will be reversed immediately, or it will go against us, but at the same time, in a calm market,
the price should return to the level where, theoretically, there should have been a reversal (or should have come close to it)
** " I try to close all the deals on the same day
Rule, if we have not closed a profit trade (our average per day) within 3-5 hours
and the price goes against us, we build a grid of orders that is not recommended to hold for more than 24 hours
(because we don't know the future)
Depending on the pair we use different grid steps, for example, for pairs with GBP it is noticed that in wide
Flat can have long price movements, so the step is wider
We use the order network in a relatively quiet market (Low, Medium Activity)
Drawdowns are possible, but statistically the price should return to the reversal level, and we have a high probability
close a profit deals
If the market becomes active and we have open positions, we do not open new deals until
in the work of previously opened transactions
In general, it is desirable to limit the number of open positions, taking into account that you will need to use order grid. Take 3-4 pairs (up to 5) and use a grid with 5 positions per symbol.
If we have previously opened positions and the market becomes active, it is necessary to increase the order network step,
Limit the number of open positions
In any case, it is not recommended to hold the order grid for more than 24 hours
=============================================================================
The autopilot works according to the same algorithm, but it is important for a trader to understand how to trade manually, i.e.
know the strategy, because the autopilot function only removes the responsibility of a person to monitor manually with signals that sometimes require a quick response
==================================
opening conditions
If the autopilot is On
If the current time is within the specified time limits
If you're allowed to trade on that day
If the market with low or medium activity
If there are no open orders for the symbol
If there is a signal from the signal indicator
If the spread by symbol is within the maximum
The expert opens a deal
then closing manually or according to conditions:
Trailing, by time, basket of orders by profit/loss - automatically)
=============================================================
the autopilot system and the averaging system operate separately
If the use of the order grid is enabled (Use Grid = true), the Expert Advisor will build a grid even with the autopilot disabled
A grid of orders is built only if the market is low or medium activity, otherwise, if the grid is allowed in the active market (Use Grid when Market is Active = true), the Expert Advisor will build a grid in the active market
In any case, it is not recommended to hold the grid of orders for more than 24 hours
=====================================================================================
1). https://www.mql5.com/en/market/product/43194#!tab=comments
2). https://www.mql5.com/en/market/product/43353#!tab=comments
3). https://www.mql5.com/en/market/product/43923#!tab=comments