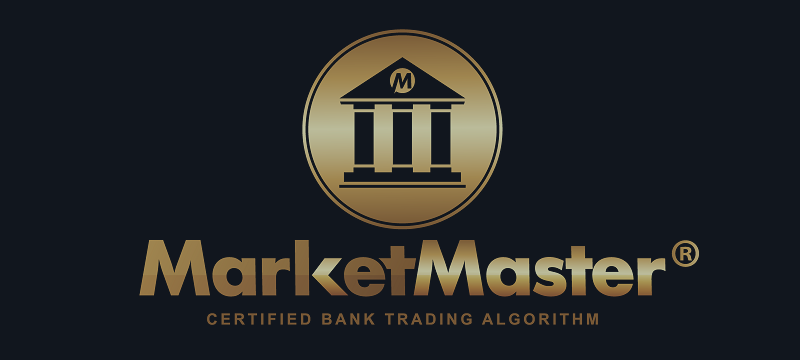 Since there is a character limit on the description page of the product control panel, I have shifted the more in-depth explanation of how MarketMaster® works into this blog post. Don't be shy to shoot me a PM if there are any questions left.
Benefits & Features:

You get access to a tried-and-tested bank trading algorithm that I have developed and officially registered with the Patent and Trademark Office.
Have in-depth knowledge at any time of what the EA is doing. Before MarketMaster® executes any trade based on the data it has collected, filtered and prioritized, it always verifies and confirms its data with a whole range of secure and historically proven indicators (two stochastic oscillators for double confirmation, then checks RSI, moves on to Momentum and finally Alligator before accepting/rejecting a trade opportunity). Thanks to the optimized AI, all of these intelligent background checks happen in 0.96ms on average.
Have peace of mind, knowing that the EA will act swiftly during a market reversal. If you have an open long/short position and the EA gathers enough data that suggests a market reversal, your position will be closed out and MarketMaster® will either open a position opposite to your previous one, or refrain from trading by strategically waiting for a profitable low-risk opportunity. This is essentially how the AI cuts losses short, while maximizing profits.
Be one of the few privileged owners of a strategy that has been tested with out-of-sample datasets and is thus foolproof in random market environments. Never be tricked again by artificial tick modelling. Read my blog post about proper backtesting to find out why so many traders burn their fingers after buying EAs based alone on Metatrader backtesting results.
Safe trading in both bullish and bearish periods, thanks to a state-of-the-art recession-proof algorithm. The EA's algorithm simply adjusts its parameters to the current market condition.
Sleep well at night, knowing that the EA doesn't open trades that do not qualify its low-risk-high-return acceptance profile. No more margin calls thanks to an integrated AI-driven drawdown management.
Never worry about account blow-ups anymore. MarketMaster® doesn't play around with your money and has an ironclad anti-averaging algorithm hardcoded into it.
Have a competitive edge over other traders. MarketMaster® collects in real-time critical information of the FX market from a diverse range of data pools. It then filters and constructs a data aggregate, based on a thoroughly researched mathematical formula, and makes rapid background calculations to find the best entry prices and TP/SL levels. That way you're trading with smart money instead of against it. Lacking this crucial feature is the #1 reason so many traders lose money in the first place.
MarketMaster® has only one downside: I have programmed and finetuned a trading system that employs a long-term strategy, focusing on gradually and safely accumulating your invested capital. This however limits the amount of experimentation you can do by changing the indicator settings. It is therefore recommended to leave the indicator parameters untouched for best results.
Never be afraid of unpredictable, news-induced market volatility anymore. You get a top-tier, fully customizable news filter that you can change according to your personal risk profile. Suspend trading before and after high or medium impact news to be on the safe side.
Optimization-based updates and revisions of the AI are unnecessary, due to the fact that the AI learns from past mistakes and evolves into a more intelligent automated trader over time. This feature is industry-standard and especially used by high-frequency trading funds...something you'll have right at your fingertips.
Personal, unconditional lifetime support 24/7. Contact me anytime via mail or send me a PM right here on MQL5 and I'll personally answer all of your questions about this product or any issues you have. Know all the ins-and-outs before you invest a single dollar into this EA! Customer happiness is my first priority!