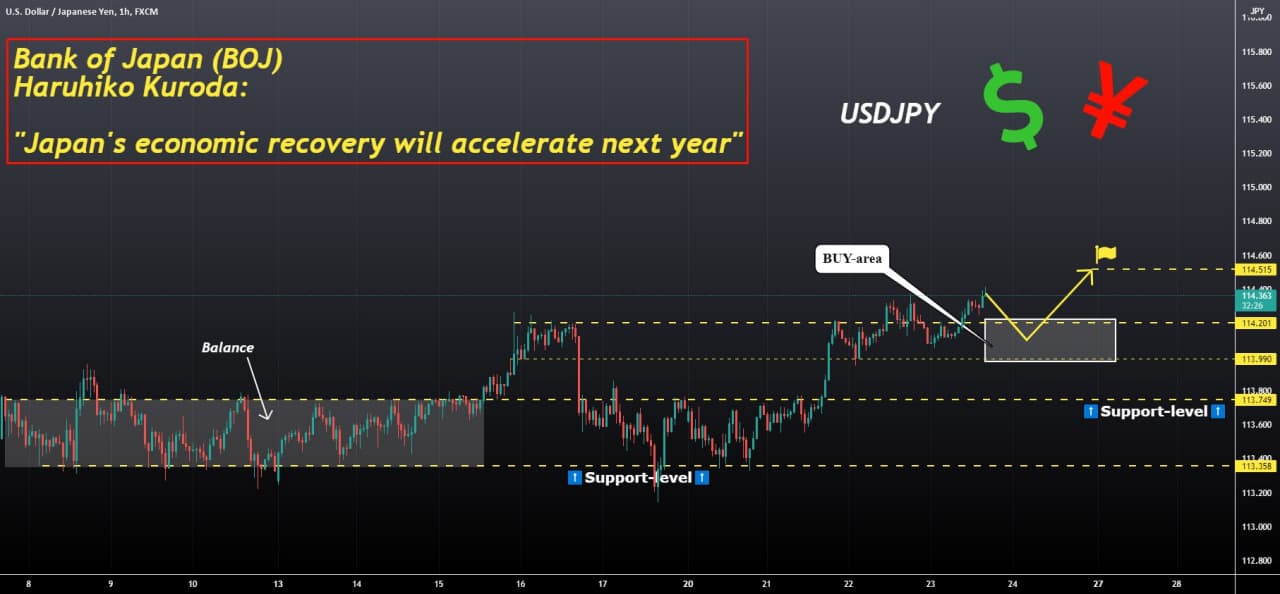 ➡️ Japanese Prime Minister Fumio Kishida said today that he hopes the Bank of Japan will continue to pursue its inflation target of 2% based on the understanding set out in a 2013 joint statement with the Japanese government. Also today, the Governor of the Bank of Japan Kuroda gave an interview, and he has said, "Japan's economic recovery will accelerate next year."

The US dollar, against the background of such statements against the Japanese yen, has grown nevertheless. Perhaps in the long term, the yen will be stronger, but I think that the Japanese are very accustomed to the weak yen, as it promotes their export.

At the moment, you can consider buying a currency pair. This area is indicated on the chart. The growth target is the level 114.515. The price may close up to 113.990 and start the supposed small growth from there.


Thanks for your comments and likes 👍
👇 FIND ME 👇
🚀Link to copy My Signals 👉 💰 TradePlus Forex Signals 💰 👈

Link to My Telegram channel 👉 ☑️ TradePlus ☑️ 👈

Link to My Twitter 👉 📨 Viktor_Vladzimirovich 📨 👈
🏆Link to Top Broker 👉 📈 IC Markets 📈 👈
🔥 LINKS TO PREVIOUS IDEAS AND FORECASTS 🔥