F.A.Q
With which broker the expert show the best results?
Here is trusted broker that I use myself and recommend to you!
🔴Recommended Broker
https://cutt.us/TCKML
Aura PRO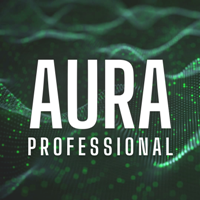 MT5 version https://www.mql5.com/en/market/product/72429
Aura Pro is a unique grid expert based on deep machine learning, hyperparameter search technology. In machine learning, hyperparameter optimization or tuning is the problem of choosing a set of optimal hyperparameters for a learning algorithm. A hyperparameter is a parameter whose value is used to control the learning process. By contrast, the values of other parameters (typically node weights) are learned. The same kind of machine learning model can require different constraints, weights or learning rates to generalize different data patterns. These measures are called hyperparameters, and have to be tuned so that the model can optimally solve the machine learning problem. Hyperparameter optimization finds a tuple of hyperparameters that yields an optimal model which minimizes a predefined loss function on given independent data.
Working symbols: eurusd, gbpusd, eurgbp, eurcad,usdcad, eurchf, gbpcad
Working Timeframe: H1
The recommended deposit of $ 1000 for each trading pair (or equivalent in cents)
Leverage 1:500 is required
Features:
Expert uses martingale and grid techniques

Not sensitive to broker conditions

Extensive customisation and optimisation options.

Easy to install
Settings:
Lot step - Automatic lot calculation volume
Balance step -

Automatic lot calculation step

Fix Lot (if 0 then Auto)

-

Fix lot
Time to Start Hour

-

Start hour to open trades
Time to Finish Hour

-

Start minute to open trades
Comments

-

Comments
Magic

-

Magic number
Step of LimitOrders points -

Grid step
Count of LimitOrders - Number of orders
Multiply Coefficient

- Martingale multiplier
Take Profit

-

Take Profit in points
MaxSpread -

Maximum spread parameter
Which VPS service is better to use?
Probably the most convenient VPS service is the one from MQL.
It's easy to use and you don't lose product activations when you use it. It's very convenient.
But the pricing policy is not the cheapest.
If you are looking for a classical VPS with a remote desktop, take a look at this alternative.
Link here
Why do EA trade differently with different brokers?
- Different Broker: 2 different brokers use different data sources, so they have different charts, so the EA may receive different signals
- Different Server: also in the same broker, if it have different server, the data could be different, so they have different charts, so the EA may receive different signals
Note, between mt4 and mt5 the server is always different
Note 2, between demo and real the server is always different
- Different insertion time and day: past trades, affect future trades, so put the EA on chart at different times, can affect next trades (For the first month)
Remember, Forex is OTC, there is no set price for a pair -> the price is made by the market and therefore can always vary, consequently each EA can have slightly different signals depending on the chart data
How to earn extra income from forex?
The best way to earn extra income from your Forex trading is to use a proven rebate service. Every day you make transactions in the forex market, and for each transaction you pay a commission or the broker's commission is already included in the spread. Imagine that 50 percent of your broker's commission comes back to you in the form of a cash charge. It seems like a small amount, but in fact it is a lot of money! I personally get up to $1,000 of rebate every month!
Forex Extra Income read here..

Other Experts
https://www.mql5.com/en/users/stanislav110685/seller
MQL Profile
https://www.mql5.com/en/users/stanislav110685
MQL Official channel
https://www.mql5.com/en/channels/fintex
Telegram Channel
Mail
fintexea@gmail.com