Explanation of the 24-hours live streaming: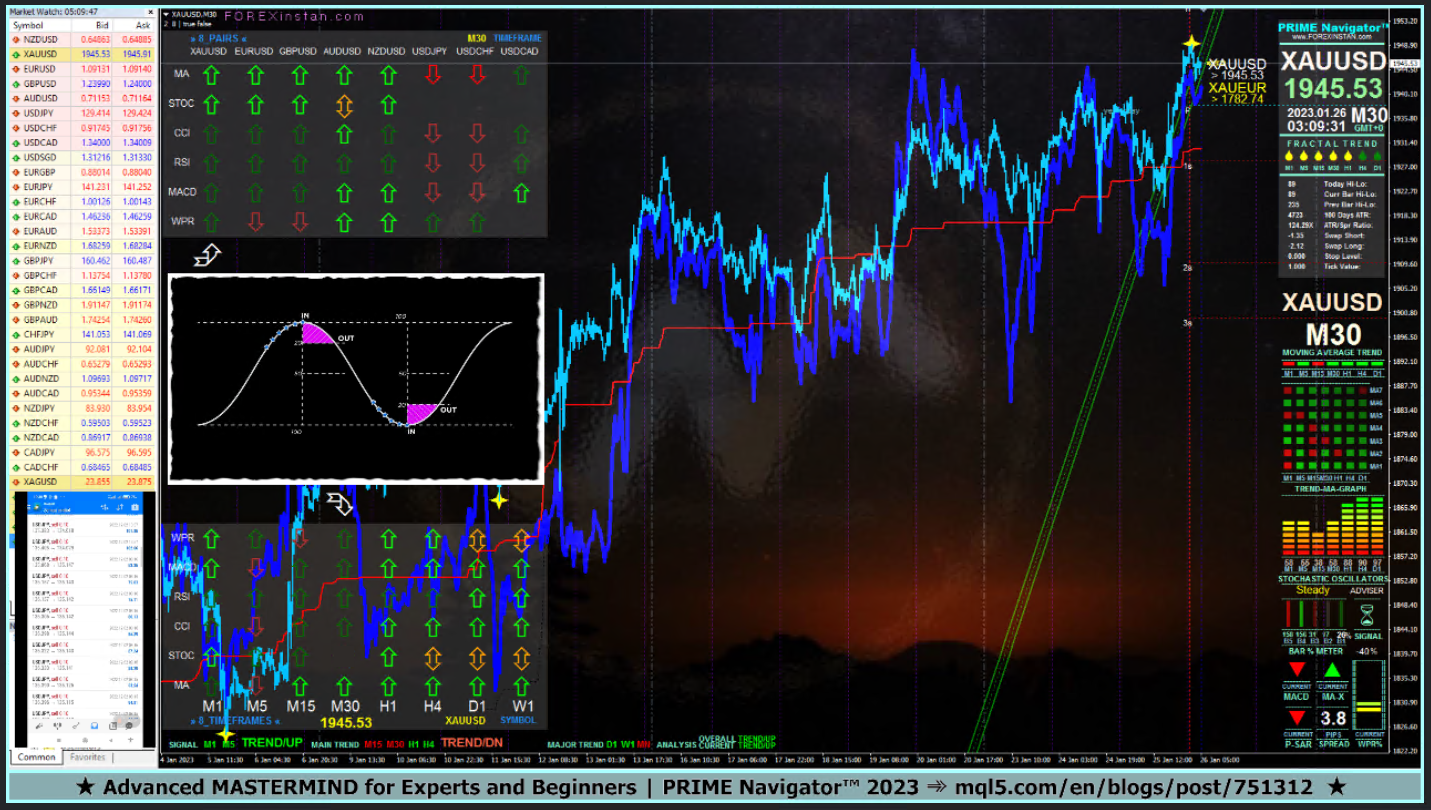 Screenshots of https://mql5.com/en/blogs/post/750911

[INDONESIAN] Bahasa Indonesia
Topik : "Mencermati Pergerakan GOLD Yang Sedang TREND; Bagaimana Cara Mendeteksi Pemicu Pembalikan [reversal]?!"
Halo & welcome member Indonesia, tips yang akan kami bagikan adalah cara mendeteksi GOLD dalam versi bahasa Indonesia.
Penjelasan kami di Blog : https://mql5.com/en/blogs/post/751554
dengan judul : "Detect World Currencies By Taking Advanted of World Gold Price Fluctuations, How?!"
Telah dapat kita temukan benang merah kekuatan dari GOLD dalam mengontrol fluktuasi mata uang di seluruh dunia bahkan di bursa keuangan pada umumnya. Hal ini tidak terlepas dari pandangan seluruh bangsa akan kegunaan GOLD sebagai bagian dari keseimbangan dan stabilitas negara mereka.
Mengawali tahun 2023, tampaknya GOLD sedang melakukan rally panjang dan terus naik. Kepastian TREND bisa didapatkan dari gabungan grafik yang seirama antara XAUUSD & XAUEUR [bisa juga dibandingkan dengan XAUGBP & XAUAUD]. Semuanya sedang seragam terhadap sebagian besar mata uang dunia.
Lalu bagaimana cara kita bisa mendeteksi trigger "REVERSAL" nya?
1. Perhatikan bahwa akan ada satu saat terjadi dorongan yang kuat ke atas [swing cepat].
2. Akan muncul sinyal-sinyal pembalikan sebagai kode kerjasama antar pembuat pasar dunia.
3. Sesudahnya cenderung akan SIDEWAYS, wait & see, sampai pada titik tertentu.
4. Jackpot dan kejutan besar akan terjadi berulang-ulang.
Pesan: Hati-hati, sebab fase REVERSAL, market akan menuju ke titik keseimbangannya.
Kabar baiknya, kami hadirkan sinyal-sinyal tersebut secara live stream 24 jam. Dan kami yakin, hanya dalam waktu 1 minggu saja sesudah Anda melakukan pengamatan dengan serius, maka minggu-minggu selanjutnya Anda bisa eksekusi trading dengan persaaan aman & terjamin serta bertanggung jawab dalam setiap keputusan. Bila sudah terbiasa silahkan dapatkan JACKPOT terus menerus.
If you need the information. We have broadcast non-stop & real-time on the blog below, please enjoy it for free: