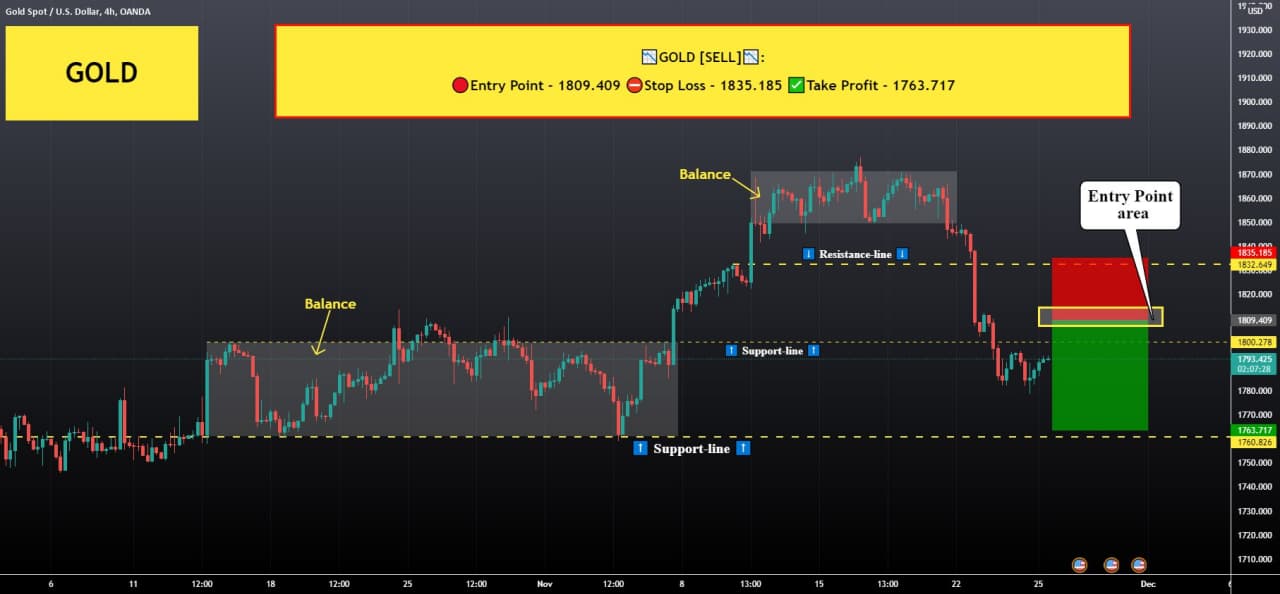 ➡️ Having dropped below the 1800$ level, GOLD has created fears among buyers that it may turn into a full-fledged downtrend. Already some analysts from reputable banks are talking about the formation of the top for this tool, thereby hinting at shorts. Only time can answer whether it is or not, but in one thing they are definitely right: the growth of real profitability in the United States will put pressure on non-profitable GOLD. Hereof their assumptions about the top in GOLD and the imminent rally down.

Technically, it is assumed that the price will approach another 1800$ level and even try to gain a foothold above it. The outcome of the fact that the price will be able to gain a foothold is unlikely, but if it does, then of course the sell scenario will be canceled.

The sell Entry Area itself, as always, is in front of you on the chart, as well as the entry parameters.

🔔 Proposed deal for this tool🔔:
🔴Entry Point - 1809.409
⛔️Stop Loss - 1835.185
✅Take Profit - 1763.717
Thanks for your comments and likes 👍
👇 FIND ME 👇
🚀Link to copy My Signals 👉 💰 TradePlus Forex Signals 💰 👈

Link to My Telegram channel 👉 ☑️ TradePlus ☑️ 👈

Link to My Twitter 👉 📨 Viktor_Vladzimirovich 📨 👈
🏆Link to Top Broker 👉 📈 IC Markets 📈 👈
🔥 LINKS TO PREVIOUS IDEAS AND FORECASTS 🔥