This is the user guide for 'MT4/MT5 to cTrader' Trade Copier EA.
This trade copier for 'MT4/MT5 -> cTrader ' consists of two parts:
1 Trade signal EA as you purchased from MetaQuotes Market.
(a) MT5 purchase link and MT4 purchase link
(b) Evaluation copy can be found at the bottom of this blog that is *limited* to USDJPY trade copy only.
PS. if you're looking for 'cTrader->MT4/MT5' copier, that's another product suite. please check MT4 link or MT5 link there.
2 Trade copier cBot at cTrader

Please download the .algo file of 'MTCTCopier' cBot from here
If any question, you could send message at my profile page or telegram.
Operation Instructions:
1. Start up cTrader first and then double click this MTCTCopier.algo file. cTrader will prompt an install popup as below. Click 'yes'.

2. Please use a demo account for hands-on first.
Select 'Trade' tab at ctrader and then open any chart to attch this copier bot. Do not select 'automate' tab that is for backtest.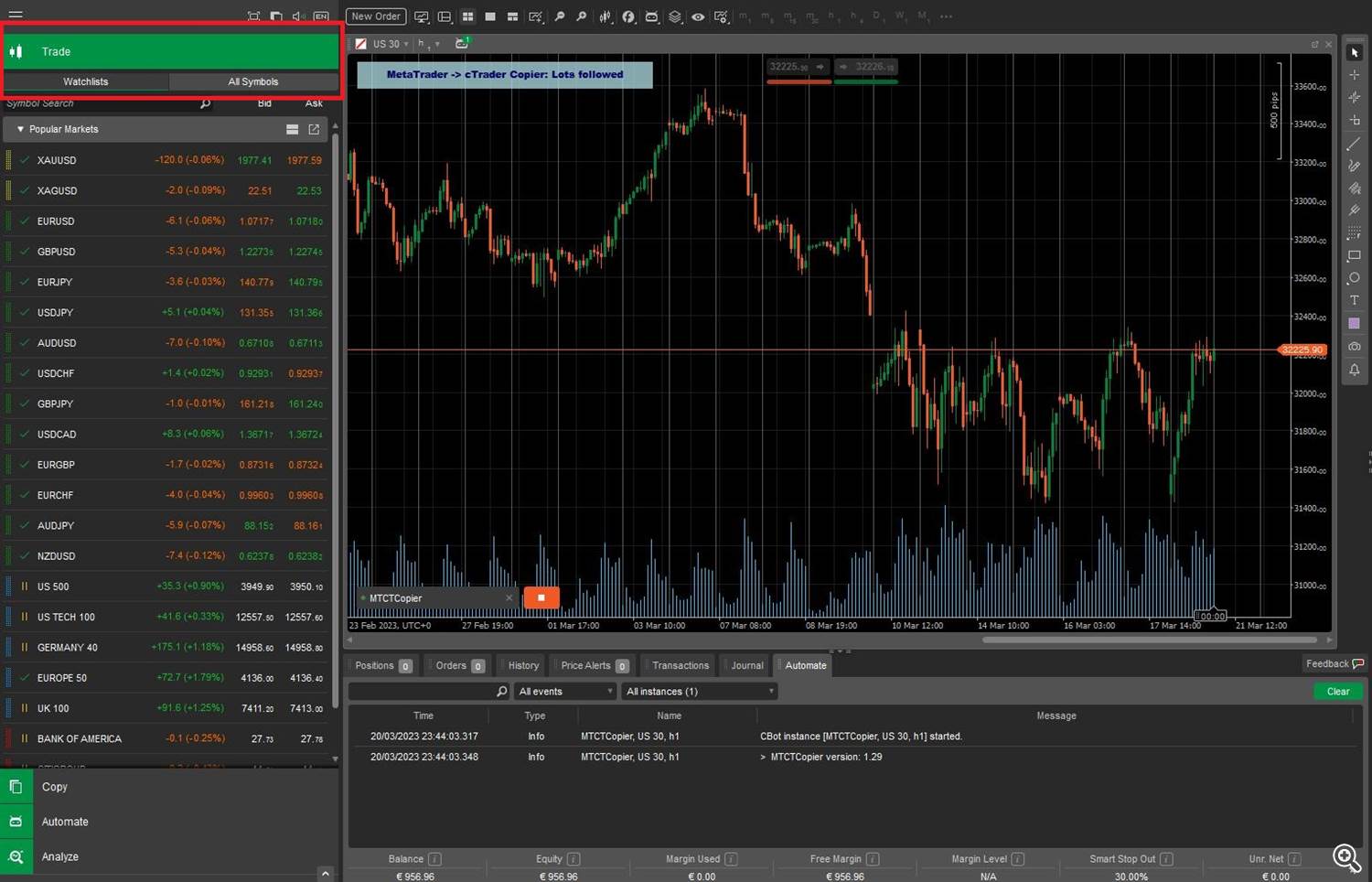 3. At cTrader menu, select "MTCTCopier' from cBot list:
cTrade will pop up a window asking if you want to allow file access for this copier cBot.
Please click yes - as this copier will use MetaQuotes standard file transfer method to interchange the secured data with MT4/MT5 order transmit EA.
Please ONLY attach this copier to ONE chart. It will cover all symbol copies.
In case you need and enable 'Copy Group ID String' feature, it is required to attach to another chart to form a new copy pair.
4. At MT4/MT5 side, attach the signal EA to chart: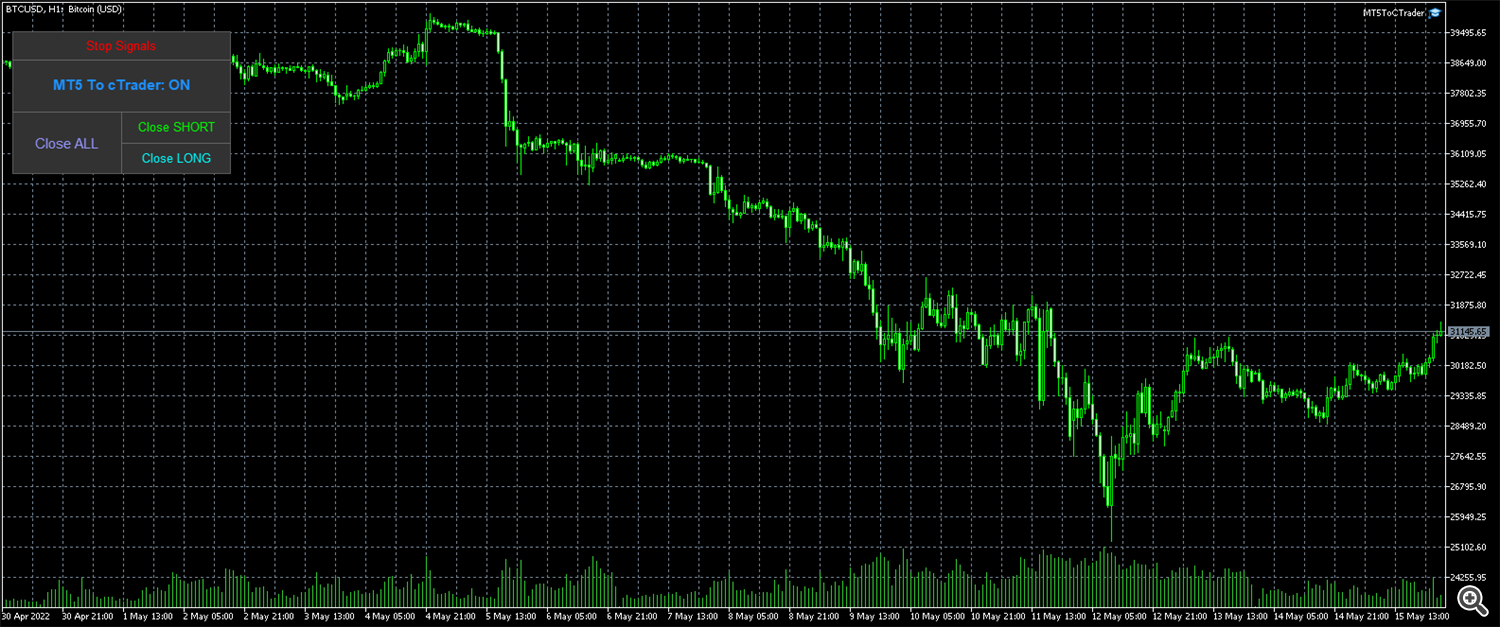 5. Back to cTrader.
Besides setting signal lot adjustment at mt4/mt5 side, you could select the copy lot mode at cTrader side as well.
There're 5 lot modes: follow metatrader signal lot, fixed lot, equity-to-equity, percent per account balance, percent per account equity.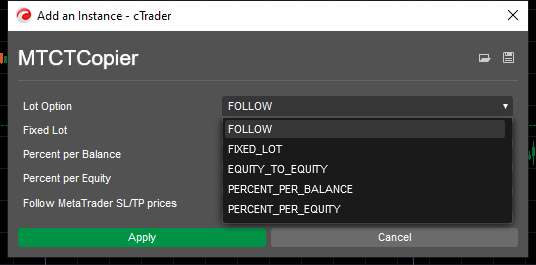 * also have 'lot multiplier' option, that will apply on the lot result of all of above lot selection.
Click the blue start button next to MTCTCopier cBot text to get it started.

6. You could make some new order entries or closes at MT4/MT5 side and check the copy progress at the cBot log window of cTrader: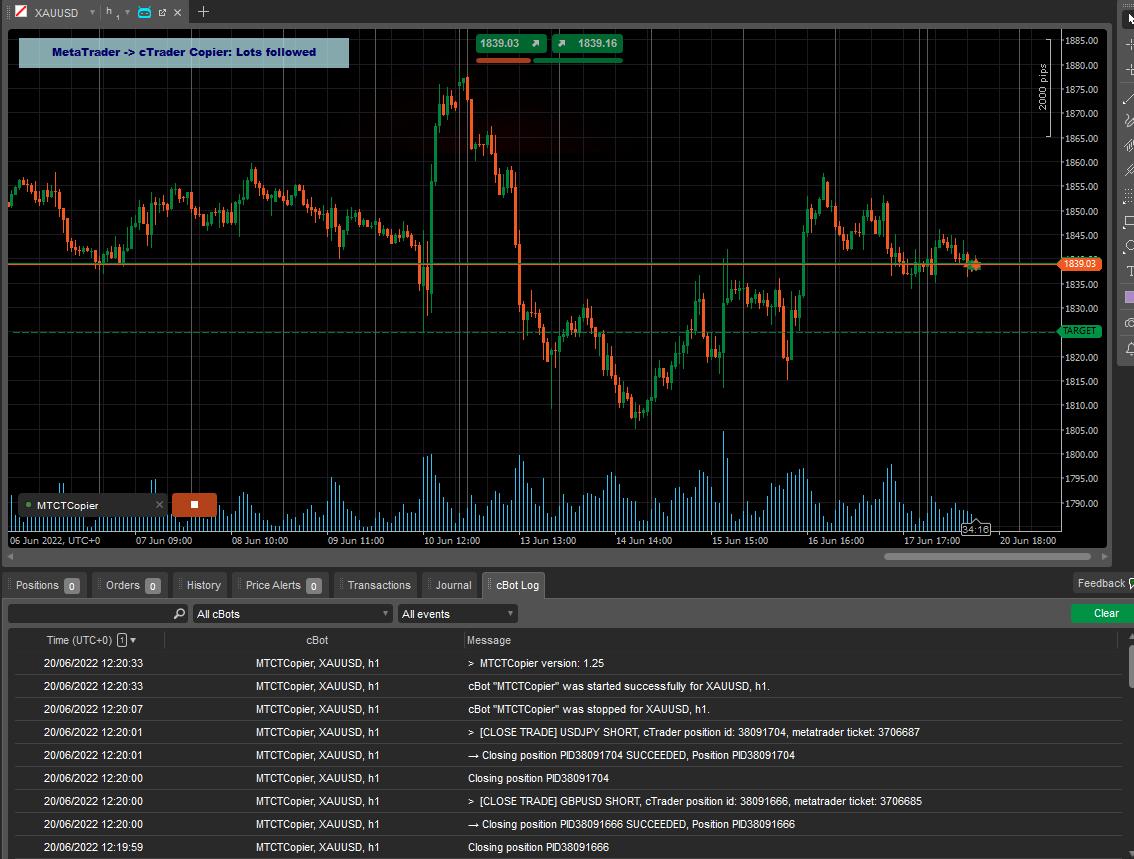 7. For some trade copy scenario, you would need to adjust MT4/MT5 trade signal transmit utility EA settings. For details, please refer to the product purchase pages.
8. If you have two more MT4 inside one computer to send trade signals to cTrader(s), you could set 'Copy group id string' variable (e.g. ABCD, LONDON, INST) at MT4 signal EA. At cTrader side, set the same string texts at cTrader Copier's 'Copy group id string' as well. Then this MT4 and cTrader will become a specific copy pair.
If your cTrader copier was downloaded earlier than Jul/14/2023, please update to Copier version v1.35 or higher to support this. cTrader Copier download link is listed above.