In the four-hour chart, the daily pivot point for the pair below the re-moving averages is 1.1320, while gains can be traced as resistance levels of 1.1335 - 1.1345 - 1.1357. Supports of 1.1307 - 1.1299 - 1.1285 may be on the agenda.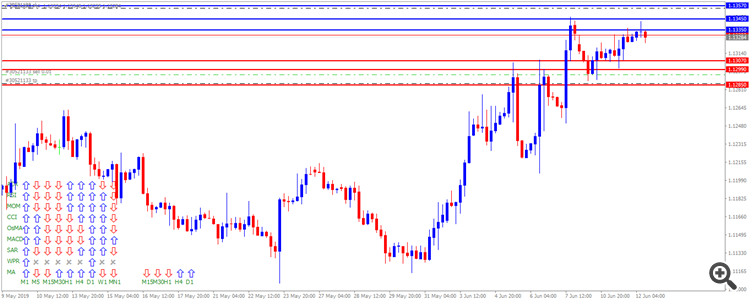 Euro Front Earns Value / 1.1345 Significant Resistance Level / Daily Change 0.13%

On US stock exchanges, the Dow Jones Index is down 0.05% to 26.048 points, the S&P 500 Index is down 2.83 points, and the Nasdaq Index is down 0.01 percent to 7.822 points.
US President Trump said he had put the unfinished trade agreement with China personally on hold unless Beijing returned to the negotiated terms at the beginning of the year. US President Trump said in a statement: benim I am the one holding the deal right now. We will either make a perfect deal with China or make no agreement. "
US President Trump said that in addition to the ridiculous monetary tightening of Fed interest rates, Trump said that the euro and other currencies were devalued against the US Dollar, which put the US at a disadvantage. Trump said inflation in the US was very low and "that's a very good thing".
Producer prices in the US also rose in the second month. PPI increased by 0.1% in May 2019, while PPI increased by 0.2% in April 2019. PPI increased by 1.8% in May 2019 after increasing 2.2% year-on-year in April 2019. Expectation was 0.1% monthly and 2% annual increase. PPI excluding food and energy increased by 0.2% and 2.3% year-on-year in line with expectations. The stable rise in producer prices supports the Fed's view that the weak inflation outlook is temporary.
In the UK, the labor market performed better than projections in April 2019. Employment growth in the UK was 32,000 in February - April 2014, exceeding forecasts, while unemployment rate fell 3.8% to 44 years.
US Markets
Return vs CPI
- Core CPI
- Crude Oil Stocks
-Federal Budget Balance
In the Euro Area
-AMB President Draghi's Speech
Google translation was used!