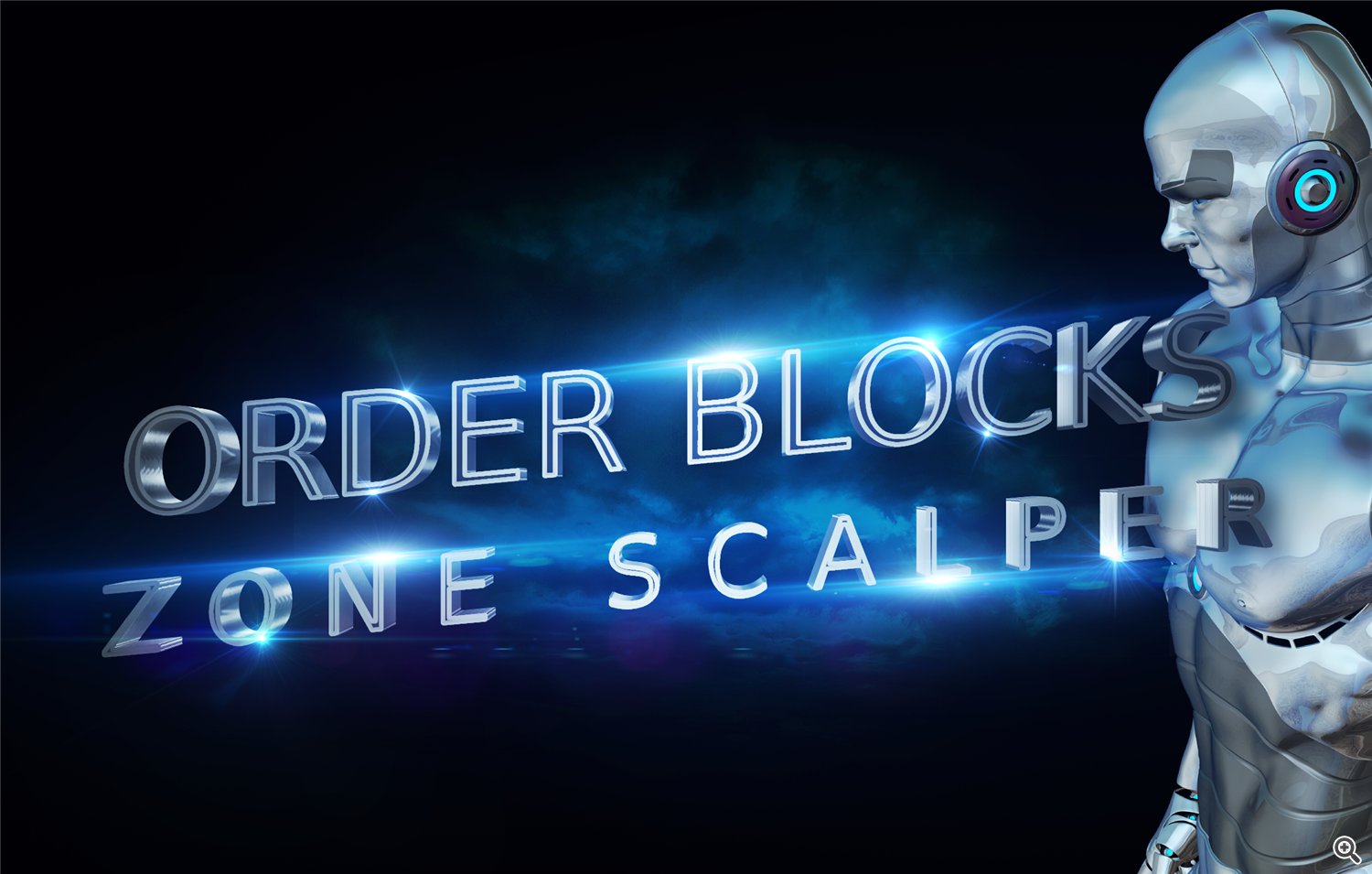 Hello and welcome to my guide about the expert advisor Order Blocks Zone Scalper.
This EA is dedicated to all people who likes order blocks trading but donnot have the time to stare at the charts every day or the discipline to follow a trading strategy. Order Blocks Zone Scalper is also for everyone who likes to experiment and optimize parameters on their own. If you belong to this type of people, it is your lucky day as I decided to keep all EA parameters available to you, so that you can optimize the EA to your own taste ;)
Trading and EAs experience

Before jumping into the core of this EA, let me first share with you my thoughs and experience with trading and EAs.
My trading career started 10 years ago. I studied like crazy, read plenty of books, manually tested many strategies and kind of managed to make it work with my demo trading account. However, at the moment of truth I ended up losing quite a lot of money. At that point, I decided to take advance of my experience as automation developer and started coding many of those strategies and backtesting them over long periods of time. Why? you might ask. Even during backtesting we are exposed to our own subjectivity and end up getting some trades and unconsciously ignoring others. And what can best follow some step by step rules with 100% objectivity? You got it right! a computer. I just had to tell the computer what I wanted to do and it would follow it step by step without hesitating.
I have tested and created many EAs during all these years, and I always faced the same issues: what works during one market period, doesn't work for another; what seems really stable in one trading pair has completely unexpected performance in a different one; what delivers huge profits during some market phases ends up blowing your account the next few opperations... I even tested strategies that were working and they were definetely not making any profits in the long run! Does it sound familiar? You might have even experience this in manual trading as well.
Now, you might be asking yourself: do you mean trading is a pantomime? do you mean there are no profitable strategies out there? NO, trading is not a pantomime, there are profitable strategies and there are also profitable EAs. And not only that, you can even be profitable with bad strategies and bad EAs!
OK, but how? Thanks to your 'intuition'. Using your experience, or the 'intuition' coming out of years of experience. You have to be patience and observe the market, avoid trading or using EAs in bad periods, do not take unnecesary risks in order to not lose a single day of winnings. If you manege to avoid losses during bad periods, you will highly boost your profits in the long run.
I want make you aware of the point that EAs are a tool! They follow the steps without hesitating based on the inputs you fed in. This comes along with some huge advantages, you can optimize the inputs you feed in to a specific period and market situation based on the latests months or in similar periods in the past, and besides that, using an EA is less complicated, less time consuming and require less self-discipline to follow a strategy. Nevertheless, as with any tool, it requires some practice, know-how and experience to use it. Holding a hammer and some nails, does not make you a carpenter!
If this did not discourage you I am happy to introduce my newest EA: Order Blocks Zone Scalper. Order Blocks Zone Scalper is without any doubt one of the best tools you can find if you are into Order Blocks based trading.
Here I will explain to you the main pilars of the Order Blocks Zone Scalper EA, its filters, settings and features. Please consider, that even I will provide you many information, I will keep for myself how the EA manages order blocks or how the code looks like, I want to provide you with the highest customizable EA but want to avoid any user copying it and providing a bad quality version of the EA.
So let us begin. I wish you a lot of fun!
This EA is based on order blocks. Keeping it simple, Order Blocks are zones of orders accumulation and distribution used by banks and financial institutions. These areas are used to pile up orders before entering the market. This is why the price usually suffers a big rejection when reaching this zones.
Once a order block has been recognized by the EA, it waits for a retest of that zone. As we already know, the price has a high probability of bouncing of that zone. That is why, once the price returns to the zone we jump into a smaller timeframe to look for an entry.
The default entry is defined by an EMA cross and some MA and RSI filters in order to increase the probability of the trade to success.
If the filters are met, the user can customize if the EA should look for an entry after the 1st, 2nd, 3rd, 4th or 5th EMA cross. Why can it be interesting to wait for the 2nd or 3rd MA cross? Remember, a first cross can also be a slightly too strong retest to continue the price movement.
This EA defines the strength of an Order Block based on a explosive move right after meeting the order block conditions. This leg out, and the number of candles within the leg out should occur is also customizable ;).
At the same time, the more times the price retests an order block, the less efective it gets. So you can customize the maximum ammout of retests into an order block to still consider it as such. Besides, to improve the EA performance you can select the ammount of candles into the past, that the EA should analyze and if the order blocks should be disabled after that number of candles.
This EA can perform a multi-timeframe and multi-symbol analysis and it can open the trades or just provide alerts if open conditions are met.
Order Blocks Zone Scalper has the feature to updates the probability of success of the trade and can close the existing trade based on:
Number of reverse MA crosses
Minimum number of candles to wait before closing
It also allows you to open an order in the previous direction or in the opposite one if the conditions above are met.
Once here, you can define several risk management settings:
Fixed lot size or lot size based on the current account balance
Stop loss (SL) and take profit (TP) levels based on points, ATR or ADR percentages
Break even (BE), trailing stop loss

(TS) or grid settings (Additional Orders)

Maximum open buy/sell orders simultaneously

Maximum trades per day

Maximum win/lost per day
Closing positions before weekend and which time
Spread filter as maximum spread allowed
If you want to scale the trade if it goes in your favor or if it retraces more than expected, you can use the additional orders feature. You can limit the number of additional orders allowed by symbol and by order block. Besides that, additional orders also follow a similar risk management settings as the ones mentioned above.
If you want to experiment, you have the possibility inverting the main EA's logic or filters. I encourage you to give it a go (please always first in the strategy tester ;D).
Order Blocks Zone Scalper Settings
Order Blocks Zone Scalper settings
Settings
Magic number: EA magic number. It must be unique if other EAs are running
Trade symbol: CURRENT for single symbol trading. For multi-symbol trading enter the symbols you want to trade using the separator EURUSD|GOLD|[DJI30]
Allow trading: true allows opening orders. IIf false only sends alerts
Trading comment: choose any comment for the EA orders
Trading direction: allow buys, sells orders or both
Use reverse logic: inverses the complete EA logic. It switches buy and sell orders
Hide indicators: hides the indicators initialized for your EA settings
Timer Settings

Use timer: if true, the EA will only open new trades in the days selected below
Monday
Tuesday
Wednesday
Thrusday
Friday
Saturday (crypto)
Sunday (crypto)
(HH:MM) Session start time
(HH:MM) Session end time
Timerframes

Scan and entry timeframes. Select the same Timeframe in 1,2 and 3 to scan one single timeframe
Scan Timeframe 1: Timeframe 1 for scanning Order Blocks
Scan Timeframe 2: Timeframe 2 for scanning Order Blocks
Scan Timeframe 3: Timeframe 3 for scanning Order Blocks
Entry Timeframe: Smaller timeframe that the EA uses for finding a more accurate entry
Order Block Zone Settings
The order blocks' strenght is defined based on a following explosive movement. The leg out represents that explosive moment.
OB % to define leg out [%]: this parameter defines the leg out's size with respect to the potential order block to define the order block
Number of candles within the leg out must occur: candles withing the leg out must occur to consider an order block valid
Scan candle body/wick closes inside OB: Look for an entry if the body or de wick of a candle closes inside an order block
Scan maximum candles for OB: candles to scan in the past to analyze order blocks
Invalidate OB after max candles: deactivates the order block after this many candles . If 0, order blocks won't be disabled based on this condition.
Maximum retests to invalidate OB (if 0, deactivated): deactivates the order block after this many retests. If 0, order blocks won't be disabled based on this condition.
Entry Moving Average Settings
These settings focus on the MA responsible for analyzing the smaller timeframe and for confirming the entry.
Entry triggered by MA cross only if filters are already passed: if true, all filters must be passed at the time of the MA cross. If false, an enabled filter becoming true can trigger the trade
Use entry MA: enable or disable entry moving average as an entry condition
MA crosses for entry: cross number to occur to trigger the entry
Period
Method
Applied price
Shift
MA maximun crosses allowed (if 0, no max): if more crosses occured than this value the entry MA condition will be set to unvalid