Greetings!
Eve EA is a fully automated evening trading system.
The system does not trade during and after the rollover. The system does not use the Grid and does not use the Martingale.
Every trade always has SL and always has TP. We don't use history patches, it's a pure strategy.
I recommend using brokers with low spreads and commissions , this will improve the accuracy of the results and increase profits for you.
A large spread is the same additional commission to a broker, only in the form of a spread.
The system constantly monitors and monitors the broker, news, GMT changes, gaps and interactions between currency pairs.
Therefore, I recommend using VPS 24/7. Personally, I have been using this VPS for more than 5 years (2Gb Windows 2012 R2) allows you to run up to 10 terminals at the same time!
Eve EA trades the pairs that are most likely to revert to the average of the market.
This allows you to find the best entry points and patterns, which then follow the direction of the market and return to the average values.
Trading usually takes place after 19:00 broker time. The system has many mechanisms to protect against strong news, rollover, huge spreads and gaps in the market.
The system adapts to your broker, spreads, delays and slippage.
EveEA accompanies every profitable trade through Take Profit.
TP is able to follow the price on the market in real time, which allows you to protect the deal and minimize possible losses, or significantly increase profits.
This is an open system and you can always create your own settings for other currency pairs and perform your own optimization (OneChart=OFF for this).
You can set your own risk for each currency pair if needed.
You can set a small delay so that your trades are always different from the crowd, or make the delay random.
You can also adapt all currency pairs at the same time for your broker in manual mode.
The system has protection against daily drawdown, for PropFirms/FTMO
We also provide additional bonus settings, for this you can simply contact me.
The system automatically reads GMT and Market News.
For this, 2 URLs are used, which should be added to the MT5 settings.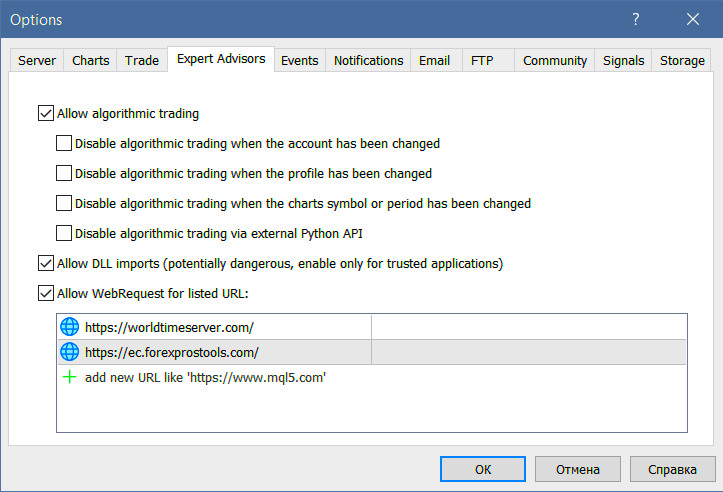 The system also has the ability to be optimized with 1OHLC quotes, while the results will have a high accuracy of 100%
At the same time, the speed of such testing is very high, it does not require a huge volume of quotes and does not take up much RAM.
ONE CHART MODE - operation mode for one chart, allows you to trade all currencies at the same time
SHOW INFO - turns on the information panel
ALL PAIRS - all currency pairs for trading
RISK % [0 = FIXED LOT] - maximum drawdown percentage for each currency pair
COMMENT - comment on the deal
RANDOM DELAY - activates a random time delay to get away from the crowd and have your own prices
MANUAL DELAY [0 = OFF] - manual time delay
MAX % DD - maximum allowable drawdown


ENABLE BUY/SELL DEALS - activates only buy/sell trades


MIN TP - minimum initial TP (may change)
MAX SL - the maximum possible SL (usually 3 times less)
FAST PERIOD - calculation period for the upper market channel
SLOW PERIOD - calculation period for the lower market channel
FAST SHIFT - shift of the upper channel
SLOW SHIFT - lower channel shift
SHIFT AVR TP - TP center position shift
FIRST BE PROFIT - profit to hold a position


MAX DAYS PERIOD - number of days to calculate market direction
BOTH PERIOD - the minimum time to activate the protection of a losing trade
LIFE PERIOD - maximum time to activate trade protection
VOLTIC FILTER - market volatility filter
ATR PERIOD - ATR period
ATR PERCENT - percentage of ATR
CLOSE NIGHT GAP - market gap test


AUTO GMT - Automatic GMT calculation (URL required)
START HOUR - trading start time, taking into account GMT


MANUAL GMT - manual GMT for specific brokers (not recommended to change)
FIXED LOT IF RISK=0 - fixed position size if Risk=0%
XMAS TRADING - The Option Blocks trading during the Christmas holidays
By default, the system has optional trade protection during the Christmas holidays. (XMAS TRADING=True)
According to statistics, the market is very volatile during this period and protection blocks positions at this time.
To increase the risk, you can activate trading during the Christmas holidays (not recommended).
Thus, the system will also trade during these holidays.
These are the main parameters that you can optimize for yourself.
I am always ready to help you in Telegram @Amaze