EXPERIENCE A GAME CHANGER, AN INNOVATIVE EXPERT ADVISOR
Take Your Trading To The Next Level With The Ninja Hunter EA

No Complicated Rules, No Confusing Charts, No Guesswork... 100% Automatic ready to go!
NINJA HUNTER EA ALWAYS FOCUSES ON YOUR PROFIT!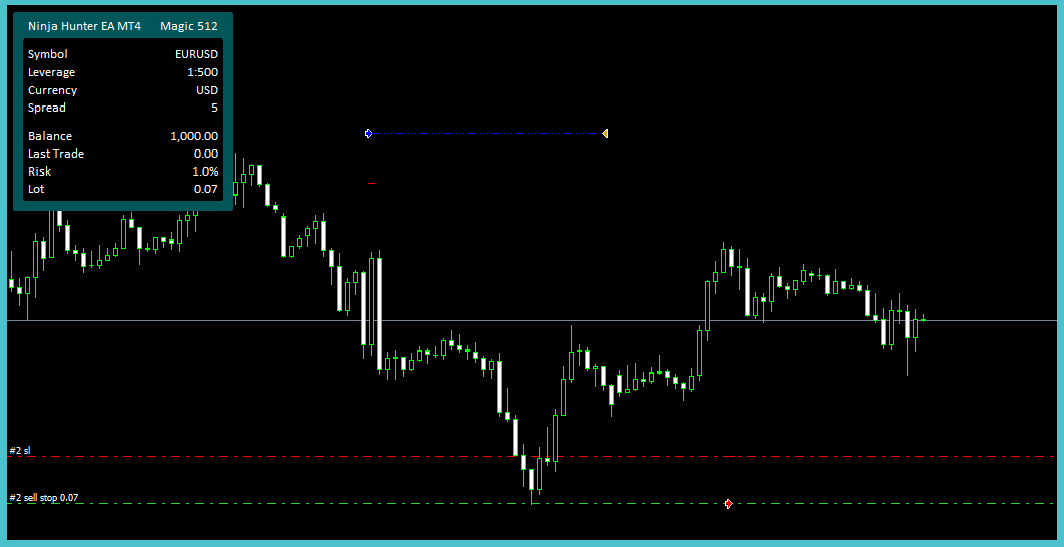 1. Ninja Hunter EA is a professional trading robot that takes explosive moves of price on H1 time-frame on Eurusd and Gbpjpy

2. Ninja Hunter EA has an Edge over the market which means the strategies inside it will continue to work, the probability is on our side!

3. Growing since 2003, simple and focused on stable profit

4. We can see on the panel we have all necessary information about your trading

5. Ninja Hunter EA is easy to install and easy to use

6. Ninja Hunter EA does not use martingale or grid

5. Ninja Hunter EA is FIFO compatible!






==== Important Parameters ====







Important Parameters explained

Trading Strategy: Strategy 1 - Eurusd and Strategy 2 - Gbpjpy:

You can choose between 2 strategies, the Strategy 1 work only for Eurusd and the Strategy 2 work only for Gbpjpy. (PS: Double click on "Strategy 1 - Eurusd" to see the Strategy 2 on the EA)

Auto Lot Size (% of Balance):

True or False, if true each trade will open with a lot based on the percentage of your balance, if false the trade will open with a fixed lot.



Risk: The percentage you want if you put true on the

Auto Lot Size

(Recommended 1%)

Fixed Lots: The Fixed lot

you want

if you put false on the

Auto Lot Size




Ninja Hunter EA working since 2003




The System has an Edge over the market as you can see bellow with stable growth!

Eurusd Since 2003:











Take a look on the profit of Eurusd each month since 2003!




See, the majority of the time the EA profit from the market, the probability is on our side!










Now I will show you the Strategy 2 that work on Gbpjpy







Now take a look on the profit from Gbpjpy each month since 2003




As you can see the Gbpjpy profit most of the time, but not as good as Eurusd, but we can trade only the Eurusd or put both together on a portfolio to profit more and reduce the drawdown, take a look:







Amazing profit as you can see, it enhanced our profitability with lower drawdown, which is amazing!










As you could see, the Ninja Hunter EA is different from most EAs around, works since 2003 on Eurusd and Gbpjpy, and you can also combine both to make a profitable portfolio, lets see again the benefits of Ninja Hunter EA:

1 - Time-frame: H1
2 - Pairs: Eurusd and Gbpjpy
3 - Minimum balance: $100
4 - The EA is FIFO compatible
5 - Passed through strict high quality backtests since 2003
6 - Intelligent Entry and Exit System
7 - The EA does not use martingale or grid
8 - Edge over the market







Now You have the opportunity to trade with an EA that really works!




Ninja Hunter (MT4) Ninja Hunter (MT5)







Take Your Trading To The Next Level With Ninja Hunter EA!





For any questions related to the purchase, installation, backtesting and use of the EA, send me a private message on my profile here on mql5