Pivot level: 1.1239, Resistance: .1270 - 1.1290 - 1.1320, Support: 1.1209 - 1.1190 - 1.1160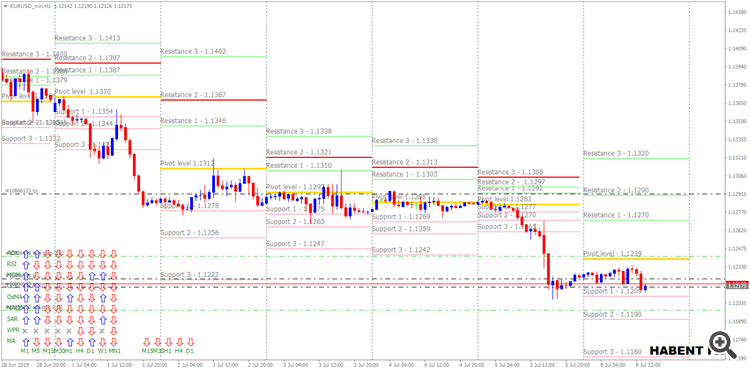 Dollar Rises Against Euro After Data / 1.1270 Significant Resistance Level / Daily Change - 0.52%
On the last trading day last week, US Dow Jones Index fell 0.16%, while the S&P 500 Index lost 0.18%. The Nasdaq Index fell 0.10%.
"If the Fed knew what it was doing, it would lower interest rates," US President Trump said. The Fed's policy put the US at a disadvantage against Europe and limited earnings in the stock market, he said.
In its semi-annual report, the FED pointed out that the growth rate slowed down in the second quarter of 2019 and reiterated that interest rates were open to lower the longest economic expansion in the USA. "Data for the second quarter show that despite the increase in consumption, there is a moderate situation in GDP," the report said.
Non-Farm Employment in the US exceeded all expectations in June 2019. According to data from the Ministry of Labor, Non-Farm Employment increased by 224 thousand while the unemployment rate increased from 3.6% to 3.7%. Expectation was 160 thousand employment and 3.6% unemployment. Average hourly earnings were up 0.2% month-on-month and 3.1% year-on-year. Expectation was 0.3% per month and 3.2% per year.
The US economy created more jobs than expected in June 2019, reducing the likelihood of the Fed's interest rate cut. According to official data, unemployment rates showed an unexpected but weak increase, while annual wage inflation remained calm.
Factory Orders in Germany declined in May 2019, signaling that global trade uncertainty could turn the temporary slowdown in Europe into a more serious downturn. Export orders and investment goods declined sharply in May 2019. In May 2019, Factory Orders decreased by 2.2 percent month on month and 8.6 percent year on year. Monthly data for the previous month were revised from 0.3% to 0.4%.
The data to be announced today
US Markets
-CFTC Crude Oil Speculative Positions
-CFTC Gold Speculative Net Positions
-CFTC S&P Speculative Net Positions
Euro Zone in Germany
-Trade Balance
-Industrial production
Google translation was used!