In the hourly chart, the daily pivot point for the pair below the moving averages is 1.1343, while the uptrend is followed by resistance levels at 1.1379 - 1.1401 - 1.1438. Supports of 1.1307 - 1.1285 - 1.1248 may be on the agenda.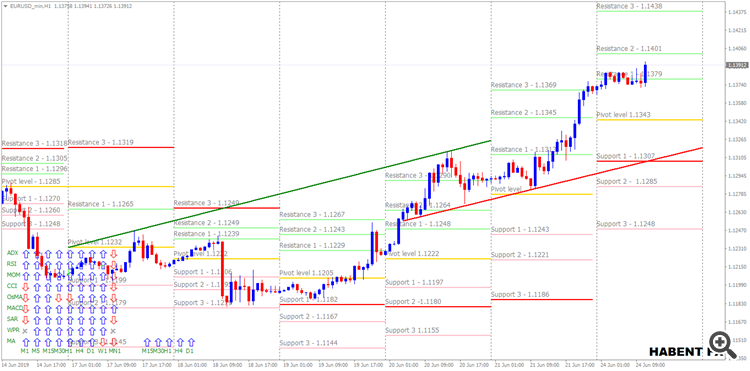 Upward Movement in Euro Continues / 1.1307 Significant Support Level / Daily Change 0.68%
On US stock markets, the Dow Jones Index fell 0.13%, while the S&P 500 Index declined 0.13%. The Nasdaq Index lost 0.24%.
Second-hand Residential Sales in the US rose 2.5% to 5.34 million. Expectation was 2.1% higher. Meanwhile, April data was revised from 5.19 million to 5.21 million.
Manufacturing PMI in the US decreased from 50.5 to 50.1 in June 2019. This value has been recorded as the lowest level since September 2009. The service PMI declined from 50.9 to 50.7. This is the lowest level since March 2016. Expectation was that the Manufacturing PMI was 50.5 and the Service PMI was 51.
European Central Bank Governor Mario Draghi, in his speech at the summit of the European Union dove gave signals. In his speech to EU leaders, Draghi said signs of weakness in the economy are increasing, saying additional incentives may be needed.
Economic activity in the Eurozone recovered in June 2019, but remained sluggish due to concerns about the outlook. In the Eurozone, the composite PMI for June 2019 was 52.1, slightly above the economist expectations. The May PMI indicator was 51.8.
In Germany, the manufacturing industry PMI increased by 1.1 points to 45.4 points in June 2019 compared to the previous month.
The data to be announced today
US side
Chiago Fed National Activity
Dallas Fed Manufacturing Business Index
in Germany
IFO Business Climate Index