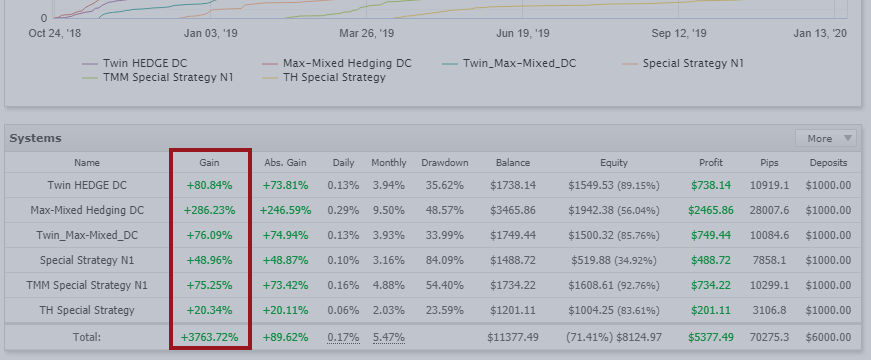 Detailed Statement of real trading all hedging EA's at the Today: January-28 '2019 for 15 Months
Total GAIN (for 15 Months): +3763.72%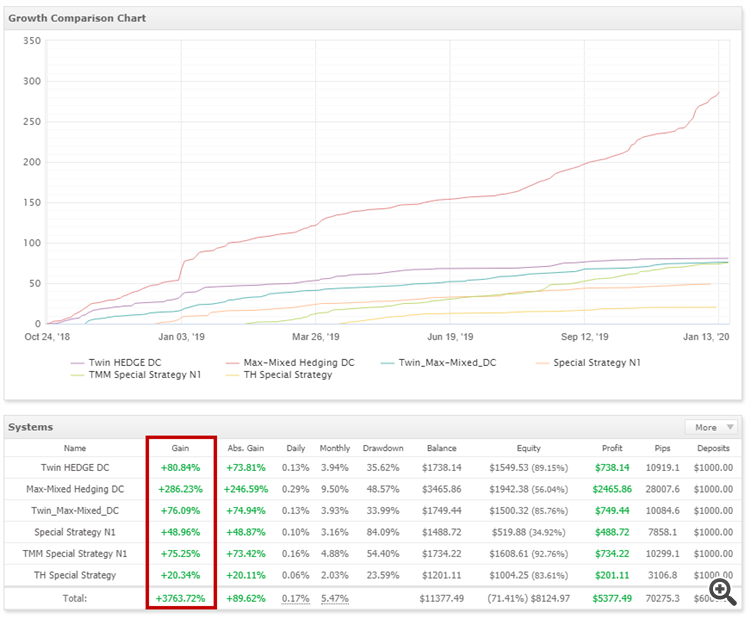 ---
Rating by Growth:


---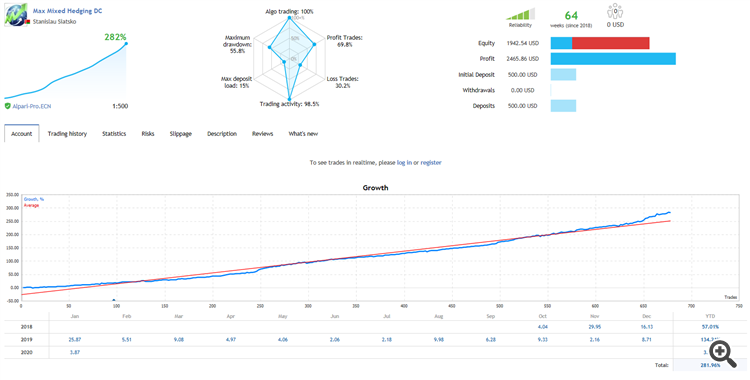 ---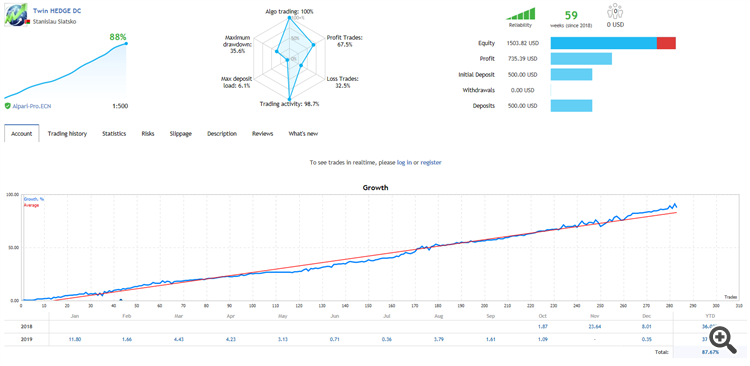 ---
---
To diversify risks, of course, it is better to use several different systems / strategies so that investment funds are evenly distributed across different systems, and do not depend on the outcome of only one strategy. Therefore, to diversify risks, I recommend to use all 3 Hedge EA's, because it's 6 absolutely different systems/strategies:
.....Max-Mixed_Hedging_DC
.....Twin_HEDGE_DC
.....Twin_Max-Mixed_DC
.....MMH_Spesiial_Strategy_N1
.....TMM_SpecialStrategy_N1
.....TH_Spesial_Strategy
In each EA, each Special Strategy used absolutely different logic and absolutely different trading algorithm are used. And also completely different ligaments.
Which allow you to fully diversify all the risks in the Forex market.

Trading method: (ALL EA's on one account) has already been run since May 01, and real results are available for monitoring and analysis here.
_____________________________
Any questions - just contact me.

Sincerely, Stanislau.
http://forex-expert-advisor.com
======

previous report (Dec-25 "2019 - Statement for 14 Months): +3463.32%

previous report (Nov-25 "2019 - Statement for 13 Months): +3045.26%

previous report (Oct-26 "2019 - Statement for 12 Months): +2859.04%

previous report (Aug-21 "2019 - Statement for 10 Months): +1652.95%

previous report (Jul-30 "2019 - Statement for 9 Months): +1380.37%

previous report (Jun-25 "2019 - Statement for 8 Months): +1125.15%

previous report (Jun-04 "2019 - Statement for 7 Months): +1048.11%

previous report (Apr-26 "2019 - Statement for 6 Months): +727.31%

previous report (Mar-23 "2019 - Statement for 5 Months): +514.80%

previous report (Feb-21 "2019 - Statement for 4 Months): +368.09%

previous report (Jan-24 "2019 - Statement for 3 Months): +290.37%