Setting up an Expert Advisor like SSA Fixed It is simple. Please make sure you are using a recommended broker and VPS (more information)
There are just 4 simple steps:
Buy and download
Setup SSA in Metatrader 4
Choose your portfolio
Configuration of INPUTS parameters

1. Buy and Download:
Buy SSA Fixed It here or in your MetaTrader 4 Market.
In case of questions on how to buy and download an expert advisor, please consult MQL5s help pages

2. Setup SSA in Metatrader
Drag SSA Fixed It onto recommended pair and timeframe (see 3. Choose your portfolio)
Activate "Allow live trading"
Setup INPUT parameters (see 4. Configuration of INPUTS parameters)
When finished will all pairs and timeframes, activate "AutoTrading"
That's it, SSA will handle the rest!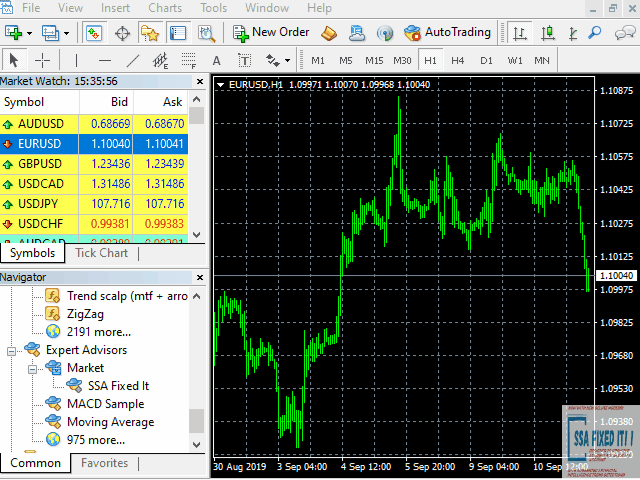 3. Choose your portfolio
... or create your own.
Quick start portfolio:
AUDCAD H1, AUDCHF H1, AUDJPY H1, AUDSGD H1, AUDUSD H1, CADCHF H1, CHFSGD H1, EURAUD H1, EURCAD H1, EURCHF H1, EURGBP H1, EURNZD H1, EURSGD H1, EURUSD H1, GBPAUD H1, GBPCAD H1, GBPCHF H1, GBPJPY H1, GBPNYD H1, GBPUSD H1, NZDCAD H1, USDCAD H1, USDJPY H1,
For a detailed description of your choices of portfolios and performance analyses, please visit this page.

4. Configuration of INPUTS parameters
Here you will find all pretested and recommended pairs and timeframes to trade as well as an explanation and recommendation for all setting you can adjust in the expert advisors "Inputs" tab: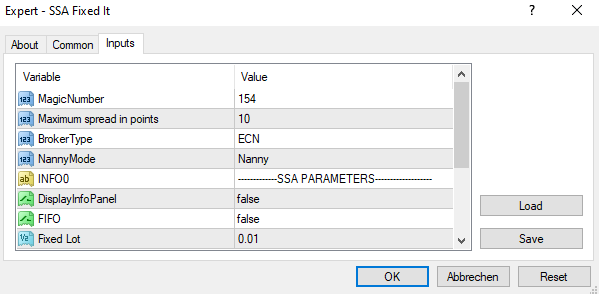 Magic Number:
Please use a different magic number on each chart
Also please make sure the magic number does not conflict with the number of existing EAs running on the same account.
Maximum spread in points:
Please consult your brokers homepage and multiply value in points by 1.5. Our recommended broker is ICMarkets, use the number in column "EA value in points":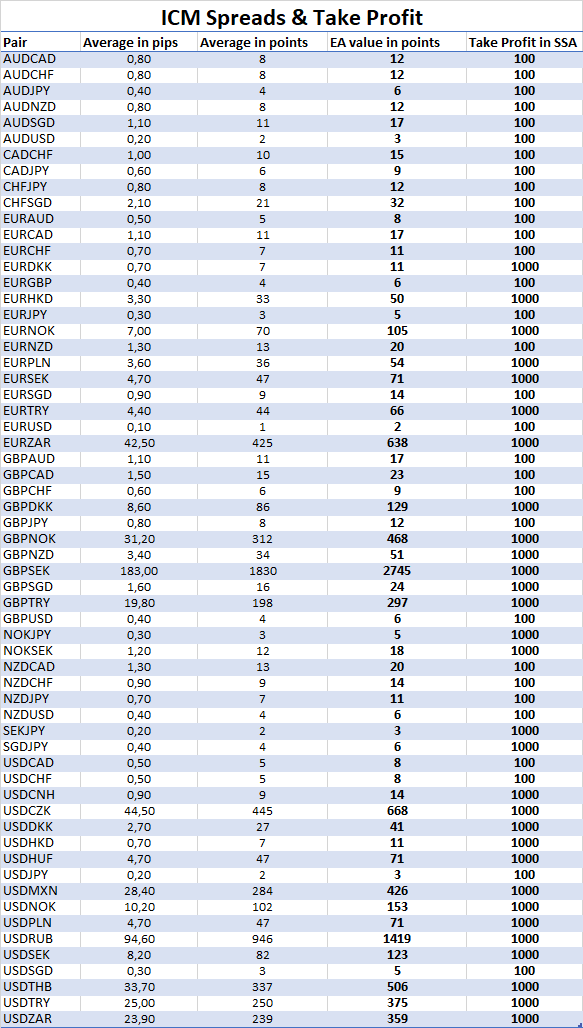 Broker Type:
Choose "ECN" for ECN, raw spread accounts, if not sure choose "Non-ECM"
NannyMode:
"Nanny mode" is the default mode and will miss some opportunities because it is focused on quality over quantity. "No Nanny mode" will trade every available opportunity (included for experimentation only, so no back-tests will be provided).
Fixed Lot and Balance per Lot (IMPORTANT!):
Trading variable lot size depending on your equity:
Activate by setting "Fixed lot" to "0"

Set your individual risk setting "balance per lot":

Low Risk: 200.000 (standard setting and recommended)
Medium Risk: 100.000
High Risk: 50.000 (not recommended)
Very High Risk: 25.000 (not recommended)
High risk and very high risk settings should not be used without you own portfolio simulations and therefore is for experts only!
Example: 100.000 balance per lot trades 0.01 lot per 1000$
Basket take profit in points:
Please consult ICM spread table above for correct take profit value for each pair (100 or 1000)
Equity drawdown stop %:
This setting is used as stop loss for each pair (or baskets of pairs). Please set this to either the maximum overall drawdown you are willing to accept (-50 = drawdown of 50%) for all pairs or use individual drawdown per pair. For orientation please use the table of recommended pairs above. For example: EURUSD has a max. historic equity drawdown of 5.56% so a good individual drawdown for this pair would be 7% (enter -7 in INPUTS).
Please be aware of:
US customers: to use first in and first out (FIFO) it will be necessary to trade one time-frame per account. Trading several time-frames on the same account is likely to create first in first out conflicts since each instance of the EA control the trades generated by that EA and not the trades of other instances of the EA.
Higher time frames (H1…) have to be combined into a portfolio as recommended above to generate the necessary quantity of trades to deliver excess returns.
Lower time frames (M5, M15, M30) generate a sufficient number of trades to be able to trade 1 pair per trading account . Experienced users only.
If the relative drawdown is too high, simply increase the balance per lot to reduce the relative drawdown to a level that matches your risk preference.
The "Equity Drawdown Stop %" setting may be used as overall stop-loss level

Ensure there is at least 500 bars of history and chart before running the EA: MT4 -> Tools -> Options -> Charts