In the hourly chart, the daily pivot point for the pair, which is below the moving averages, is followed as 1.1312, while it is followed as resistance levels of 1.1346 - 1.1367 - 1.1402. 1.1278 - 1.1256 - 1.1222 support may be on the falls.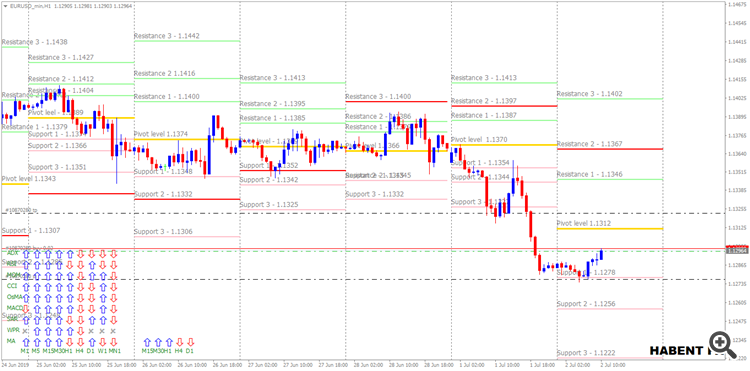 Dollar Front Strengthens / 1.1367 Significant Resistance / Daily Change -0.75%
On US stock exchanges, the Dow Jones Index rose 0.44% to 26,717 points, the S&P 500 Index gained 0.77% to 2.964 points and the Nasdaq Index rose 1.06% to 2.964 points.
The US Manufacturing Sector recorded the slowest growth in more than two years, with trade tensions with China and Mexico and weak exports. According to the data released today, ISM Manufacturing Index decreased to 51.7 in June 2019. Expectation was 51.2. The New Orders Index decreased from 52.7 to 50, while the Employment Index rose from 53.7 to 54.7.
With the deterioration in the manufacturing outlook in the UK, the industry indicator fell to its lowest level since February 2013. UK Manufacturing PMI Indicator declined for the first time in six years in June 2019 with 48 consecutive years. Expectation was 49.4.
Manufacturing Indicator in the Euro Zone remained weak due to the decline in new orders. Manufacturing PMI fell from 47.7 in May 2019 to 47.6 in June 2019, according to data released on Monday from the Eurozone. Expectation for the June data was 47.8.
The unemployment rate in the Eurozone decreased from 7.6% in April 2019 to 7.5% in May 2019. Young unemployment in the Eurozone was 15.7% in May 2019. The unemployment rate in the European Union was 6.3% in May 2019.
The data to be announced today
US side
In the Euro Area