Overview

Reviews (1)

Comments
Scalping Filter
Advanced Scalping Filter to be used on any major currency pair.
Designed for the 15 minute time-frame, however the filter should also work efficiently on the 5 minute time-frame.
This filter takes into account various conditions of MACD's, Moving Averages, as well as current price positioning, to produce recommended buy, sell, or exit signals (as green for buy, red for sell, and orange for exit).
Ideal for quick 10 pip profits or for exit signal to occur.
Buyers of this product also purchase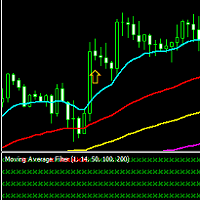 Moving Average Filter
Shellard Securities (Pty) Ltd
This is a filter of various moving average combinations used to give a higher level of confidence to trade entries. The indicator may be used with moving averages on the chart or independently by itself to show the current trend direction. Trade signals of the Moving Average Filter are based on the Price (1EMA) vs the 14EMA, the 14EMA vs the 50EMA, the 50EMA vs the 100EMA, and the 100EMA vs the 200EMA. Trade signals are produced when all of the filters are in alignment, thus showing all green or
50 USD