Overview

Reviews

Comments
Three Line Strike Finder
The three line strike pattern, which consists of three bullish or bearish candles, and a fourth candle that is larger than the previous three in the opposite direction, can be traded many ways. This indicator simply highlights those previous trades, and then pushes out targets in the direction of the last candle.
Advantages of three line strike
The three line strike can be traded as part of a bullish and bearish engulfing pattern, 2 bar reversal set up and n-Bar rallies and declines.
How it works
This three line strike finder will notify you when new three line strikes have formed with alerts, and bars to signal entries as well as potential stop losses and take profits, depending on your personal trading preference.
Features
The profit and stop loss targets take the high or low of the pattern (high of bearish, low of bullish) which then adds a percentage of either the average daily true range, or a percentage of the setup itself. The take profit markers are divisions of how far away the stop loss is. Set it to 1 for 1 to 1 win ratios, or 2, or 5, or 0.5. You can define how many of these take profit target points you wish to see per trade.
The analyse previous trades option will quickly go through all found three line strikes, showing you how they played out before, to help inform you of your future decisions, and, combined with your own indicators, help to give you stronger entry signals while weeding out the losses.
Custom colourisation for your entry lines let you apply this indicator to any chart style you want.
Buyers of this product also purchase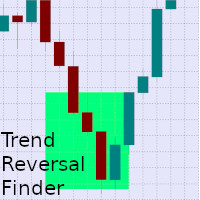 N Rally or Decline Reversal Finder
Thomas Christopher Johnson
Listed in his faous book "Trading chart patterns like the pros", Suri Duddrella outlines the N-bar rally and decline reversal pattern, which simply states that when stocks make a new high or new low, momentum players will push this stock down or up until eventually they run out of steam. This indicator will look back a certain number of bars to find a continuous uninterrupted rally or decline.  Once found, the pattern will look forwards to find the first bar that closes, within a certain range,
30 USD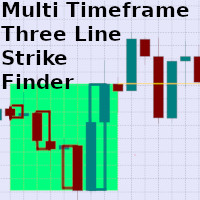 Multi TimeFrame Three Line Strike Finder
Thomas Christopher Johnson
A huge overhaul and improvement on the highly successful Three Line Strike Finder https://www.mql5.com/en/market/product/60396?source=Site+Profile+Seller This fantastic tool will scan your selected timeframes, and display new three line strike patterns as they appear.  No more having to flip through different timeframes to check if a new three line strike pattern has emerged. The supported timeframes are, the current timeframe, 15 minute, 30 minute, 1 hour, 4 hour and Daily, all of which can be
40 USD