Overview

Reviews

Comments

What's new
GO Breakout and Retest
GO Breakout and Retest is probably the best price action indicator you can currently find on the market.
Designed for price action traders and not only, the indicator helps you spot retests after breakouts of supply / demand zones.
Please read the full description of the product in order to use the indicator properly !

The indicator will search for setups only on live charts or in strategy tester. When you load the indicator on the chart, it will not display anything in the past !
As most traders know, after a break of a supply / demand zone, usually a pullback happens to retest the zone. The retest of the zone is the optimal time to enter the trade in the direction of the breakout.
As Holy grail does not exist, this indicator does not promise 100%, but the trade setups have a very high risk : reward ratio.
The indicator implements an extrafilter, with the help of that the signals are filtered based on the swing sizes before / after the break.
But to get the most out of it, you need to trade the perfect setups.
How to find the perfect setups : ( see the screenshot for examples )
When you get an alert :
make sure the pair you are trading is trending and has large, nice movements
the indicator plots the supply / demand zone that is broken and a horizontal trendline representing the broken support/resistance line. Make sure that the horizontal line was broken with a strong, larger than average candle
make sure the s/r line was crossed only once ( see screenshots for explanation )
make sure that when you get an alert, it was the first retest of the zone / line
before and after the break, make sure the price made nice big moves both above and below the zone
the best signals are when you get alert right on the s/r line
How to trade the signals of the indicator : ( personal suggestion only, but statistically this is the best way to trade these signals )
Never risk more than 2-3 % of your account balance
Don't try to trade every signal. Trade only the perfect setups
For buy setups, place your stop loss below the low of the candle that broke the s/r line
Set your initial target at 1:1 risk:reward
when 1:1 risk reward has been reached, close half of your position and trail the remaining position by 1 RR
if you get multiple signals in the same trend, trade only the FIRST signal
I am open to any suggestion regarding this indicator.
If you like this product, please don't forget to review it as such.
Happy pips !
Buyers of this product also purchase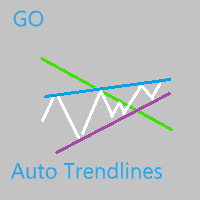 GO Auto Trendlines
OLIVER GYILA
As most traders know, trendlines are one of the most important aids in trading. They can be used both as for continuation, or for a breakout. Feel free to check out my other products here   :  https://www.mql5.com/en/users/gyila.oliver/seller#products This indicator helps traders by automatically plotting trendlines based on previous highs and lows. The light blue trendlines represent the trendlines based on short period ( NOT TIMEFRAME ! ) highs and lows. The light green trendlines repres
49 USD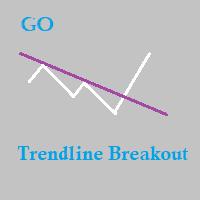 GO Trendline Breakout
OLIVER GYILA
GO Trendline Breakout indicator is designed to find the breakouts of trendlines in the direction of the trend. Feel free to check out my other products here   :  https://www.mql5.com/en/users/gyila.oliver/seller#products the indicator implements a unique trend detection algorithm, and finds the trendlines from swing highs/lows/ The indicator implements visual alerts and push notifications. The indicator can be used on any currency pair / stocks/ indices and on any timeframe. How to use t
98 USD