Overview

Reviews

Comments

What's new
Trader Code Expert MT5
Trader Code Expert MT5 is a fully automatic EA design for the EURUSDm currency with TF = M1 pair.
Every orders are covered by StopLoss and TakeProfit.
This EA has no martingale, smart recovery, grid trading or averaging in this algorithm.
This EA is can start with small balance ( more then 45 usd).
This EA should be set lots 0.02-0.09 per 45 usd balance
This EA can be set leverage is 1:200.
Result form backtest with 100% history quality: This EA can take margin level is 439.2%
Recommended Broker: https://one.exness.link/a/w7tjdewpmw
Buyers of this product also purchase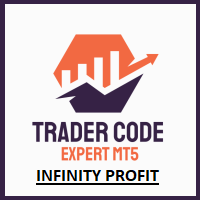 Trader Code EA infinity profit MT5
Mr Sarut Panjan
Trader Code Expert MT5 is a fully automatic EA design for the     EURUSDm  currency with TF = M1 pair. Every orders are covered by        StopLoss  and       TakeProfit . This EA has no martingale, smart recovery, grid trading or averaging in this algorithm. This EA is can start with small balance (   more then 45 usd ). This EA should be set   lots 0.01 per 45 usd balance   This EA can set lot multipy step 1.0-2.5 (Defult is 1.0) This EA can set limit of lots between 1-infinity This EA can be s
350 USD