Hello traders,
greetings.
Although there are 3 market directions: up, down and sideways,
-- but in practice it is not that easy to take decisions in the current direction.
Before getting into the topic on Leading Arrow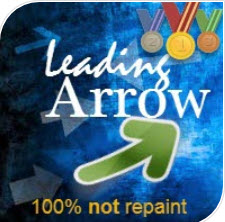 here's what we should know first.
Traders who are experts and experienced in the market will certainly be easier to read and analyze charts.
They will continue to consistently work according to market work principle is :

prepare a

buy position at support

, and
prepare a

sell position at resistance

.
"prepare" means pending orders.
-- That is why Trading Software always provides buy-limit, sell-limit functions.
"prepare" is also meant to wait for the market direction through major currency strength
and market sentiment when there will be economic news announcements and speeches.
Here is a few steps of how experts analyze the market.
But what about beginners and experts who are tired of working hard to analyze the market
-- or even now they don't have enough time for it?
It's time for Leading Arrow technical indicator will support them.

Leading Arrow

It is a leading indicator.
100% not repaint, and not lagging.
In response to many people's requests for the need for indicators that appear simple,
and just presented as arrows in the analysis of market direction.
This indicator is in no way using the old-fashioned method as a known in technical based on moving averages, etc.
Even though it's very complicated in programming but the result is just simply summarized in the form of arrows.
This is provided for traders who understand the importance of price action in a direction,
-- without wasting much time in analyzing the market,
-- which is simply summarized in the form of arrows.
Trader can use Leading Arrow in any time frame, but period H1 is highly recommended
or slightly lower for example M30.
A. How to use Leading Arrow.

The best use is when the market enters busy hours,
-- for example when the central bank announces news and economic policies,
-- speeches from parties who have influence on the market, etc.
Buy
Simply waiting for the arrows to appear as a buy sign in the last candle,
or without having to wait in front of a computer is just wait until receiving a notification on smartphone then check the chart.
-- Opening buy position is the moment when a new candle has just appeared.


Sell
In general it is the same like a buy momentum as written above,
which is only by waiting for the arrow notification to come as a sign of selling.


Target, stop-profit and stop-loss
Please use any support and resistance (SR) techniques.
The indicator has also provided classic SR (optional)
as an additional confirmation for your own SR Strategy.
B. Screenshots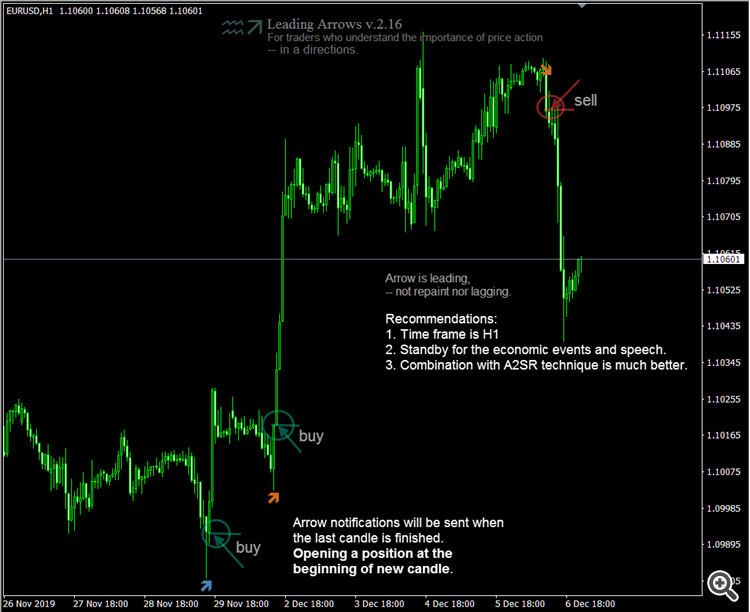 wish you all the best in 2020