A huge contribution to the popularity of the MQL4 and MQL5 languages have made by the numerous articles, most of which were written by you - by traders and for traders. We appreciate your hard work. In addition to paying you for your articles, we are constantly thinking about how to make the process of writing simple, clear and comfortable for the authors.
We have analyzed our experience of communication with the authors of articles and found the key point — mutual understanding! Sometimes authors cannot understand why moderators criticize the design and formatting of their articles. While we, the moderators, obviously do not formulate well what we want from you.
We decided to solve this problem. As a result, the MQL5.community site has got a new article publishing system described below. In the new system, we have tried to make the whole process of article writing clear and comfortable by breaking it into several steps.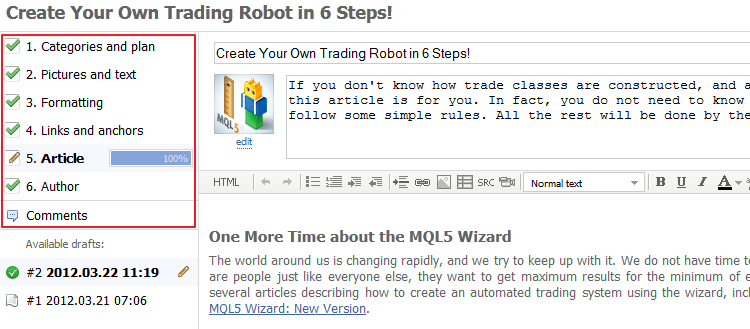 At each step we will give you helpful advice and recommendations, a sort of distillation of the article writing experience. The tips will help you in case you have any questions or difficulties. But first things first.
1. Categories and Plan
Creating an article is very easy. Go to the Articles section and click Add a new article. In the first step you will be asked to consider the titles of the main sections of your article. You also need to choose a working subject of the article and a category.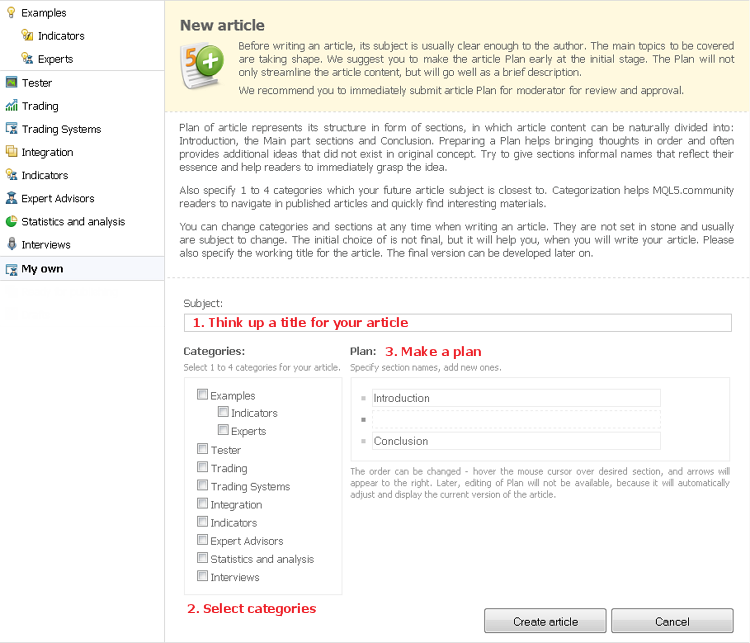 A plan is a backbone of your future article, based on which it will be easier for you to express your thoughts. By default, a new article template already has an Introduction and a Conclusion. You can choose any titles for your article sections.
First, type the name of the first section (between the Introduction and Conclusion), and press Enter. All of the following sections are added the same way. You can change the order of sections by using the arrows to the right of the name.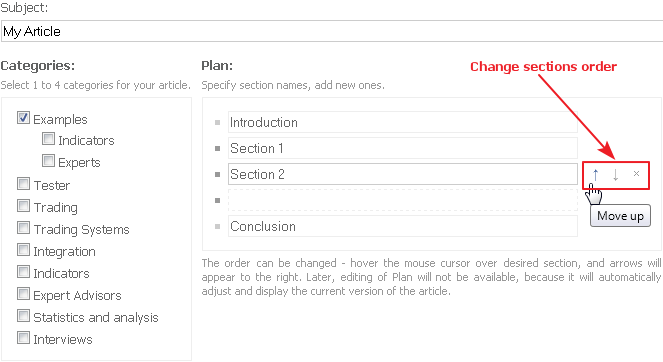 The sections created at this stage will be formatted as headings, and you can easily create anchor links for them, but more about that later. Having made a plan and defined the working title of your article, click Create article to move to the next step.
2. Images and Text
Almost with every author we had to discuss and correct images used in their articles: their format, size and even content.

Images are inserted using the Image button on the editor toolbar.
When you insert images, please stick to a few good rules:
All figures should be of excellent quality, that is best ensured using the PNG format. You can also use the GIF format with an appropriate image quality. Do not use JPG format for your screenshots.

All images must not exceed 750 pixels in width. If you insert an image of greater width, on saving it will be automatically reduced with significant loss of quality.

Make screenshots immediately in the right size. Do not try to reduce size of large pictures in graphical editors. In almost all cases of resizing, image quality become worse.

Figures should not contain anything extra and must be easily understood at a glance. Exclude from image everything that is not related to it directly - readers should immediately grasp the idea of image. Believe us, no one will study large block diagrams and charts clogged with icons.
The second popular problem of some authors was insertion of a code as is, without any formatting. Many authors forget that when copying a text from external resources, the clipboard may contain extra formatting tags that are unacceptable for the article styles.
To help you avoid these problems, we have prepared some requirements and recommendations on how to format articles. We hope they will help you to create a well-designed text not only on the MQL5.community website, but also on other resources. Please read these rules carefully.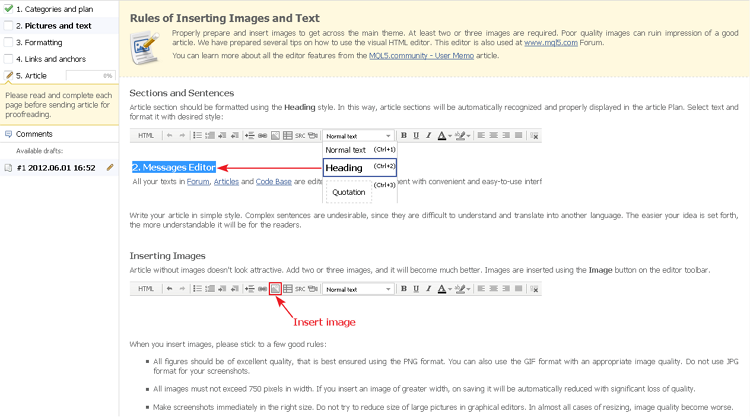 After that check I have read the rules of using images and text and click Save. The second step is completed.
3. Formatting
Many authors simply type the stream of their thoughts and ideas as a plain text, forgetting about the readability of the article. Well, even the most interesting topic can seem boring if presented in an inconvenient form. The task of keeping the reader's attention can be successfully solved by a correct formatting.
It is no secret that when first seeing an article, the reader first "scans" through its, finds the key points based on the headings and images, and only then, if the article seems interesting, he begins read the entire text. It is very important to format your article correctly: you will find here how to properly divide a text into paragraphs, when it is better to use lists and tables, as well as learn how to properly design images and captions.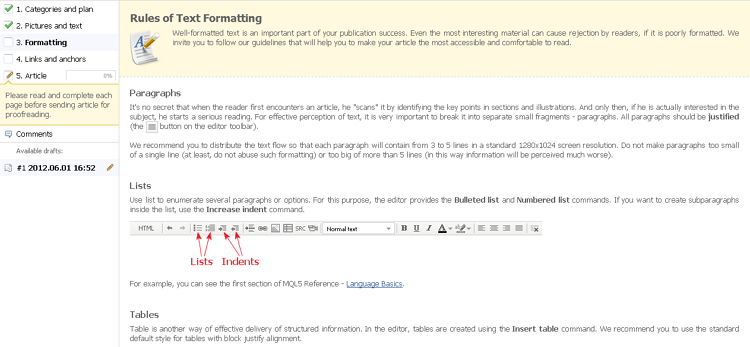 Having read the rules of formatting and alignment, put another check mark and click Save to complete the third stage of the recommendations. Be patient a little longer, and your perseverance will be rewarded.
4. Links and Anchors
Use of links in the article is a sign of good taste. However, do not use too many links in one article. On the one hand, it is easy to insert a link, but you can not know some of the peculiarities. How to add a link tooltip, how to create and use anchor links - all these issues will be discussed at the last 4th step before actually writing the article body.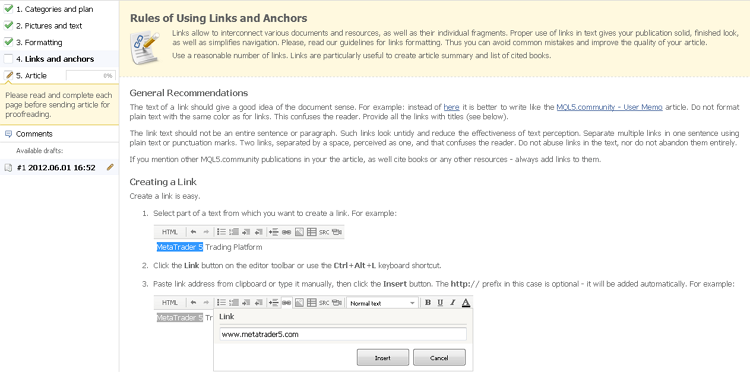 After reading the rules of placing links and anchors, put another check mark - finally the last one this time. As you see, the steps contain everything you need to know before starting to write an article. So now you are fully prepared and ready to start writing an article with minimum loss of time required for studying the built-in editor.
5. The Article
Finally, this is the stage where you can write the text of your article. We hope that you are not tired of our lessons. On the other hand, now you can fully focus on the interesting ideas you want to present in your articles, while you already know everything about how format them properly.
You can also now think about an icon for your article. Your creativity is limited to only one requirement - an image in PNG format, 60x60 pixels. Do not know how to draw? This is not an obstacle to the success of your article! Our designers will draw an icon for you (moreover, you can offer you ideas about the image, if you want).
Add a description for your article. This is a mandatory requirement. The text can then be modified anytime, but still this is an important part of your article. A proper description is a decisive argument for a potential reader to open your article. Note that as you progress through the steps, the percentage of article completion will change. The article will be 100% complete after publication. But before that, send it for review.
Under Review
So, you have written the text, provided interesting illustrations, and the article already looks quite presentable. Send it to the moderator for review. To do this, click Send for Review. The moderator will be notified about it via SMS, and your article will be reviewed in the soonest possible time.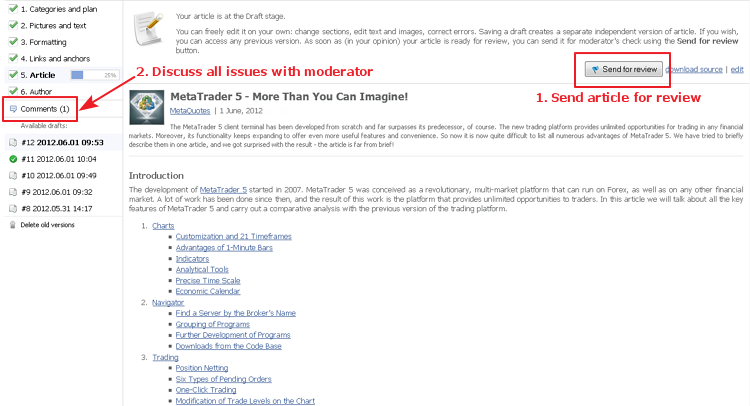 Wait for a response from the moderator in the Comments section. Here you can discuss any questions on your article with the moderator: the subject of the article, its value for the community, its style and design (icon and images), error correction and the fee.
Publication
After solving all disputable issues, your article is finally ready for publication. As soon as it is published, you will immediately receive an SMS. Of course, the SMS will be sent to the mobile phone number specified in your profile. To learn more about how to set up the user profiles, please read the article MQL5.community - User Memo.
The publication of your article will be accompanied by the announcement on the Forum, in its special section Articles, Library. In addition, after some time your article will be translated into Russian and will became available to the large Russian speaking audience of the traders' community. The most interesting articles are translated first.
Payment
We really appreciate the work of the authors of articles published on this website. We pay for all articles published at the MQL5.community. We pay 200 credits or more for your articles. To learn how you can withdraw or spend your earnings, please read the the article MQL5.community Payment System.
We hope that this article will help to answer many of your questions. You are welcome to send us new interesting materials that will make you popular among the visitors of the MQL5.community and will bring you additional income. Click Add a new article and start now!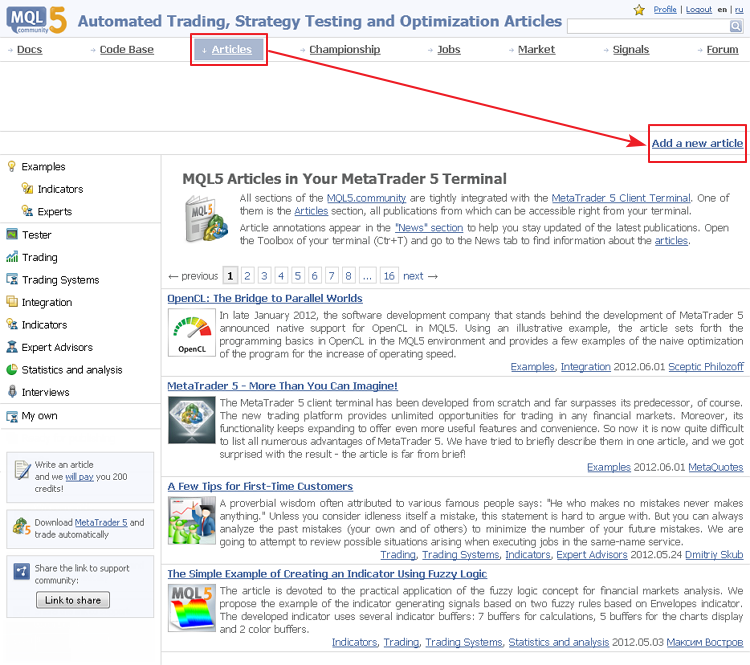 We wish you success and creativity!
Translated from Russian by MetaQuotes Software Corp.
Original article: https://www.mql5.com/ru/articles/408