Advanced Dashboard for Currency Strength and Speed

USER MANUAL

This indicator is part of a complete trading strategy!
!!! RELEASED !!!

The 28Pairs Currency Strength Trading System - also known as Double-GAP Strategy - is our primary trading philosophy and is based on exploiting individual currency strength and weakness. Please click here.
What is Dashboard for Currency Strength and Speed?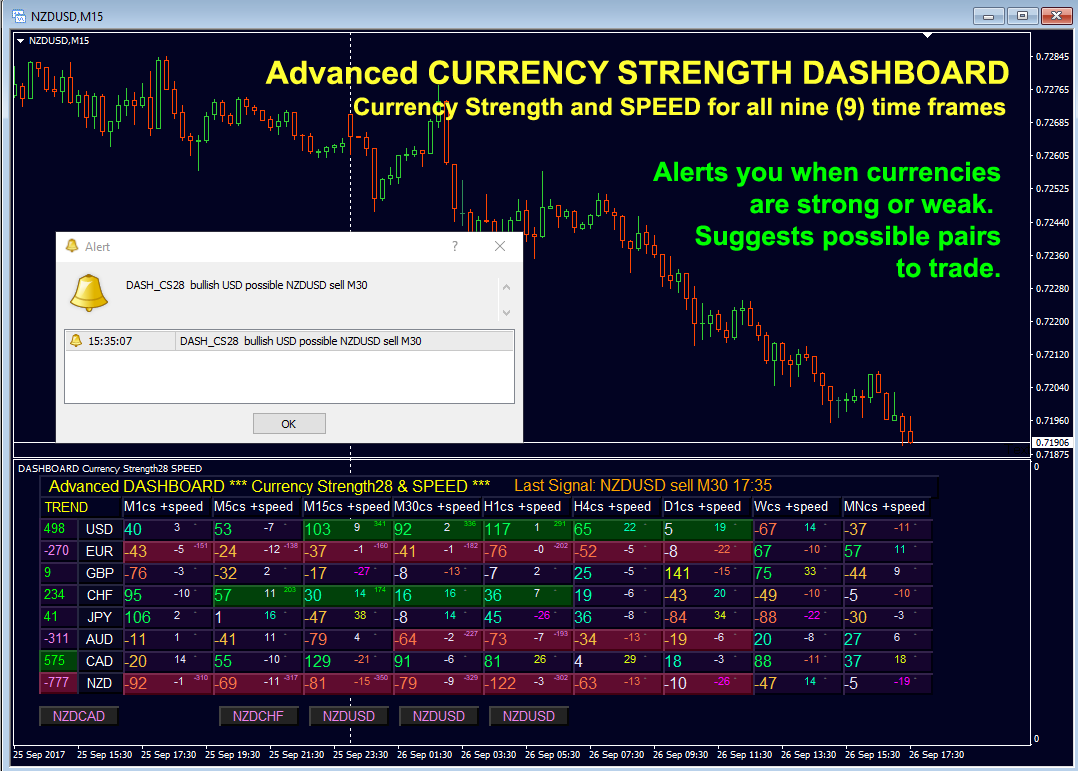 This DASHBOARD is very powerful piece of software working on 28 currency pairs. It is based on 2 of our main indicators (ACS28 and Impulse). It gives a great overview of the entire Forex Market. It shows Advanced Currency Strength values, currency speed of movement and signals for 28 Forex pairs in all (9) time-frames.
Imagine how your trading will improve when you can watch the entire market using a single indicator on your chart to pinpoint trends and or scalping opportunities?
We have built features into this indicator that make it even easier for you to identify strong and weak currencies, while identifying and confirm potential trades. This indicator shows graphically whether a currency's strength or weakness is increasing or decreasing and how it performs in all time-frames.
An added new features are the dynamic Market Fibonacci Levels which adapt to current market conditions change, a proven plus already used in our ACS28 and Impulse indicators.

Always pair a weak and a strong currency when trading and this new indicator will help you do just that.
Features:
Shows currency strength values of ACS28 and GAP-speed (Impulse) in each timeframe.

COLUMNS: Shows color coded values for weak, strong, extreme.

LEFT COLUMN: Shows TREND currency strength rating of all

time-frames

with a

TREND

alert.

If (3)

timeframes

in a row agree, 3 those blocks highlights showing a total rating.

If there is a pattern, a button appears below the

timeframe

column for the strongest possible pair with an alert.

Click on the button to open a chart for that Pair/

timeframe.

Quick chart buttons: Click 2 currency names to open any pair in a new window.

Auto update quote charts for all 28 pairs and TF's will keep all MT4 data current.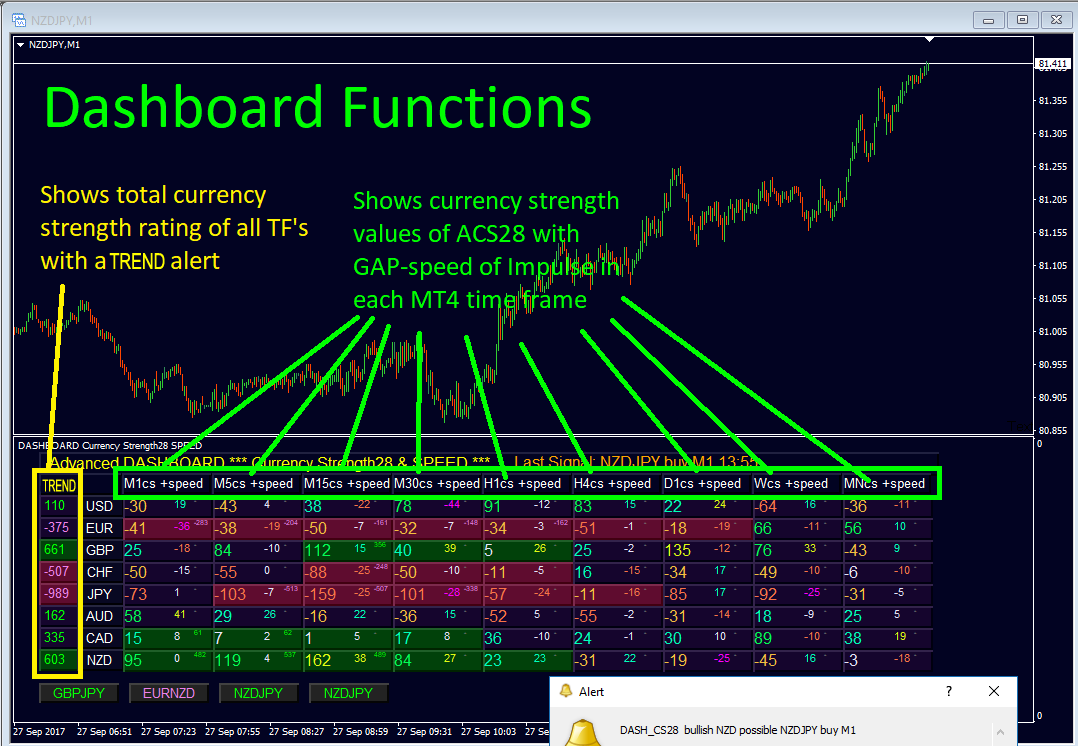 Picture above; The COLUMNS shows from left to right: Currency-TREND, Currency Names, M1 Currency Strength and Currency SPEED and if highlighted a 3-block rating, then followed for all other timeframes M1, M5, M15, M30, H1, H4, D1, W, MN.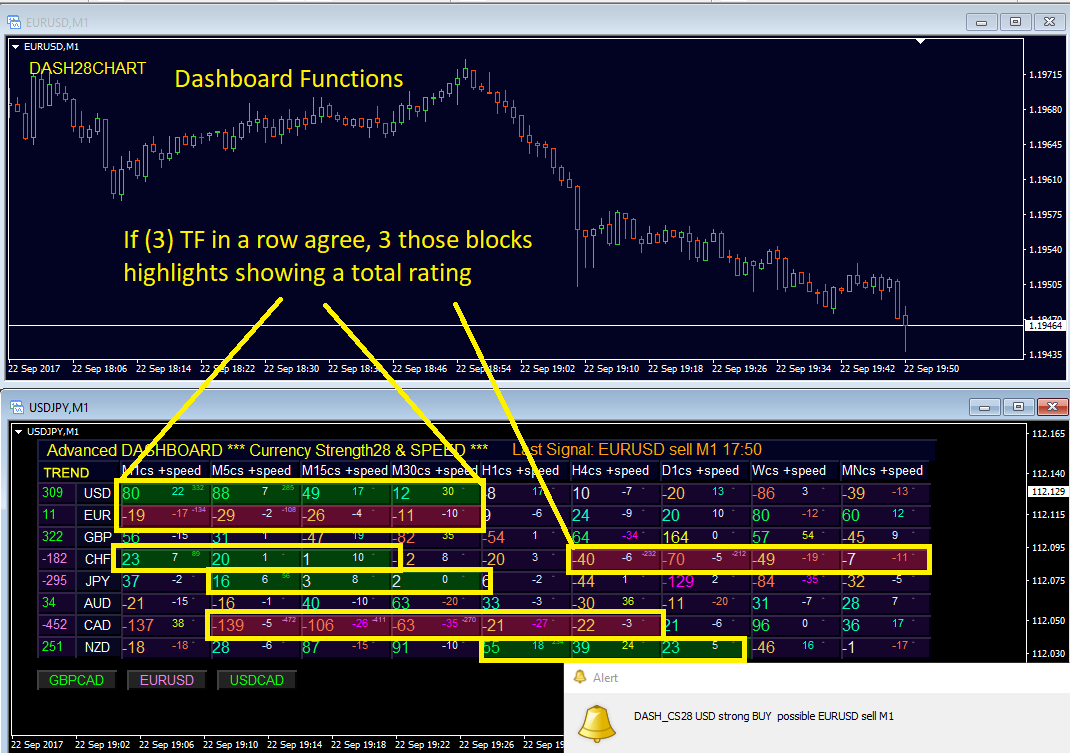 Picture above; The ROW shows: Multi-timeframe currency-strength and speed analysis. A ROW is highlighted if 3 or more BLOCKS agree.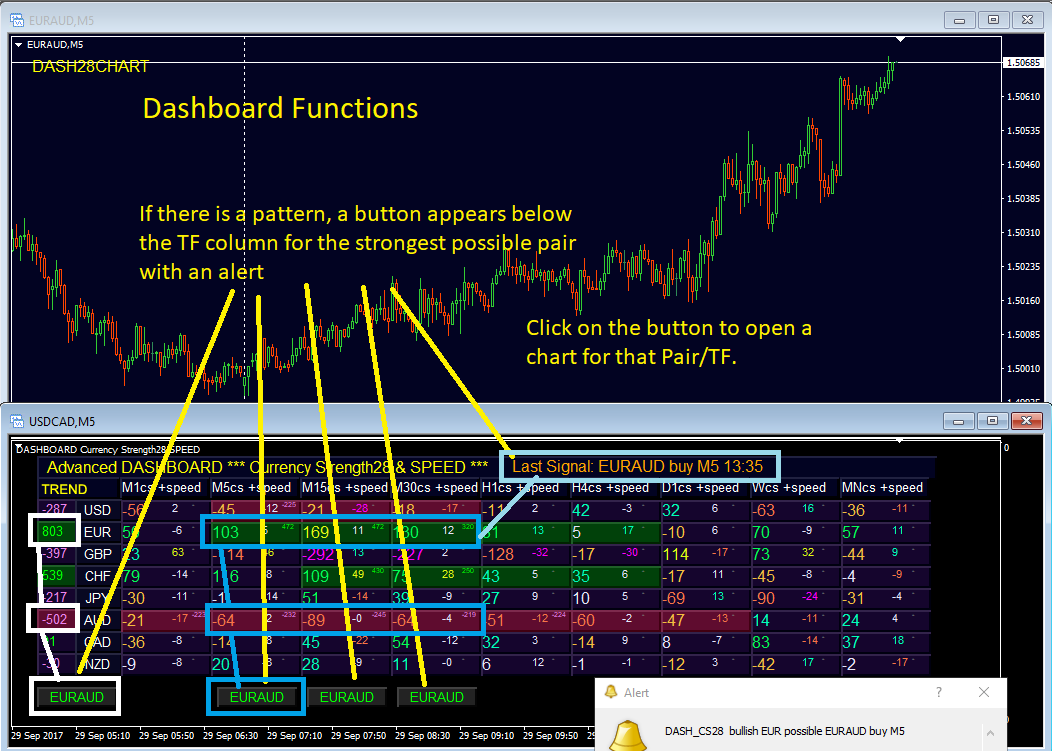 Picture above; The PATTERN: If there is a 3-ROW blocks of opposite values (green=bulls, red=bears) a button will show below the timeframe colomn with a suggested pair (green=buy, red=sell). If there are multiple results the one with the strongest rating will be choosen. An Alert will then popup. The last Alert is also printed in the first row with the time in orange. You can choose between broker time and your local computer time. Click on the button to open the symbol with the matching timeframe.

Picture above; The Color Code shows: Currency-Strength 7 colors: strong extreme/stronger/strong/neutral/weak/weaker/weak extreme. Pay attention to the extreme levels (Yellow and pink). Pullbacks are expected when Currency-Strength levels reaching higher then 161/261 or lower then -161/-261 of the dynamic Market Fibonacci levels (which are printed in the dashboards numbers). This might be a good time to take profits or to trail the SL into profit. Scalpers can watch out for pullback trades when speed (second number) is inverting the Currency-Strength. The extreme levels are optimized for each timeframe because Minute charts are more volatile then Daily, Weekly, Monthly (See settings below).
How Advanced Dashboard for Currency Strength and Speed works together with my other indicators as a complete trading system.
Do not miss out on the best trade opportunities!
Get the whole Market Overview with the dashboard and then check further your trade setups on the chart.
The picture below shows an example set of charts saved in a personalized Profile.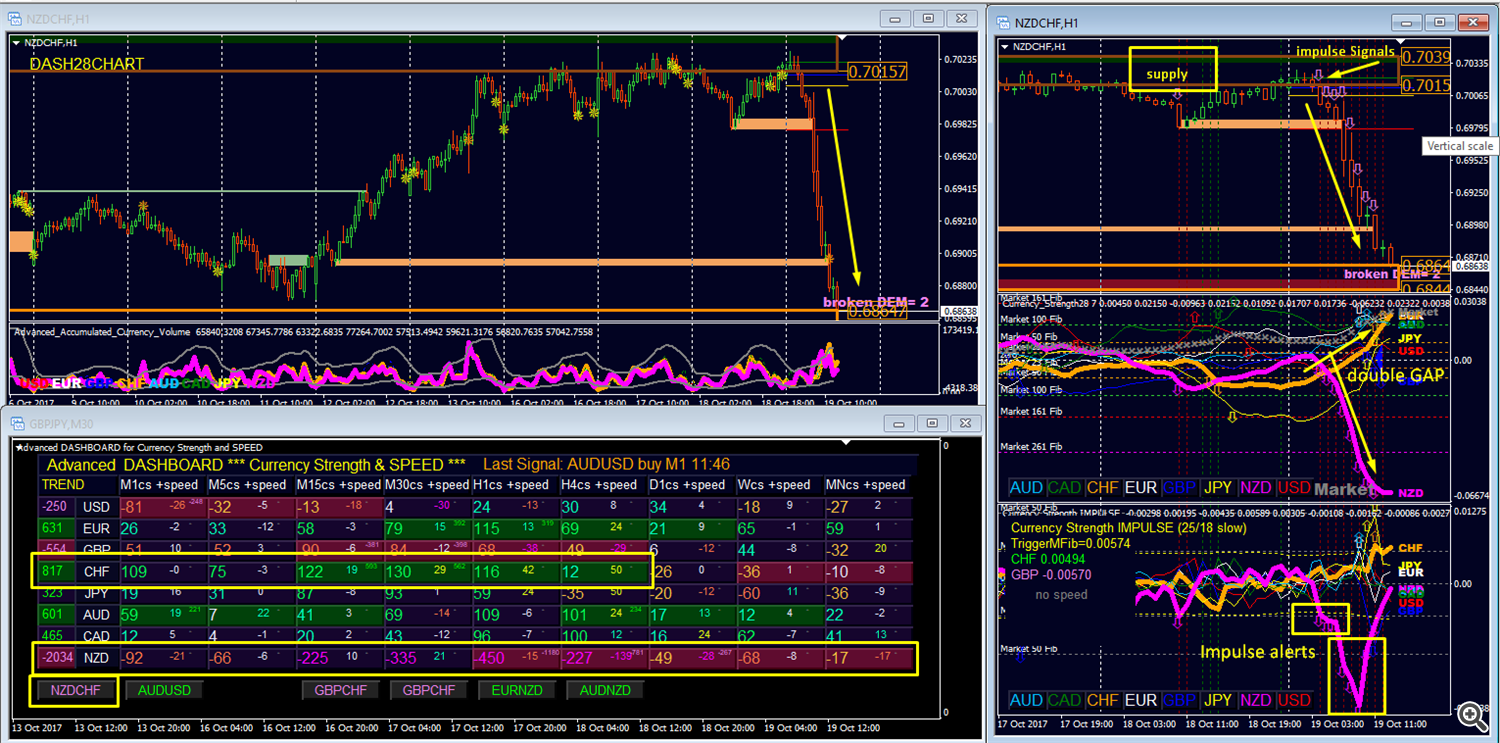 The move in above picture made 150 pips in a few hours.
---
!!! Only 2 weeks in the market when we got the best rating !!!
!!! Most Popular Indicators for MetaTrader !!!
We still holding strongly place 1 of Most Popular MT4 indicators...
!!! DASHBOARD PLACE 1 !!!
!!! And PLACE 2 is its brother ACS28 !!!
Get the trend and reversal levels with Advanced Currency Strength28 Indicator (MT4)
ACS28 user manual: https://www.mql5.com/en/blogs/post/697384
https://www.mql5.com/en/market/product/13948
---
INDICATOR PARAMETER SETTINGS/OPTIONS
link for user manual (this block)


=== Currency Strength TF Settings
Extreme Level M1 (Extreme Color Level Per time-frame. See below color code.)
Extreme Level M5
Extreme Level M15
Extreme Level M30
Extreme Level H1
Extreme Level H4
Extreme Level D1
Extreme Level W
Extreme Level MN



=== Alert Settings

Alerted chart open in new window (false: To change the pair on same chart.)

DASH Trigger

TREND

(higher=stronger) (minimum value for Trigger

TREND

alert)

TREND

chart open in timeframe (Choose the time-frame to open chart with signal button

TREND

alert)

Keep new charts in same window (To use the input true "open in new window" must be set to true. New charts will apply in one same target window where you can add additional indicators. To change the pair on the target window, click the (2) currency names. Click (2) currencies build a pair. [Example: Click GBP and JPY to change the chart to GBPJPY also the alert button will open in same target window] or click on an alert button. You can use any of your own charts as target window if you add one object with the name "DASH28CHART". Do not use 2 such charts. If there is no such chart the indicator will open one. Manage your MT4 chart windows! Do not use window mode "Maximize", use "Restore Down" instead.




Popup Alerts
Send Email Alerts
Send Push Alerts
Alerts for

TREND

Strength (Default true) (Alerts Options for M1, M5, M15, M30, H1, H4 and D1 Strengths. Choose which timeframe you want to be alerted. If there is a signal it will draw anyway a button.)

Alerts for M1 Strength (Default false)

Alerts for M5 Strength (Default false)
Alerts for M15 Strength (Default false)
Alerts for M30 Strength (Default true)
Alerts for H1 Strength (Default true)
Alerts for H4 Strength (Default true)
Alerts for D1 Strength (Default false)
Last Signal time is Local or broker time (Last Signal Message printed on top will be with your computer time or broker time=false)




=== Color Settings

Use of Simple Colors (Bear and Bulls. Only 2 colors for positive and negative values will be used.)
Simple bull Color
Simple bear Color




Color C-Strength strong extreme (7 Strength color codes)
Color C-Strength stronger
Color C-Strength strong
Color C-Strength neutral
Color C-Strength weak
Color C-Strength weaker
Color C-Strength weak extreme




Color SPEED stronger (5 Speed color codes)
Color SPEED strong
Color SPEED neutral
Color SPEED weak
Color SPEED weaker




Panel TOP background Color (background color codes)
Panel DASH background Color NEUTRAL
Panel DASH background Color BEAR (signal color of

highlighted

blocks

)

Panel DASH background Color BULL (signal color of

highlighted

blocks

)
Background Color button




=== Other Settings

Auto open of 7 support charts! (SPECIAL: Automated MT4 history updates with background charts! This charts are for updating external currency quotes. Remove all indicators from this chart. Keep it minimized.)
Run support charts all timeframes! (Update for all 28 pairs in all timeframes.

On a separate chart, it will go through all pairs and ALL timeframes with a schedule. E

xternal chart data should be CONTINUOUSLY be updated.

)
Font spacing X (big screen) (Pixel correction for 4K monitors)
Font spacing Y
Start Dash pixel X (Pixel correction for dashboard position)
Start Dash pixel Y
Label font
CS label size (For header, message and CS-values)

SPEED label size (For SPEED and

highlighted

block rating)

Font size alert button



Tips
Use my template and profiles (See below)

Trade with the higher

time-frame

trend, trade weak against strong currencies and if the currency is extreme a color and speed it is inverted, check for a pullback trades

Study the complete trading system, read my news and blocks for trading system examples
I will always help you if you have any questions, just PM me for questions or to receive the latest information.
May there be many green pips in your near future.
Best regards,
Bernhard
---
This blog will be updated with more details in the coming week. Please be patient until then.
For more details and questions email me at bernhardfxcontact@gmail.com