Advanced Currency Impulse with Alert Indicator USER MANUAL

This indicator is part of a complete trading strategy!

The 28Pairs Currency Strength Trading System - also known as Double-GAP Strategy - is our primary trading philosophy and is based on exploiting individual currency strength and weakness. Please click here.
What is Advanced Currency Impulse with Alert indicator?
It is the first of its kind in Forex Trading to show CURRENCY STRENGTH ACCELERATION!
CURRENCY STRENGTH ACCELERATION we call it speed or impulse. It is build of a secret formula looking into the base and quote currency strength momentum.
Ones the indicator is added to only ONE chart the indicator gives you the signals for all 28 forex pairs and also draws the historical signals and momentum on the actual chart.
!!! THE NEW VERSION 2.0 IS ONLINE !!!
--- as from today 8th June 2017 ---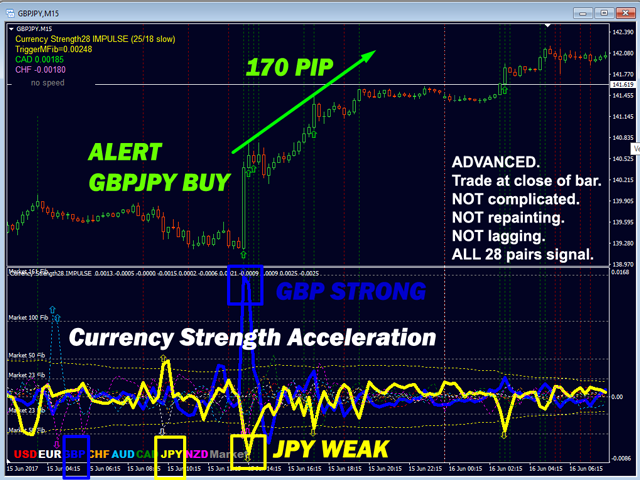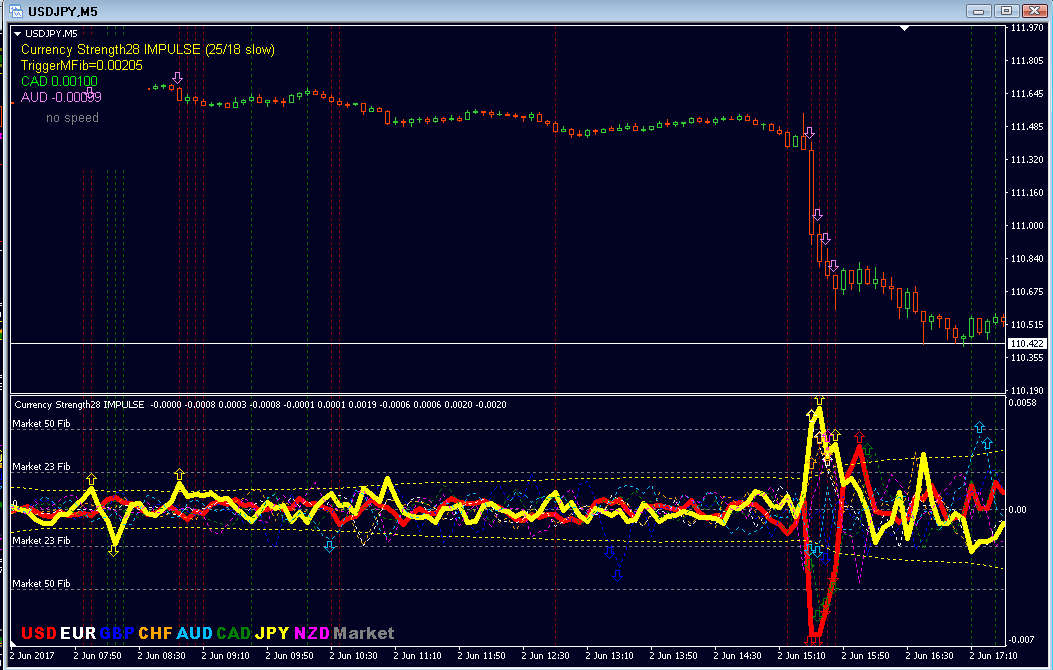 NEW: Vertical lines and arrows for currency momentum will guide your trading!
The dynamical Market Fibonacci 23 level is used as an alert trigger and will adapt to market activity. If the impulse hit the yellow trigger line you will receive the alert on MT4 or your email or push alert. Then you know as a trader what to do. The pair and direction are already given. Just click on the alert button to switch to the pair or to open a new chart for your further analysis. The alert level can be changed by user input and 3 Sensitivity-levels can be chosen.
Get the initializing trigger of a new trend early! This acceleration and deceleration can be used by both swing traders and scalpers. To swing traders it shows when a new trend has been triggered and to scalpers, it shows which pairs are going to have movement. From our clients and our own experience, we know the two indicators work so well together that it is truly a case of 1+1= 3!
Impulse Version 2.0 here an example for M1
How the arrow draws on the chart: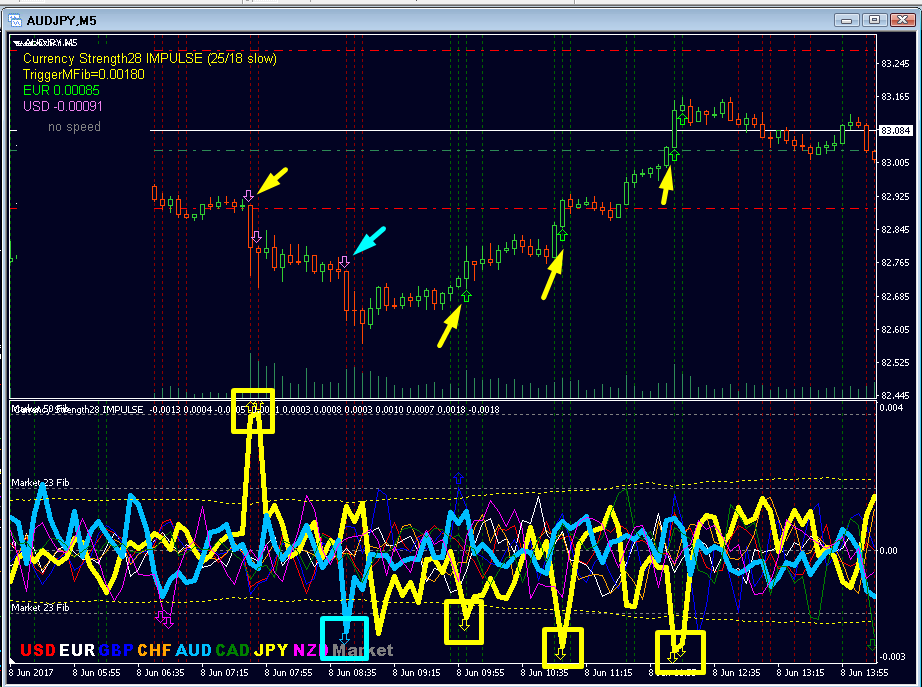 V-Lines showing bullish and bearish currency GAP sentiment but it is not jet an alert trigger.
While impulse alert (arrow) reads all 28 pairs, the V-Line is only for the actual pair of the chart.

Look for blocks of 2 or 3.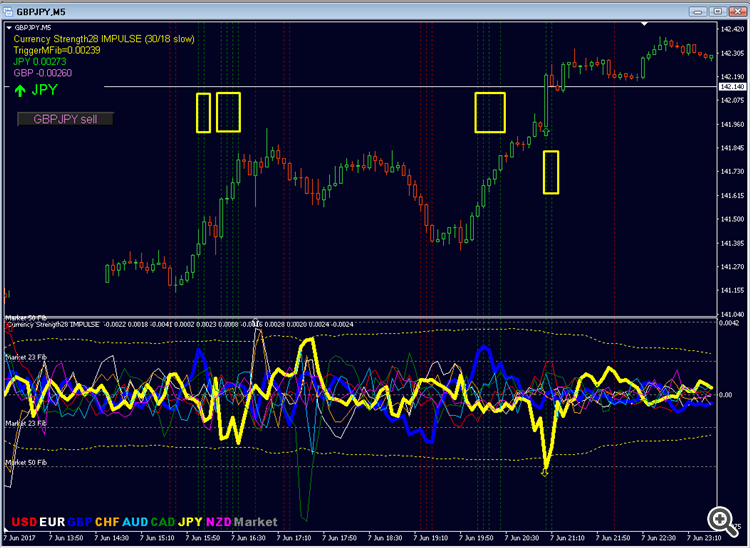 (For the following blog, notes for the MT5 version will be added in blue.)

Indicator parameters

Impulse Sensitivity (Sensitivity slow/medium/fast)
Line width base and quote CS (make thicker the currency of the chart)
Line width other 6 CS (the other currencies)
Line other 6 CS dotted if width=1
HIDE the other 6 CS lines (show only base and quote CS)
show Bars back (how many candles back the indicator draws)

=== Alert settings

alerted chart open in new window (false for change chart in the same window)
alert on the live or closed candle
CS-Impulse Trigger at market Fib (higher=stronger) 25
GAP value for V-Line (higher=stronger) 18 (NEW)
draw arrow for Impulse alert (NEW)

draw bull and bear V-Line (NEW)
popup Alerts (popup MT4 alerts. It will tell strongest or weakest currency, value, possible trade pair)
send email alerts (To receive alert email, enter your credentials in your MT4)
send push alerts (to your phone)
show values in main=0 or sub-window=1


=== Color settings

You know how to use it. (Euro is white, please change if you use white chart background)
=== other settings

write Global variable trigger value (for developer)

Tips


GET FIRST MT4 CHART HISTORY! (See comments)


(MT5: New: to get MT5 chart history; 7 support charts will be opened! This function can be deactivated.)

Use my template. (See latest comments)
The Alert trigger value can be edited at any Market Fibonacci level in settings. It can be any number. The default is 25. The yellow line shows the level on the chart.
Then we see the numbers of the highest and lowest Impulse value.
Followed with the Currency which reached the trigger value (if there is any).
A timer will allow one alert per currency and candle.
A button will then pop up with a suggested pair. By click on it, it will open a new chart in the same timeframe. It may change or disappear if conditions are no longer met. Still, you can have a look at the chart.
If you use "open chart in new window" save your favorite template with the size of half the MT4 chart window to the name "default". So your personal template will always be applied.
Check my news and blogs on profile for trading system and trade examples.
Read the user manual.
Study the complete trading system.
Send me a private message to get the latest information.
I will always help you if you have any questions.
I wish you many green pips in the future and success to your trading career.
Best regards, Bernhard
Indicator input parameters:

Get the indicator direct from mql5 now: click here.

https://www.mql5.com/en/market/product/18155
The MQL5 licenses itself give you the option to use the indicator on unlimited MT4 accounts on the same computer and you can do activations for 5 computers. As well for updates, it is easy. You will be notified and then you can download.
Check the message on MT4 in upper right corner for updates.
If you missed the message click on what's new to see the last version.
Then click indicator properties the first tab "About" to see qhat you have.
Oops, about is newer? Well yes, that's mine. :)
It will be released soon...

---
How to install the indicator?
Download/update the indicator via MQL5 Market within your MT4.
1. Register a MQL5 account: https://www.mql5.com/en/auth_register
2. Open your MT4/MT5 platform and go to Menu >> Tools >> Options and click on the Community tab. There you put your Login and Password of your MQL5 account and click OK.
Restart MT4.
Open terminal (Ctrl+T) or Menue VIEW / TERMINAL
It may need to drag the sub-window higher with the mouse.

Go to "Market" tab
Above are new tabs move to "Purchased" section. Next, click " download or update" near the purchased product:
Or alternative search for Advanced Currency Impulse with Alert
Copy and paste the name into the MT4 search field of the Market sub-window in the right upper corner.

Or go to the search area of your MT4/MT5 platform, on the upper right corner (where the magnifying glass is), type or copy and paste in the name of the indicator Advanced Currency Impulse with Alert and click Enter.
You will see lower, in the Terminal Window of your MT4/MT5 platform, the results of your search. Click on the name of the indicator.
Mark the indicator as favorites to find it quick.
Click on the green Rent button on the right side of your Terminal Window.
Select the payment method and complete payment for your subscription.
After download, you find the indicator under Navigator \ Indicators \ Market
The MQL5 licenses itself give you the option to use the indicator on unlimited MT4 accounts on the same computer and you can do activations for 5 computers. As well for updates, it is easy. You will be notified and then you can download.
For additional MT4 or brokers or computers, you need to install the indicator in the same way as mentioned above.
Terminal's showcase updating once in 24 hours. If you don't see any updates - that means 24 hours haven't passed yet. You have to wait for showcase update.
If a new version of a product is available, you will see the corresponding message against it as well as the "Update" button (or the "Update demo" button for the demo version of paid products).
Once this button is pressed, the new version will be downloaded. The new file replaces the previous one. Thus if you need, save the old version of the file under a different name or outside of the directory [platform data folder]\MQL5\Market\.
To install updated version immediately delete the product from Navigator window, restart the terminal and try to install purchase from Terminal - Market - Purchased tab.
DO NOT USE THE OLD TEMPLATES!
OPEN THE INDICATOR SETTINGS AND PRESS RESET. Then work out your favorite settings.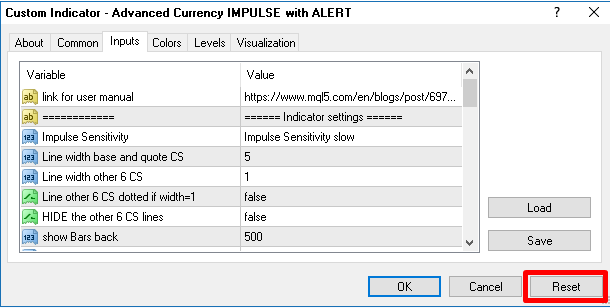 Email me to get the latest support files.
bernhardfxcontact@gmail.com

---
THIS MANUAL WILL BE continuously be UPDATED !! So check again.