Advanced Currency Impulse with Alert Indicator USER MANUAL

This indicator is part of a complete trading strategy!

The 28Pairs Currency Strength Trading System - also known as Double-GAP Strategy - is our primary trading philosophy and is based on exploiting individual currency strength and weakness. Please click here.
Serious traders know that currency strength trading is the most lucrative form of trading because of the choice of pairs combined with strength and weakness.
What is Advanced Currency Impulse with Alert indicator?
It is the first of its kind in Forex Trading to show CURRENCY STRENGTH ACCELERATION!
CURRENCY STRENGTH ACCELERATION we call it speed or impulse. It is build of a secret formula looking into the base and quote currency strength momentum.
Ones the indicator is added to only ONE chart the indicator gives you the signals for all 28 forex pairs and also draws the historical signals and momentum on the actual chart.
Features:
The only indicators using advanced techniques of Dynamic Market Fibonacci levels. (Our secret code)
Each time frame is optimized on its own!
Choose one of the 3 sensitivity modes (slow - medium - fast).
Each currency is handled by its own characteristics!
Dynamic Market Fibonacci levels for currency strength are applied. They adapt dynamically and historical to the actual market activity!
Arrows to show currency momentum.
Impulse Sell/Buy Alerts for 28 pairs (Currency Strength Acceleration) with a button to quick change the chart.
Vertical lines and arrows for currency momentum on actual chart will guide your trading!
Data calls from external pairs are reduced.
Automated support charts to speed up broker feed.
Buttons to quick change chart.
!!! THE NEW VERSION IS ONLINE !!!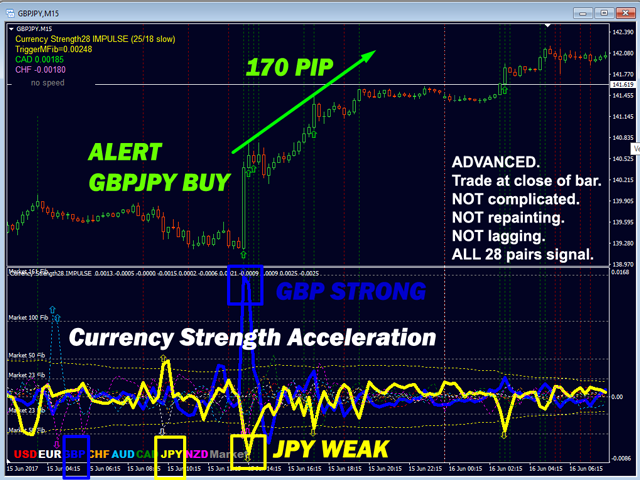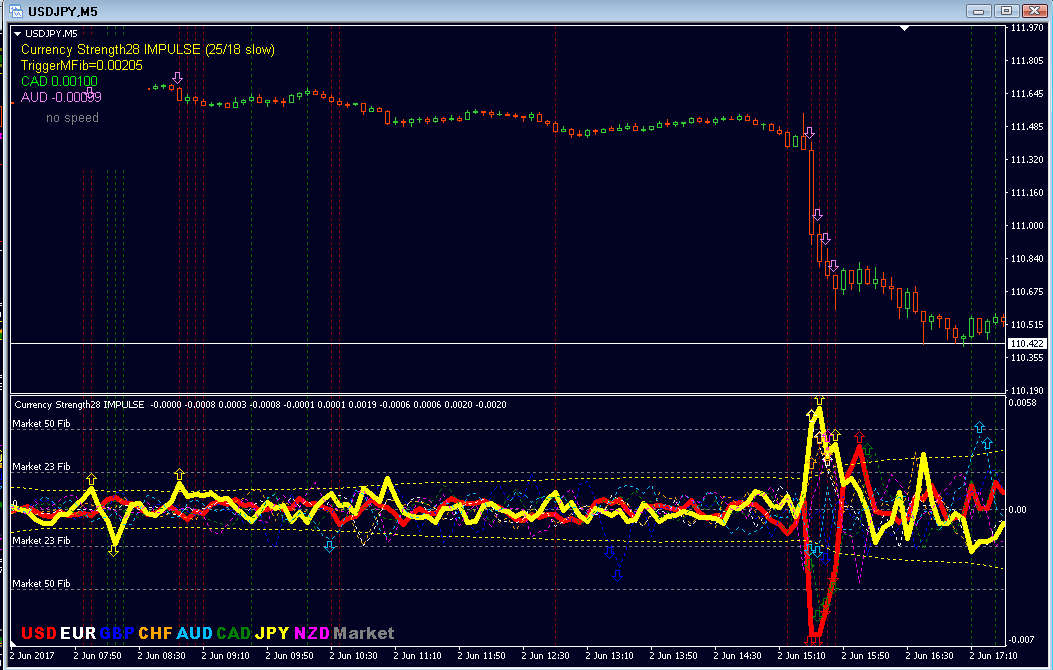 Vertical lines and arrows for currency momentum will guide your trading!
The dynamical Market Fibonacci 23 level is used as an alert trigger and will adapt to market activity. If the impulse hit the yellow trigger line you will receive the alert on MT4 or your email or push alert. Then you know as a trader what to do. The pair and direction are already given. Just click on the alert button to switch to the pair or to open a new chart for your further analysis. The alert level can be changed by user input and 3 Sensitivity-levels can be chosen.
Get the initializing trigger of a new trend early! This acceleration and deceleration can be used by both swing traders and scalpers. To swing traders it shows when a new trend has been triggered and to scalpers, it shows which pairs are going to have movement. From our clients and our own experience, we know the two indicators work so well together that it is truly a case of 1+1= 3!
Impulse new Version here an example for M1
How the arrow draws on the chart: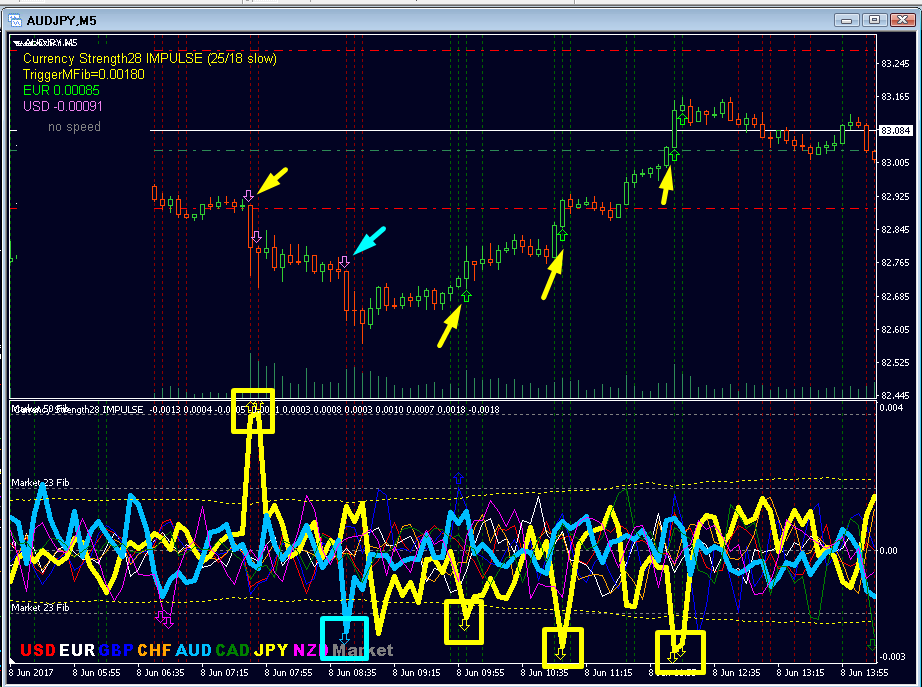 V-Lines showing bullish and bearish currency GAP sentiment but it is not jet an alert trigger.
While impulse alert (arrow) reads all 28 pairs, the V-Line is only for the actual pair of the chart.

Look for blocks of 2 or 3.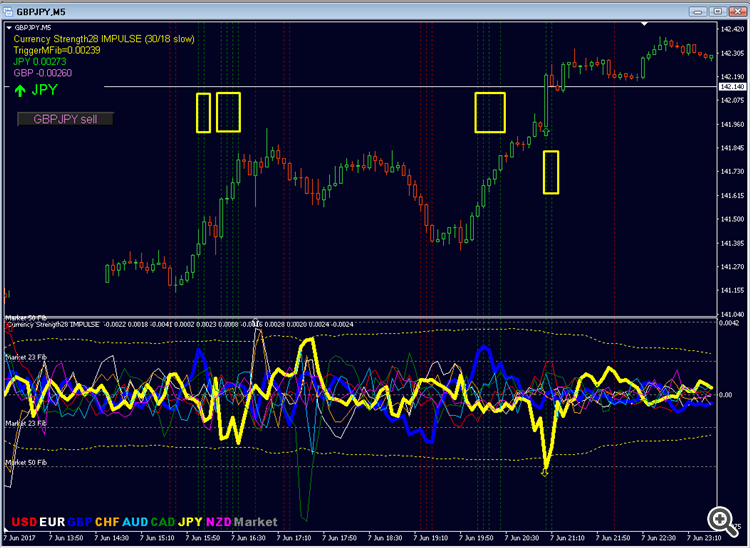 The new display:
Below picture shows the display with the Setup values (minimum Trigger value (23) and the value for a vertical line 18) and the sensitivity (slow/medium/fast).
The strongest up-impulse is shown in Market Fibonacci values (last closed candle). It tells the currency and the speed. Then there is the strongest down-impulse which tells the currency and its speed. At the moment there is no speed-signal.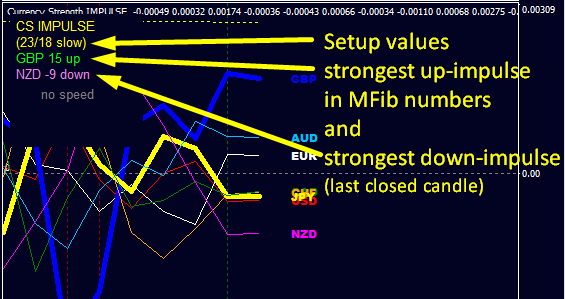 Below picture shows the highest speed is +22 which is CAD and the lowest speed is -24 which is GBP. Now we have a Signal: GBP has hit the negative trigger value with -24 which is lower than the trigger -23. Then we have a pair button to open a chart or to change the symbol.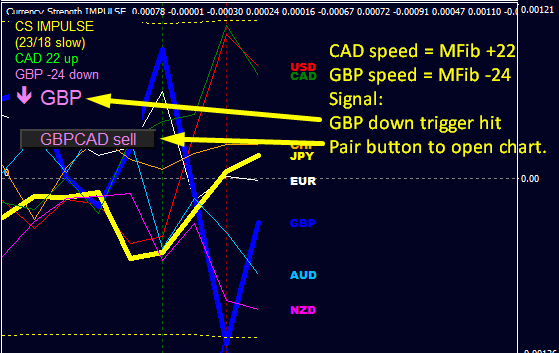 (For the following blog, notes for the MT5 version will be added in blue.)

Indicator parameters:
=== Indicator Settings
Impulse Sensitivity (Sensitivity slow/medium/fast)
Line width base and quote CS (make thicker the currency of the chart)
Line width other 6 CS (the other currencies)
Line other 6 CS dotted if width=1
HIDE the other 6 CS lines (show only base and quote CS)
show Bars back (how many candles back the indicator draws)
show buttons
show CS labels

=== Alert Settings

alerted chart open in new window (false for change chart in the same window)
alert on the live or closed candle
CS-Impulse Trigger at market Fib (higher=stronger) 23
sGAP value for V-Line (higher=stronger) 18
draw arrow for Impulse alert (NEW)

draw bull and bear V-Line (NEW)
show values in main=0 or subwindow=1

(use 1 or 2 to move results to sub-window)
==== General Alert Settings
popup Alerts (popup MT4 alerts. It will tell strongest or weakest currency, value, possible trade pair)
send email alerts (To receive alert email, enter your credentials in your MT4)
send push alerts (to your phone)

=== Color Settings

You know how to use it. (Euro is white, please change if you use white chart background)
=== Other Settings

open support charts!
run support charts also on cross pairs!
arrow size (1 to 5)
Font size button
CS label size
alert position X
alert position Y
Font spacing X (big screen)
Font spacing Y
Panel background spacing X
Panel background spacing Y
Label font
show V-Line max Bars (0=auto)
arrow and alert delay seconds after restart (3 to 30)
better CPU use, pause on ticks (2-200)
Comma separated pair exclude list (no alert)
use PIN (NEW upcoming version 2.6) (Several PINs (global variables) to work with external tools or EA-development.)
Force objects to subwindow number (0=auto)

Tips


GET FIRST MT4 CHART HISTORY! (See comments)


(MT5: New: to get MT5 chart history; 7 support charts will be opened! This function can be deactivated.)

Use my template. (See latest comments)
The Alert trigger value can be edited at any Market Fibonacci level in settings. It can be any number. The default is 25. The yellow line shows the level on the chart.
Then we see the numbers of the highest and lowest Impulse value.
Followed with the Currency which reached the trigger value (if there is any).
A timer will allow one alert per currency and candle.
A button will then pop up with a suggested pair. By click on it, it will open a new chart in the same timeframe. It may change or disappear if conditions are no longer met. Still, you can have a look at the chart.
If you use "open chart in new window" save your favorite template with the size of half the MT4 chart window to the name "default". So your personal template will always be applied.
Check my news and blogs on profile for trading system and trade examples.
Read the 20 comments below of this user manual.
Study the complete trading system.
Send me a private message to get the latest information.
Advanced Currency Impulse with Alert is a multi-pairs indicator. It works for all time frames and gives all 28 pairs signal on a single chart, and it is super configurable. So PLEASE take your time and study it VERY good. This indicator is not like a bicycle to driving but like a helicopter to fly.
I will always help you if you have any questions.
I wish you many green pips in the future and success to your trading career.
Best regards, Bernhard
Indicator input parameters: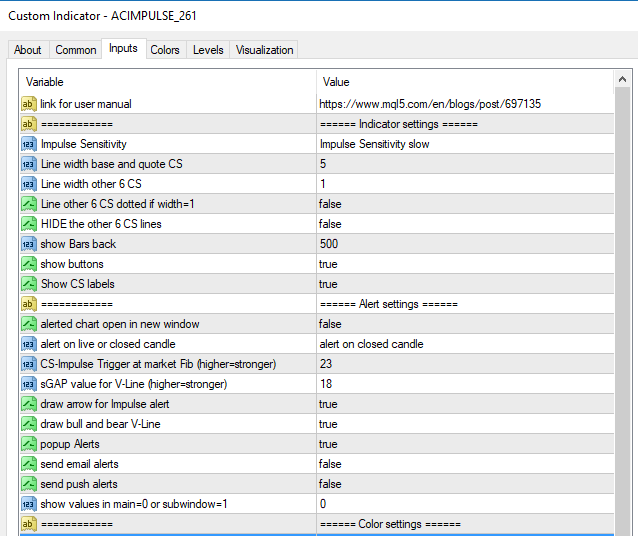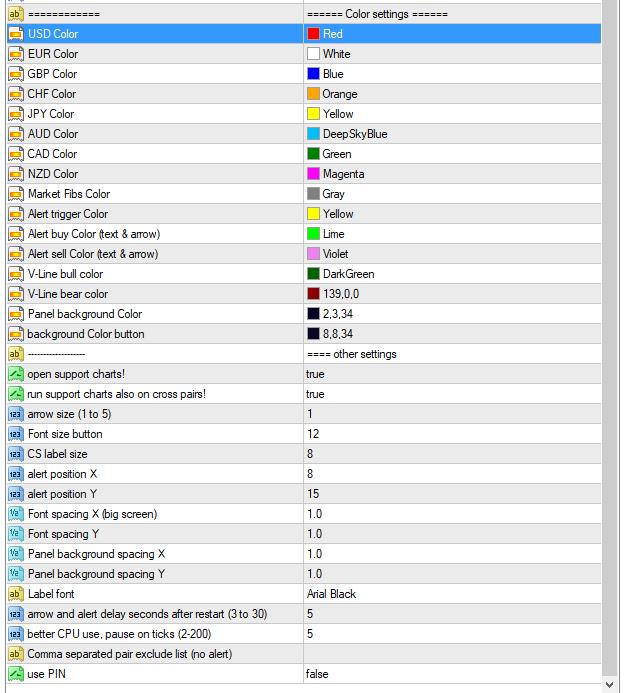 The MQL5 licenses itself give you the option to use the indicator on unlimited MT4 accounts on the same computer and you can do activations for 5 computers. As well for updates, it is easy. You will be notified and then you can download. How to install/update the indicator? Check comment 7 below.
---
Specials !

Discounts are available for MT4 versions, now.
Special: Save 31% Off

Sale has started!
Profit now with a lower price. Limited offer with discount MT4.
Original Price: 128$
Discounted Price: 88$
Get it now with discount 31% OFF!

MT4 CLICK HERE
(MT5 click here)
I will always help you if you have any questions.



---
A special tool/indicator called "CS28 Combo Signals" will be free for loyal clients! (MT4)

Who followed the news on my profile will know we were developing that tool over some time. It is a tool which works together with Advanced Currency Strength28 (ACS28) and Advanced Currency IMPULSE with ALERT. ACS28 and Impulse will communicate with the "CS28 Combo Signals" indicator. Then it will filter signals of Advanced Currency Strength28 and Advanced Currency IMPULSE and do different and combined alerts. With several input parameters the trader has now more options to configure alerts to his needs. For example we got alerts for double-GAP or Impulse if Currency Strength is within Market Fib100/-100, or a double-GAP when Currency Strength has already crossed, and more...

A FREE personal license is available for loyal and happy clients who own ACS28 and Impulse indicators and have a bonus with us.
Requirement for "CS28 Combo Signals":
You own Advanced Currency IMPULSE with ALERT.

You have at least basic experience with the above indicators for a full week and studied my trading system. You studied the user manuals and know how to use each input parameters. You are happy with the indicators and our service.
Send me a personal message or an email at bernhardfxcontact@gmail.com to get all info and reserve your place.
Please wait for answer within 24-48 hours.

Many customers got it already.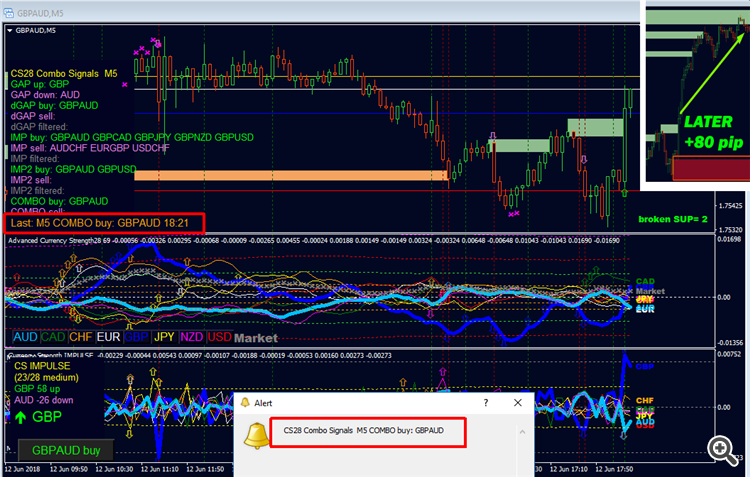 ---
Ones you got the indicator(s) request the starter email with more info, links, templates, and stuff. I want to make sure of your success! You need it.
Send email to BernhardFXcontact@gmail.com or send me personal message.
Unlock Your Serious Edge
---
Thanks, I wish you many green pips in the future.

Best regards Bernhard
---
Attention! All my products can be bought only here, on the official MQL5 website. Beware of scammers!

Place a comment on the indicator page at mql5 so we can verify your access for our forum and other bonuses in the future.
THIS MANUAL WILL BE continuously be UPDATED !! So check again.
READ ALSO THE NEXT 20 COMMENTS.