IMPORTANT: We answered all the questions and you'll find the latest answers at the second comment page.
Dear customers, friends and interested traders,
today we want to share our Blueball Trading System with you.
It combines our five stars rated trading tools
Analyzer PRO
,
Lighthouse
and
Powerplay
with the power of fundamental news to get only high probability trades and large price movements.
First of all, you may have a look at the screenshot to see how we set up our charts. The trading rules are explained in detail directly below.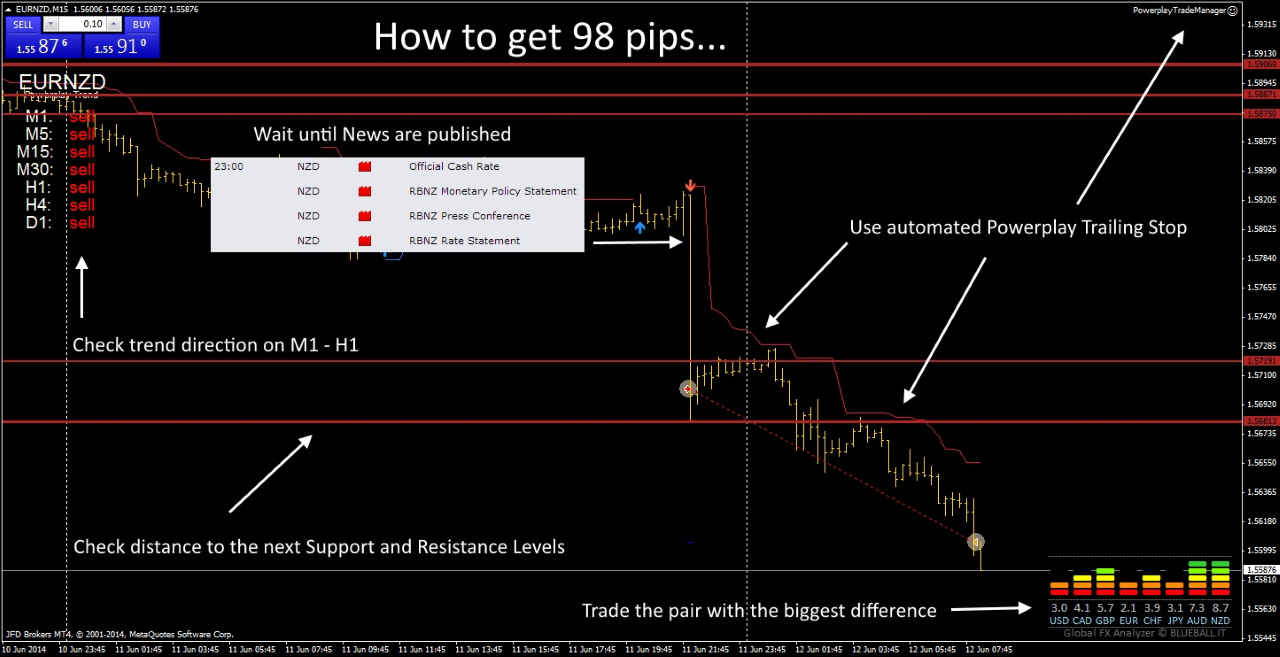 The main question is: Where can arise a bigger price movement?
After the news are published we are waiting for about 3-5 minutes until the price finds its direction and the spreads are normalized.
Now we look at the
Analyzer PRO
display and as a result of the news we see a
strong
Euro (EUR >
6.5
) or
weak
Euro (EUR <
2.5
). Next we are looking for the currency with the greatest delta to the EUR.
Let's say the EUR is weak (
2.1
) and NZD is strong (
8
.7
) then we check the EURNZD chart for a possible SELL entry. The calculated delta between both currencies is
8.7
-
2.1
= 6.6
Now we have to check if the trends of
Powerplay
and the results of the
Analyzer PRO
are matching in their direction: -> Buy trend and strong currency or -> Sell trend and a weak currency.
In our example, we need to look at the display if
Powerplay
trends from M1 - H1 are SELL and now let's go to the most important check before we enter our trade:
We need to check with
Lighthouse
if the price is not near an important SR level where it can bounce back. There should be at least not less than about 10 pips SR to the next SR level.
If all checks are successful and we see a clear movement we can enter a short trade and use Powerplay trailing stop based on M15 or M30.
Exit: It depends on you if you want to trail the whole move or exit at the next SR level or close the sell trade if the calculated delta between the involved currencies is lower than 1.0
If you have any further questions, just send an email to service@blueball.it
Best regards
Daniel