Algorithmic trading becomes more popular and needed, which naturally led to a demand for exotic algorithms and unusual tasks.
Today, MACD or Bollinger Bands based EAs are not the only ones sought after. Traders now crave for more complex and unique applications performing market analysis from different points of view. That is understandable: the more signals an algorithm produces, the more reliable a trade will be.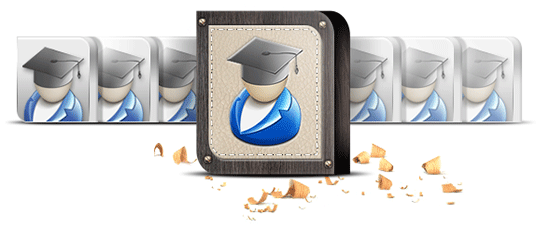 To some extent, such complex applications are available in the Code Base or in the Market. Although traders have simple access to those apps in a couple of clicks, these apps may not satisfy all needs in full. In this case, traders look for developers who can write a desired application in the MQL5 Freelance section and assign an order. Just like this: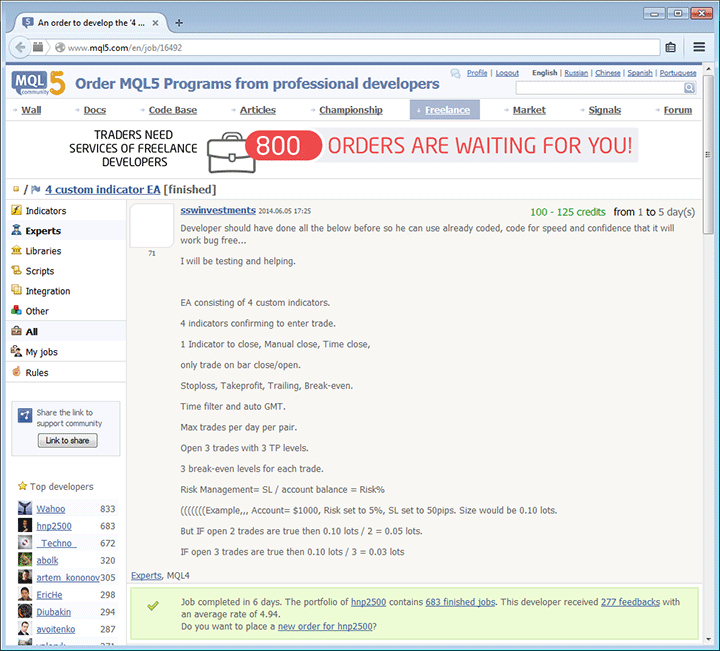 Generally speaking, this kind of order is pretty ordinary and straightforward in terms of programming, but it requires the developer to create a unique EA for the specific trader. Apparently, for the customer it is more convenient to work with such an expert and he is willing to pay for the job. There are many orders as such in the Freelance section, and this is a great opportunity to gain income through Freelance jobs in a short time, solving an interesting and unique challenge.
In many instances traders don't need to develop an application from scratch, but require to make some changes in the existing code. In other words, a trader can have an EA or an indicator in which something is not quite right. For example, it lacks an indicator to receive more reliable signals, or money management concepts need to be changed.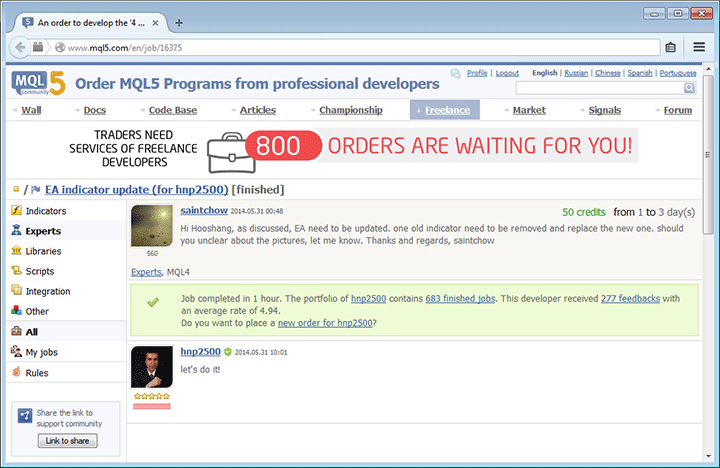 A decent number of such orders can also be found in the Freelance section. Of course, those orders are of lower cost, but also require less work - it's not too bad to get $50 for an hour's work. In addition, you can perform several orders simultaneously, and total earnings may be quite impressive.
Underrated Market of Custom Applications
In broader terms of algorithmic trading, the statistics in the Code Base and the Market clearly demonstrate that trading robots themselves become more interesting for traders. At the same time, the Freelance analysis indicates that more traders need the services from developers to meet unique one-time challenges.
For the last 4 years, the service accommodated about 3,000 traders for whom more than 10,000 orders have been performed. The pace of creating new orders is constantly growing, so we can safely proclaim that this is a new emerging market of custom applications. Like in every market, this one also has its own volume - almost $600,000 spread over developers' purses. Top developers performing orders on a regular basis received the most of this amount.
However, during this time only 281 developers created custom programs. The Freelance remained in the shadow of more streamlined services, and many developers avoided it by mistake, believing that it was not a serious source for their income. In the contrary, top freelance developers earn as much as the top sellers in the Market do!
In addition, working in the Freelance gives a good programming practice, since tasks are constantly varying and must be resolved within a limited timeframe. Lastly, developers can establish a name for themselves as professional developers and earn even more, so that traders on their own will choose to assign personalized orders to them by name. Besides, such a name will give an additional benefit if if such a professional decides to become a seller or a signal provider!
We have created the Freelance service with an idea to support a small number of traders who needed services from developers. After 4 years, the number of such traders has drastically increased, and they are ready to pay top dollar for their orders. If you're a developer, and you are not on MQL5, you are seriously missing out!
Check new orders in the Freelance
Translated from Russian by MetaQuotes Software Corp.
Original article: https://www.mql5.com/ru/articles/1009