Do you like the article?
Share it with others —
post a
link
to it!
How Secure Is It to Buy MQL5 Market Products?
36 605
0
MQL5 Market is a service designed for highly secure purchasing of Expert Advisors, indicators and other applications. The entire purchase process (from placing a product on Market up to its downloading to the terminal) is heavily protected. You will be able to use the application in MetaTrader 5 terminal immediately after you pay for it. It will be available to you at all times.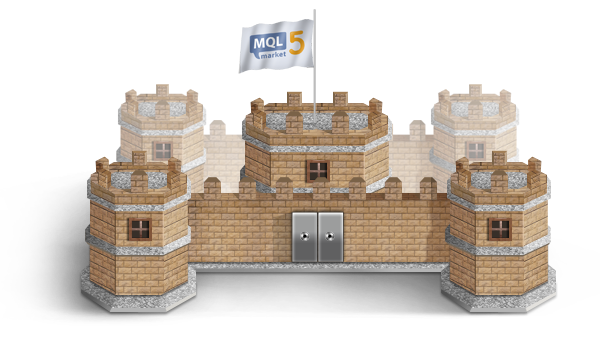 Market is regulated by special rules protecting all service users. First of all, Market sellers must meet rigid requirements. They must also pass additional registration specifying actual contact details, phone numbers and submitting identity documents. All specified data is verified before a seller is allowed to start selling applications on MQL5 Market.
Security of published products is also considered. For example, a product should not use dll libraries, which can be used as tools for frauds. Besides, products are checked for malicious code and operability. Products violating the rules will not be published in Market. Therefore, you are protected from malware.
Besides, you can test an application. Each Market product has its free demo version. It can be tested in the strategy tester and receive a detailed report on the product and its parameters. Thus, you will be able to check the program in action before purchasing it.

Payments are based on our own payment system of MQL5.community website. SSL protocol and payment confirmation via SMS messages are used to ensure security of all transactions. Users should register on www.mql5.com and deposit their accounts in any convenient way to start using MQL5 Market.
Keep in mind that a purchased application will be bound to your computer by a unique installation code. Thus, even if intruders gain access to your program, they will not be able to use it, as it will not run on another computer. This solution helps to protect the interests of application developers. On the other hand, you will always be able to activate a purchased application on any three computers.
We have launched the service for selling MetaTrader 5 trading applications paying much attention to security issues. We have minimized all associated risks to allow you to concentrate on more important matters - searching for the most suitable trading robot!
Enter MQL5 Market right now to purchase trading robots securely!
Translated from Russian by MetaQuotes Ltd.
Original article: https://www.mql5.com/ru/articles/576

Interview with Matúš German (ATC 2012)
It's the second time Matúš German participates in the Automated Trading Championship. By the end of the fourth week of ATC 2012 his Expert Advisor has been holding its positions in the TOP-10 having about $30 000. Matúš is from Slovakia, from the little town Bardejov. Matúš is interested in trading for about 5 years and he develops Expert Advisors for 3 years already.

Advantages of MQL5 Signals
Trading Signals service recently introduced in MetaTrader 5 allows traders to copy trading operations of any signals provider. Users can select any signal, subscribe to it and all deals will be copied at their accounts. Signals providers can set their subscription prices and receive a fixed monthly fee from their subscribers.
Interview with Anton Nel (ATC 2012)
Today we talk to Anton Nel (ROMAN5) from South Africa, a professional developer of automated trading systems. Obviously, his Expert Advisor just could not go unnoticed. Breaking into the top ten from the very start of the Championship, it has been holding the first place for more than a week.

Interview with Egidijus Bockus (ATC 2012)
"I examined many indicators before realizing that they are not necessary for making money on Forex" - our present interviewee Egidijus Bockus (Egidijus) told us boldly. We have all reasons to take his words seriously, as his Expert Advisor occupies the third place with more than $32 000 beginning from the third week of the Automated Trading Championship 2012.

You are missing trading opportunities:
Free trading apps
Free Forex VPS for 24 hours
Over 8,000 signals for copying
Economic news for exploring financial markets
Registration Log in
If you do not have an account, please
register