Interview on Automated Trading Championship 2011 from 08.11.2011.
The Expert Advisor of Ilnur Khasanov (aharata) is holding its place in our TOP-10 chart of the Automated Trading Championship 2011 participants from the third week already, though Ilnur's acquaintance with Forex has started only a year ago. The idea that forms the basis of the Expert Advisor is simple but the trading robot contains self-optimization elements. Perhaps, that is the key to its survival? Besides, the author had to change the Expert Advisor planned to be submitted for the Championship...
Ilnur, it seems you are a newcomer at MQL5.com. Please, tell us about yourself a bit. What are your occupations? Do you study something or already work somewhere?

Yes, I am a newcomer to Forex. My student years are already over. I work at the factory security service. I was born in Sterlitamak where I still live. That is the Republic of Bashkortostan, Russia. I finished Physics and Mathematics Department of the Sterlitamak State Pedagogic Academy in 2005. Then I served in the army before starting my working career. I worked as a member of a security office, a seller and a procurement manager. Also, I tried to start a business some time ago but financial crisis of 2009 has ruined all my efforts. I came to Forex one month before the Championship 2010. Firstly, I traded manually on a demo account. After gaining some profit I tried working on a real account and suffered losses. But now I am already trying some real trading again.
What was the reason of your losses? Was it psychology or the absence of the verified trading strategy?
It was the broker... There were plenty of reasons. Both psychology and strategy. I tried to use the Woodie strategy though I had no enough time. I even created the trading robot based on that strategy during the Championship 2010. It was my first trading robot. I have already abandoned that strategy. It was quite simple and based on the moving average and the WoodiesCCI indicator used in the robot was calculated very slowly. Now, I use the automatic trading only... and the servers are already rented.
How rich is your experience in trading strategies programming?
I am in programming from 1998 but it is only about a year since I deal with trading strategies. I'm always looking for new ways of gaining profit. I have a lot of friends who make good money in IT. So, I'm constantly looking for something new inspired by their success. I have even created a web site but it is almost abandoned now, as Forex brings larger profits. Actually, Forex (internet) is a good chance to find a worthy income. You may kick yourself all the time but if you don't do something definite, you won't be able to achieve something. You should at least write and submit a program to have a chance to win the Championship.
So, have you started directly from MQL5?

Yes, I started to write on MQL5 from the beginning and I liked it. I didn't have to look for guidelines, communities or articles. Everything is presented in quite a convenient and comprehensible way. It is difficult to find such a quality somewhere else. Also it has ООP. I liked it most of all. I can say, I have a religious feeling towards OOP (laughing). I studied Basic, Pascal, Delphi, C, PHP.
Do your programming skills interfere with your search for a perspective strategy?

Not in the least!! Programming skills allow to check an Expert Advisor quickly. I'm looking for some definite Expert Advisor but if I find a better one, I put the old one aside for better times. I believe that it is possible to find something great but simple, like Einstein's equation.
Your Expert Advisor is working with 5 minutes time frame but is not very active all the same. It's rather unusual. Does it thoroughly select entry moments?
The trading robot is following one indicator in its trading activity, while entry signals filtration is being processed according to another one. Low trading activity level can be explained by big stop levels. Optimization of some parameters is implemented into the Expert Advisor but it won't work in case of reboots. In fact, that is not the Expert Advisor that I planned to submit for the Championship. The actual trading robot that I had prepared for the Championship showed very poor results. So, I had to replace it in an urgent manner.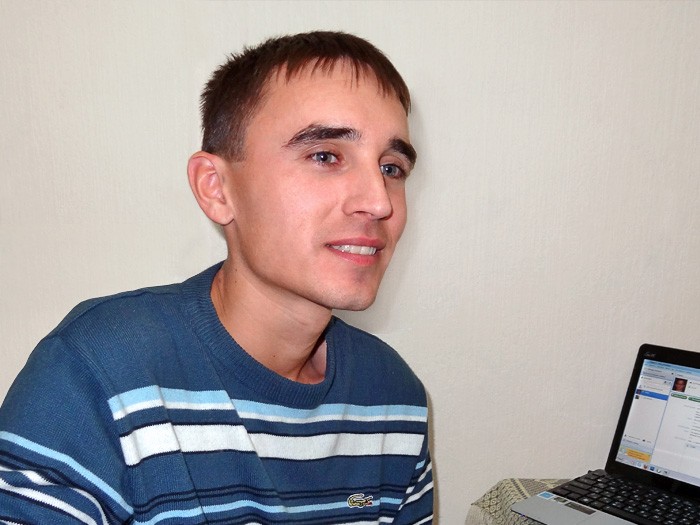 Don't you wish you have submitted a multi-currency Expert Advisor when you look at the advance of ias?

Yes, the takeoff of this participant was really impressive! But I have no regrets, as I'm still not so familiar with multi-currency robots. I think, I will submit a multi-currency Expert Advisor for the next Championship. I have already got an idea! Avoitenko promised to make a show the next Championship and it is a real challenge for me. I would also like to make a show and take part in it actively.
Can you express your own ideas concerning a successfull Expert Advisor? What are the principles it should be based on?

That is an interesting question. I think that the final result is the most important thing here, as we want to get profit. Of course, an Expert Advisor must be stable and well-protected from many risks. I changed my views concerning trading for two times. The first time it happened when I had suffered losses on a real account, and the second time - when I had started to make profit (though the sums are quite modest so far and profitability comprises 10 - 20 percent per month). In any case, trading can be a good business, as you don't have to deal with quarterly reports, staff, paper-work and all other elements of bureaucracy.

Nevertheless, your Expert Advisor have had a very small amount of deals for 4 weeks. What were the results during the automatic verifications? Did your Expert Advisor have any problems passing them?
Yes, not many deals... The automatic verifications were passed successfully, I had to recompile and download the robot because of the build. I don't think the Expert Advisor has huge potential but still... I'm very glad that I stay in the TOP-10 for the second week already.

The number of your messages at mql5.com is not so big. Where are you looking for ideas and associates?
Yes, I have not left too many messages. But I don't spend too much time now sitting at my computer. I prefer mql5.com web site, as it is really good (I would even say, it is a Perfect Web Site for People). I always read the forum and the articles attentively. I just like to learn new things. As for ideas... I look for them myself. Sometimes, I can learn something useful from other people. For example, the posts of Boris Odintsov (bobsley) during the previous Championship grabbed my attention.

You have already mentioned several participants of the previous Championships. Does the competition help you to find not only some new ideas but also some new associates?

Of course, it does! At least it inspires my longing for learning more. I'm very jealous of authorities. As far as new ideas are concerned... Well, I think I absorb them mostly unwittingly.
From your answers I can judge that you are a very positive man who accepts people and opinions easily. Don't you think a trader must be suspicious a bit?

Well, I think that suspiciousness is not necessary. I prefer cautiousness, adequateness and awareness. These are the qualities that develop human beings. It is necessary to give people a good kick from time to time to wake them up and make them do something. Those who always feel perfectly well, will not lift a finger to change anything. The most precious treasure of each human being is experience.
For how long is your Expert Advisor going to stay in TOP-10, in your opinion?

I have no idea. I even don't think about that. It does not have adaptation mechanisms in case of market changes. But I already have some new ideas for the next Championship.
Have you found something interesting during the current Championship?

There are a lot of interesting things - the way the people communicate with each other, the way the newcomers enter this field. I like to observe. I would especially like to mention EQU, Integer, notused, AM2, Lizar and Manov. I liked the chart of Integer and I'm following notused. I also like the Expert Advisor of AM2 - it is quite simple but still it is a good generator of ideas. I also examined some other works of this author. Also I would like to use anuta's Expert Advisors but only after some modifications are implemented into it.
You've said that your indicator is a trend one. But there were different periods on the market during the last four weeks. What time frame have you meant when talking about a trend?
Yes, the trading robot is a trend one. It works with 5 minutes time frame. The market is highly volatile now, I have not expected such an activity. Though my Expert Advisor can also be called an active one in comparison with Xupypг.

Can you tell us about the basis of your Expert Advisor at least in two words without much details? "Trend indicator" is a very wide definition
It is based on the moving average, it is impossible for me to tell more. I'm sorry, but the robot is actually very simple.
Your Expert Advisor is very tight-lipped. It has no entries in the Experts journal. Have you made everything from scratch?
Yes, I removed all commenting from the Championship version. I use the Standard Library, though not so actively. That is because I often use shadow stops, my own trailing stops and exclusion zones from the channel borders when writing an Expert Advisor. The Standard Library is mostly used when I need to check something. I should confess, I can hardly perceive somebody else's code and the Standard Library is not used in the submitted Expert Advisor.

What is the most important thing, in your opinion, - looking for a very profitable strategy or development of an efficient money management system?
The strategy itself is the most important thing, while money management is a part of a strategy. That is why both things are important. I think, the importance of both of components can be clearly seen when we look at the Expert Advisor of notused.

How many profitable strategies do you need to make your dreams come true? What are you going to do with them?
One strategy will be quite enough. I choose quality, not quantity in this matter. If I had such a supersystem, I would open a PAMM account, then establish a bank and eventually become a broker myself. Ah, dreams, sweet dreams...

What would you like to say to those traders who are not programmers? Is it difficult to learn or not?

Well, if they are successful traders, they can hire a programmer then. If not, they can hire a programming instructor... I'm just kidding. The learning process is quite easy, acquisition of any language starts from "Hello World" message display (I also started from this message, by the way). And the rest is paperwork.

What can you wish to the Championship participants?
I wish all the participants more happiness and good luck and let all their actions be completely conscious!
Thank you for your positive answers. We also wish good luck to your Expert Advisor.
Translated from Russian by MetaQuotes Software Corp.
Original article: https://www.mql5.com/ru/articles/548