Do you like the article?
Share it with others —
post a
link
to it!
MQL5 Market Results for Q1 2013
4 689
4
Since its founding, the store of trading robots and technical indicators MQL5 Market has already attracted more than 250 developers who have published 580 products including Expert Advisors (44% of the total number of applications), indicators (35%) and other applications.
The Market has been growing considerably during the first quarter of 2013. The number of downloads of free applications and demo versions of commercial products has almost doubled. As a result, the number of trading application downloads has reached 70 000 since MQL5 Market launch.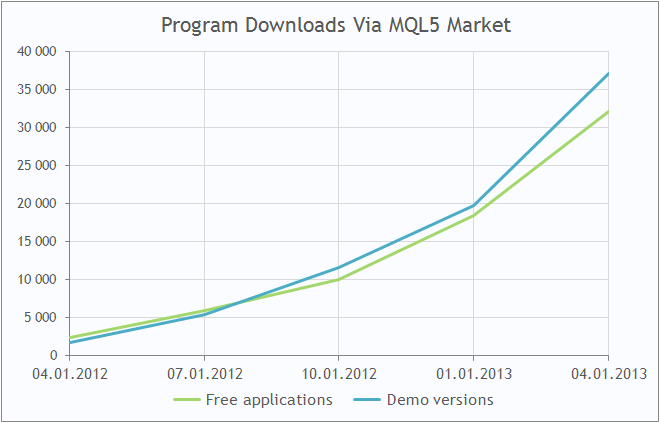 Sales volume of commercial products has also increased comprising 560 trading applications as of March 31, 2013. If we examine the growth dynamics during the previous quarters, we will see the following values. In quantitative terms, the average sales increase by 60% quarterly, while in money terms, the growth comprises 100% quarterly. Thus, the Market's total turnover for 2012 has already been exceeded in the first quarter of 2013.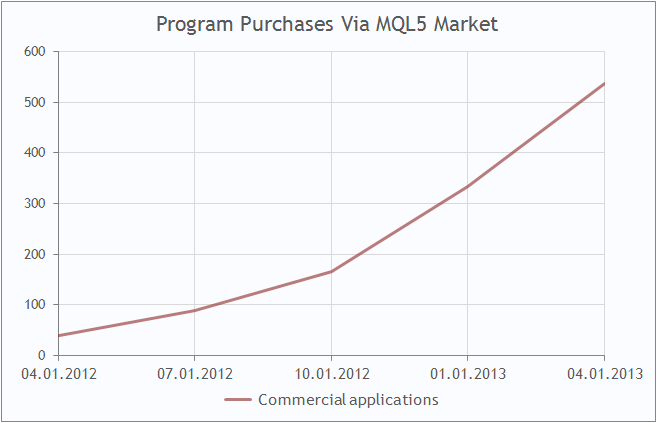 The excess of money terms over the quantitative ones demonstrates demand of traders for expensive products. This can be seen on the chart of MQL5 Market's average purchase price. Moreover, we can see that the average purchase price of Expert Advisors is the first to increase comprising 170 US Dollars. This is well above the average price of panels (46 USD) and technical indicators (26 USD).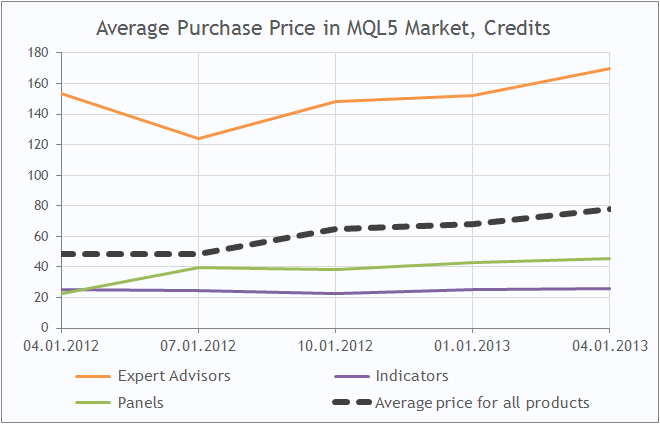 Distribution of sales by product category shows almost no changes. Expert Advisors and technical indicators are the most popular applications among MQL5 Market customers. They comprise 82% of total purchases and 94% of the store's overall turnover. Indicators are purchased most actively (45% of all applications), while Expert Advisors bring developers 90% of the overall profit.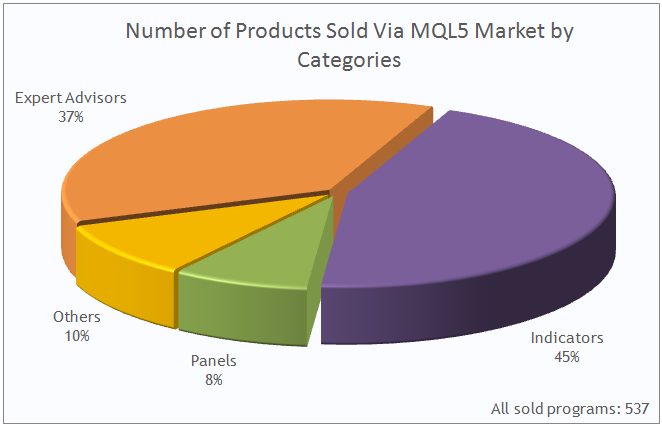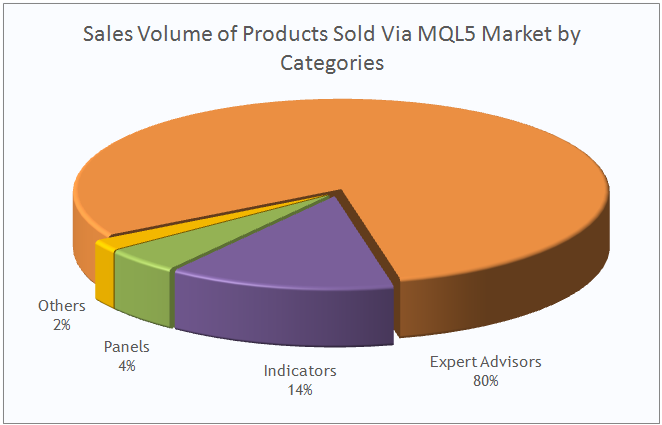 Market Top Sellers
We have prepared the list of TOP-10 MQL5 Market developers for this report. The list includes the sellers having the largest sales volume of all their products since the Market launch up to March 31, 2013.
MQL5 Market TOP-10 Sellers:
The seller achidayat occupies the first place in our TOP-10. 10 out of 250 best developers have sold 25% of all applications and formed 67% of the entire MQL5 Market's turnover. Their sales experience can be of interest for other developers. Therefore, we are going to contact the top sellers and describe their success stories (see, for example, the article about Jeremy Scott).
The first quarter of 2013 has turned out to be quite successful for some MQL5 Market sellers who have managed to make handsome profit by selling their products. So, publish popular products, promote them and do not forget to interact with your customers.
Have a nice trend and successful trades!
Go to MQL5 Market
Translated from Russian by MetaQuotes Ltd.
Original article: https://www.mql5.com/ru/articles/670

MQL5 Cloud Network: Are You Still Calculating?
It will soon be a year and a half since the MQL5 Cloud Network has been launched. This leading edge event ushered in a new era of algorithmic trading - now with a couple of clicks, traders can have hundreds and thousands of computing cores at their disposal for the optimization of their trading strategies.

MQL5 Cookbook: Analyzing Position Properties in the MetaTrader 5 Strategy Tester
We will present a modified version of the Expert Advisor from the previous article "MQL5 Cookbook: Position Properties on the Custom Info Panel". Some of the issues we will address include getting data from bars, checking for new bar events on the current symbol, including a trade class of the Standard Library to a file, creating a function to search for trading signals and a function for executing trading operations, as well as determining trade events in the OnTrade() function.

MQL5 Programming Basics: Strings
The article covers everything you can do with strings in MQL5. It should be of interest primarily to novice MQL5 programmers, while experienced developers will have a good opportunity to summarize and systematize their knowledge.

Jeremy Scott - Successful MQL5 Market Seller
Jeremy Scott who is better known under Johnnypasado nickname at MQL5.community became famous offering products in our MQL5 Market service. Jeremy has already made several thousands of dollars in the Market and that is not the limit. We decided to take a closer look at the future millionaire and receive some pieces of advice for MQL5 Market sellers.

You are missing trading opportunities:
Free trading apps
Free Forex VPS for 24 hours
Over 8,000 signals for copying
Economic news for exploring financial markets
Registration Log in
If you do not have an account, please
register