One year has passed since the launch of sales in MQL5 Market. It was a year of hard work, which turned the new service into the largest store of trading robots and technical indicators for MetaTrader 5 platform. Before moving on, we have decided to sum up intermediate results of the new service operation.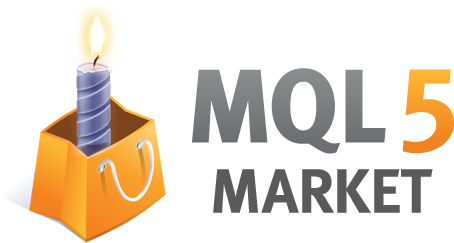 History of MQL5 Market began from June 2011 when the service started working in beta mode. From that moment, developers were able to register as Sellers and put up their products in the service. On February 3, 2012, the service was integrated with MQL5.community payment system allowing traders to download free products, test demo versions and purchase commercial trading applications. Sales have been launched and popularization of MQL5 Market has started.
Overall Results
Since then, over 170 developers of MQL5 applications from all over the world have already offered more than 460 trading programs for sale. These programs include trading robots, indicators, various scripts, panels, utilities and analyzers. Expert Advisors form the most numerous group with 46% of the total number of published applications. Custom indicators come second (33%). Each program contains a description, test results with screenshots and information about the author. You can try any application in MetaTrader 5 trading terminal.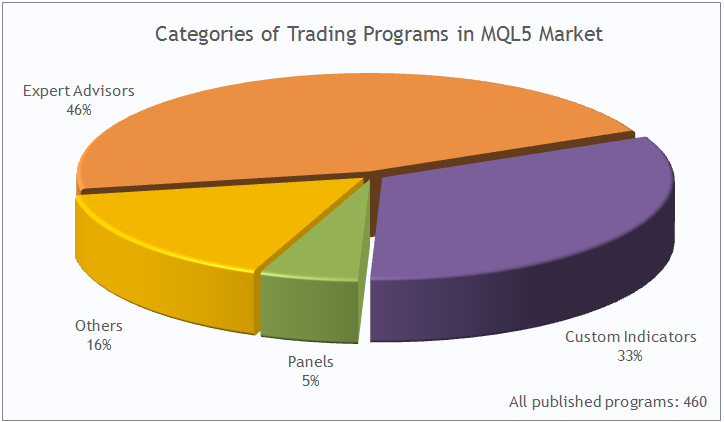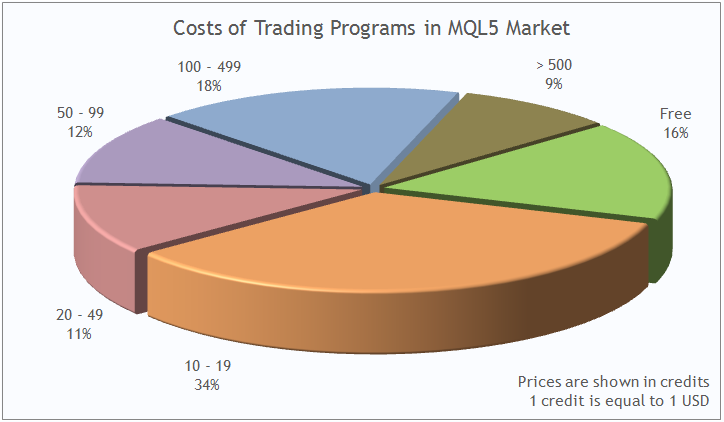 The prices of commercial products vary from 10 US Dollars up to 30 000 US Dollars. That is the price set by the developer with the nickname "lordlev" for TimeMachine Expert Advisor. One-third of all the products are located in the lowest price range of 10-20 USD per application. Products with the price of 100 USD or higher comprise 27%. The service also has free products (16%). They can be used without any additional charges.
Sales
A wide range of products, serviceability and secure purchases in MQL5 Market attract more and more traders. During the first year of MQL5 Market's operation, users downloaded more than 23 000 demo versions of commercial products and the same number of free applications to their MetaTrader 5 terminals. In the past six months, the number of downloads via the service is growing by 25% every month. More than 80% of the service's annual turnover has been registered during the same period.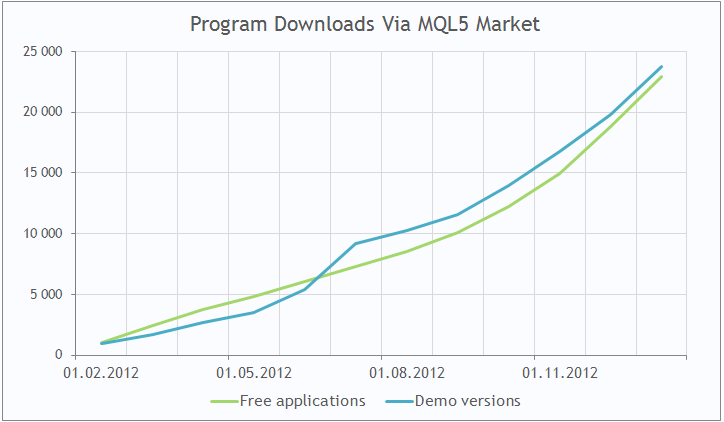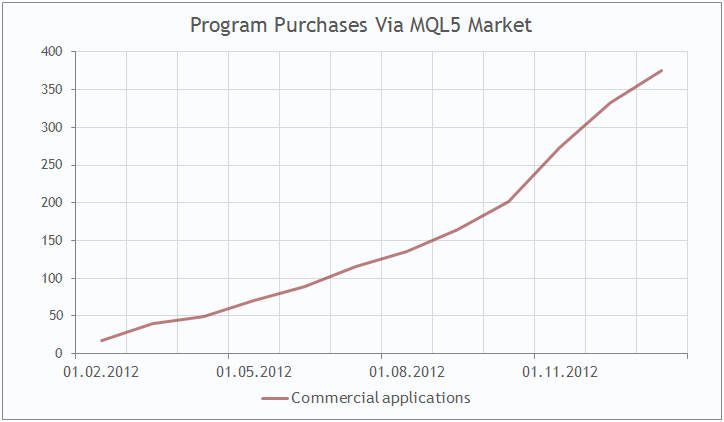 More than 380 commercial programs have been sold since the launch of MQL5 Market. The first Expert Advisor to be sold was GoodTrade at the price of 90 US Dollars. The Expert Advisor for trading on EURUSD called Freak has turned out to be the most expensive product that was sold via the service. Its price at the time of the purchase was 1 279 USD. After the update in January, it has risen up to 1 625 USD. We should also mention the most expensive Expert Advisor which is also the most debated one on our Forum. It is called "TimeMachine" and its price is 30 000 USD. It is also quite popular even when compared to some more affordable applications. The number of downloads of its demo version is rising day by day. However, no one has purchased it yet. We will follow the fate of this product.
After examining the categories of trading applications sold via MQL5 Market, we found out that custom indicators are the most popular products in quantitative terms (45% of total products sold) followed by trading robots (37%) and panels (9%). The major part of the service's turnover is generated by Expert Advisors (77% of total sales) due to their high average price and steady demand for expensive trading robots having the price of 500 USD and higher.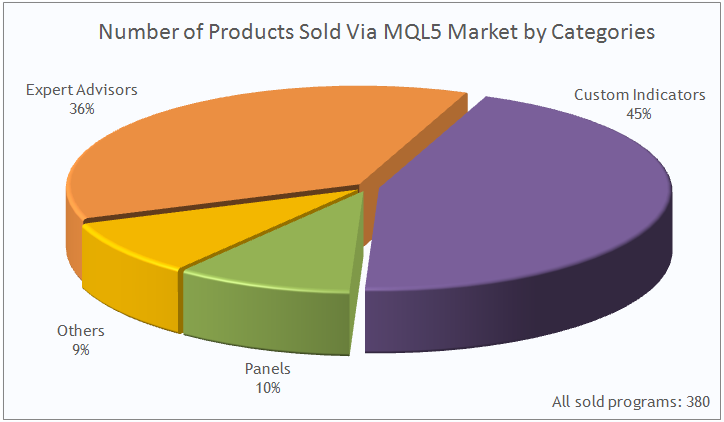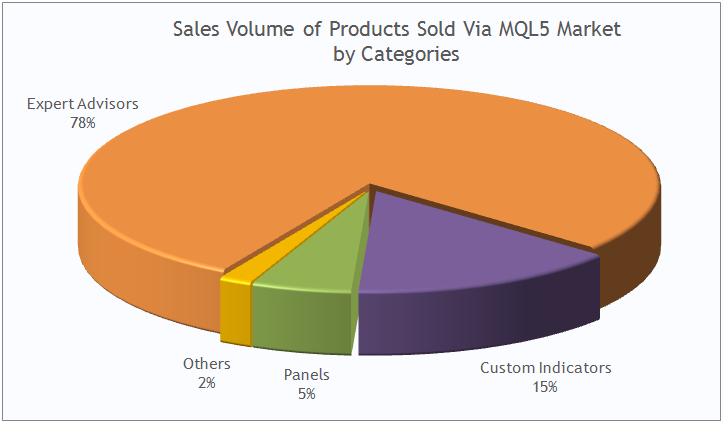 As for the average purchase price in MQL5 Market (black dashed line on the chart), it is growing steadily. While in February 2012 the average purchase price was 25 US Dollars, it has risen up to 80 credits already in January 2013. The reason is the growing number of high-priced products published in the service and increasing demand for them among traders. Trading robots are the most expensive applications when compared by categories. Their average price has already reached 160 credits per Expert Advisor. The robots are followed by panels with the average price of 50 USD per products.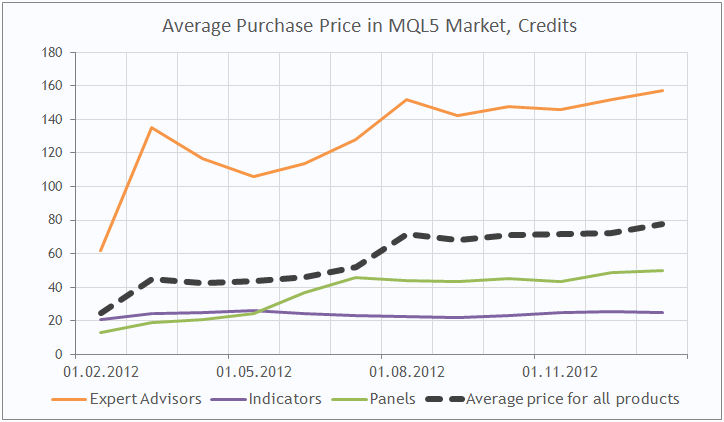 Technical indicators come third in TOP 3 of the most popular applications. Their average purchase price has never exceeded 30 US Dollars. This is quite unusual, as high-quality indicators for automatic or semi-automatic trading are always in demand.
So, if you are an active developer, your customers are already waiting for you in MQL5 Market.
Go to MQL5 Market
Translated from Russian by MetaQuotes Software Corp.
Original article: https://www.mql5.com/ru/articles/632