Do you like the article?
Share it with others —
post a
link
to it!
MetaTrader 4 and MetaTrader 5 Trading Signals Widgets
11 906
0
Recently MetaTrader 4 and MetaTrader 5 user received an opportunity to become a Signals Provider and earn additional profit. Now, you can display your trading success on your web site, blog or social network page using the new widgets.

The benefits of using widgets are obvious: they increase the Signals Providers' popularity, establish their reputation as successful traders, as well as attract new Subscribers. All traders placing widgets on other web sites can enjoy these benefits. Now, information about successful Providers can be found not only in the trading terminals and on MQL5.com but also on any web resources.
How to Place a Trading Signal Widget?
Trading Signals section of MQL5.com web site now has the new page called Widgets. Here you can find all necessary tools for placing a widget to display any available signal on your web site.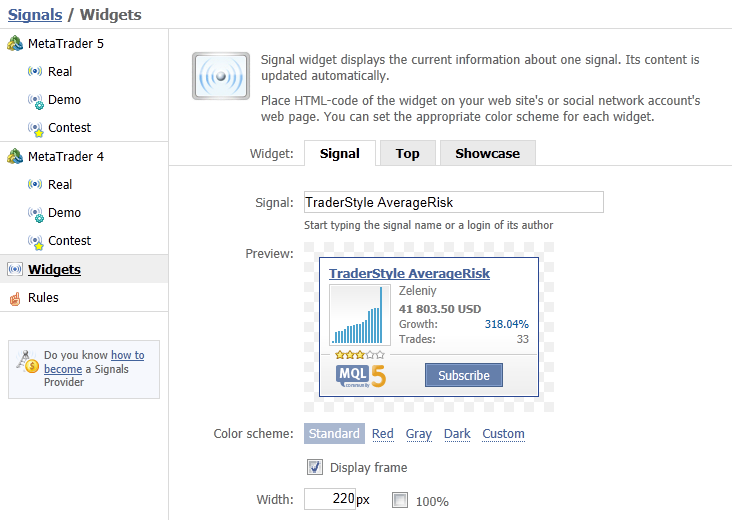 First of all, you should decide what exactly you are going to demonstrate on your web site: a signal, TOP 10 signals or the entire showcase. If you select Signal, you should specify its name or a name of its developer in the search field. A ready-made widget block will appear in an instant.
You can customize the block to make it fit your web page's design. The block's color and size in pixels or percentage terms relative to a page width can be changed. The frame can also be turned on or off. After inserting all the changes, you will see the final version of your widget in Preview section.
Now, you should only copy the generated code and paste it on your web page. From this point on, the selected widget will be displayed on the page among other information. After clicking the block, your visitors will be able to view the page about your trading signal containing its full description, as well as subscribe to it.
If you decided to display TOP 10 on your web page and selected the appropriate option in Widgets section, you should specify the platform: MetaTrader 4 or MetaTrader 5. The signals available for the platform will be shown. The number of displayed signals is set in Size section. Apart from that, the block customization is performed the same way as described above. Copy the code to paste the widget on your page.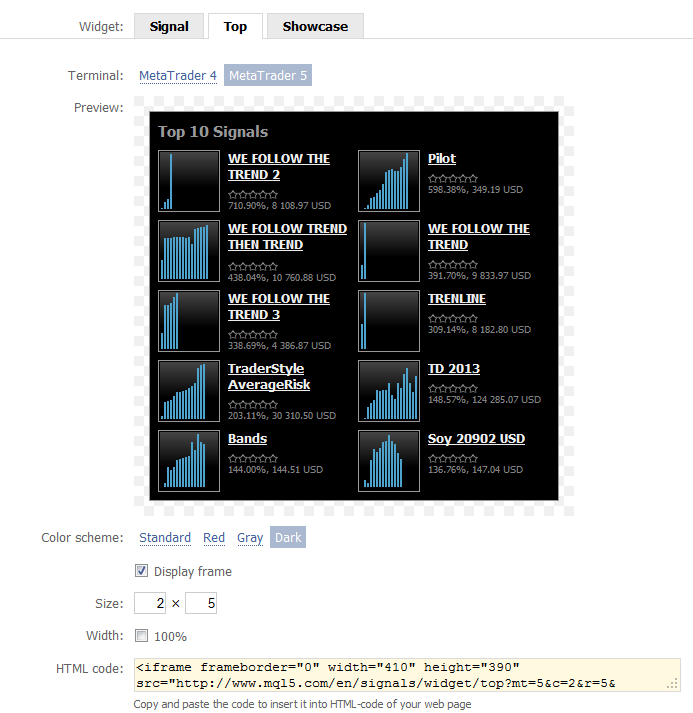 Showcase widgets are selected in a different way. Here you should select the platform and specify a trade server to receive the list of all signals working on it.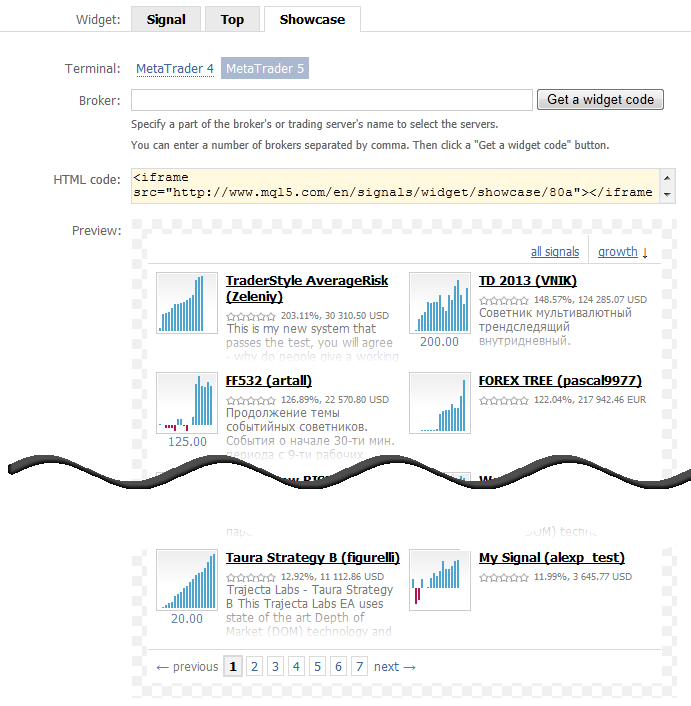 Widget's layout and the web link to it will be generated after clicking "Get a widget code" button. If Broker field is empty, widgets of all available signals for the specified platform will be downloaded. This type of widgets is designed primarily for brokers and has no settings. However, it has built-in tools for signal list filtration by various trade parameters, as well as for switching the list pages. As you can see, everything is quite simple: select the widget type, specify parameters and paste the code on your web page.
Technically speaking, all widgets work on the basis of <iframe> tag, which will not interfere with other web page content. Besides, the use of the code will not slow down the download of your page and will not pose a threat to its security.
Generally, MetaTrader 4 and MetaTrader 5 trading signals widgets are a simple and secure solution for arranging an additional promotion of your trading signal. Place a widget on your web site, blog or social network page to become more popular and attract more Subscribers!
Receive your widget right now!
Some articles dedicated to signals which can be useful to you:
Translated from Russian by MetaQuotes Ltd.
Original article: https://www.mql5.com/ru/articles/626

MQL5 Market Turns One Year Old
One year has passed since the launch of sales in MQL5 Market. It was a year of hard work, which turned the new service into the largest store of trading robots and technical indicators for MetaTrader 5 platform.

Order Strategies. Multi-Purpose Expert Advisor
This article centers around strategies that actively use pending orders, a metalanguage that can be created to formally describe such strategies and the use of a multi-purpose Expert Advisor whose operation is based on those descriptions

Fast Testing of Trading Ideas on the Chart
The article describes the method of fast visual testing of trading ideas. The method is based on the combination of a price chart, a signal indicator and a balance calculation indicator. I would like to share my method of searching for trading ideas, as well as the method I use for fast testing of these ideas.

Neural Networks: From Theory to Practice
Nowadays, every trader must have heard of neural networks and knows how cool it is to use them. The majority believes that those who can deal with neural networks are some kind of superhuman. In this article, I will try to explain to you the neural network architecture, describe its applications and show examples of practical use.

You are missing trading opportunities:
Free trading apps
Free Forex VPS for 24 hours
Over 8,000 signals for copying
Economic news for exploring financial markets
Registration Log in
If you do not have an account, please
register