Real author:
Igor V. Kim aka KimIV.
The indicator is a version of a technical ATR with the possibility to change a smoothing method.
ATR always has SMA, while this indicator implements all standard methods - SMA, EMA, SMMA and LWMA, as well as non-standard ones. Besides, horizontal shift of the indicator values has been provided.
This indicator was first implemented in MQL4 and published 26.05.2007 (in Russian).
Indicator input parameters:


input Smooth_Method XMA_Method=MODE_SMA; 
input int XLength=10;                    
input int XPhase=15;                     
input int Shift=0; 
Full list of possible smoothing methods:
It should be noted that Phase parameter has completely different meaning for different smoothing algorithms. For JMA it is an external Phase variable changing from -100 to +100. For T3 it is a smoothing ratio multiplied by 100 for better visualization, for VIDYA it is a CMO oscillator period and for AMA it is a slow EMA period. In other algorithms these parameters do not affect smoothing. For AMA fast EMA period is a fixed value and is equal to 2 by default. The ratio of raising to the power is also equal to 2 for AMA.
The indicator uses SmoothAlgorithms.mqh library classes (must be copied to the terminal_data_folder\MQL5\Include). The use of the classes was thoroughly described in the article "Averaging Price Series for Intermediate Calculations Without Using Additional Buffers".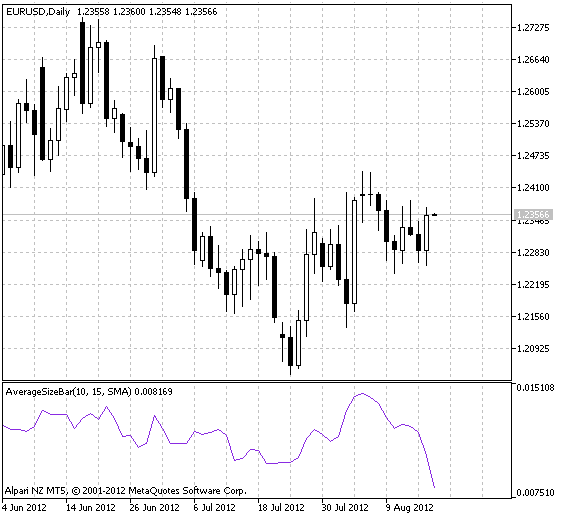 AverageSizeBar