Interesting script?
So post a
link
to it -
let others appraise it

Price and Volume Trend - indicator for MetaTrader 5
Views:

11926

Rating:

Published:

2012.12.07 10:12

Updated:

2023.03.29 13:42
You are missing trading opportunities:

Free trading apps
Free Forex VPS for 24 hours
Over 8,000 signals for copying
Economic news for exploring financial markets

If you do not have an account, please

register
The real author:
Martingeil
A classic Price and Volume Trend, PVT indicator (Price and Volume Trend, PVT) with added signal line.
Indicator's file uses the classes of the SmoothAlgorithms.mqh library. Working with that class was described in details in the article "Averaging price series for intermediate calculations without using additional buffers".
This indicator was first implemented in MQL4 and published in Code Base on 12.07.2010.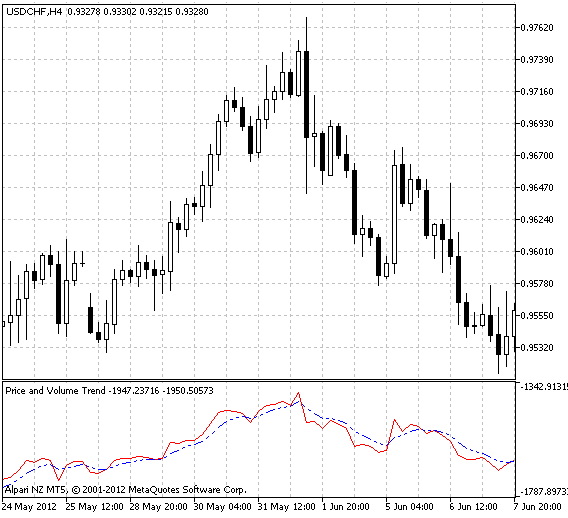 Fig.1 The XPVT indicator
Translated from Russian by MetaQuotes Ltd.
Original code: https://www.mql5.com/ru/code/1123

DigVariation
Digital filtration of the variation indicator.

NxDRangeSwitch
Simple trend indictor performed in the NRTR form

MaRsi-Trigger
The Trigger indicator has three states: rising, falling and flat

ColorXOSMA_HTF
A standard version of the OSMA indicator which can be placed in a fixed timeframe on a value different from the chart timeframe where the averaging algorithms can be changed.