Currency Strength Exotics Indicator USER MANUAL

This indicator is part of a complete trading strategy!

The 28Pairs Currency Strength Trading System - also known as Double-GAP Strategy - is our primary trading philosophy and is based on exploiting individual currency strength and weakness. Please click here.
What is Currency Strength Exotics Indicator?
This Indicator is a unique, high quality and affordable trading tool because we have incorporated a number of proprietary features and a new formula. With only ONE chart you can read currency strength with exotic pairs or commodity, indexes, futures. Anything can be added as 9th line to show TRUE STRENGTH of Gold, silver, oil, DAX, US30, MXN, TRY, CNH etc. A never seen before trading strategy ! Imagine how your trading will improve because you are able to pinpoint the exact trigger point of a new trend or scalping opportunity?
It works for all time frames. Quickly is to see the TREND! Built on new underlying algorithms it makes it even easier to identify and confirm potential trades. This is because it graphically shows the strength or weakness of a currency plus one product!
This indicator shows the true value of the product (Example: for gold). XAUUSD: that is the price of gold in US dollar. If XAUUSD is moving up how do you can know if it is gold moving or if it is the US$ ? Only if gold is moving do we want to trade it. The indicator extracts the true value of gold and eliminates the quoted currency (here USD). It handles gold equally as a 9th currency.
The indicator shows the strengthin a line of the 8 main currencies (AUD CAD CHF EUR GBP JPY NZD USD) PLUS ONE more! Further more it shows market activity and Currency Strength Fibonacci reversal levels (Market Fibs).
Get your trading setup when currency strength builds a double-GAP! This strategy can be used by both swing traders and scalpers. To swing traders it shows when a new trend has been triggered and to scalpers it shows which pairs are going to have movement. From our clients and our own experience we know the indicator work so well that it is truly a case of 1+1= 3!
Indicator Settings
link for user manual (this blog)
==== EXOTIC settings
fix EXOTIC pair name (empty for XAUUSD and auto detect) (enter exotic pair name be fixed)
auto-get EXOTIC pair name from chart (do auto detect exotic pair name from chart)
EXOTIC reverse line manually (Gold is reversed) (most products need be line reversed because priced in USD)
automatic reverse line (automates the function above, If USD is found as base currency like USDMXN, USDSEK, the line will not be reversed.

suffix for currency pairs (if EURUSD is called like EURUSDm then enter m)
==== Chart settings
use currency specific characteristics
Line width base and quote CS (make thicker the currency of the chart)
show USD line always thick (used with indexes...)

Line width other 6 CS (the other currencies which are not part of the chart)
Line other 6 CS dotted if width=1

EXOTIC Line width same other 6 CS (false: exotic line always thicker)
HIDE the other 6 CS lines (show only base and quote currency line)
HIDE EXOTIC line if symbol is not on chart (true: no exotic line if a currency selected)
Line width Market (size of Market Momentum dot) (Market Activity)
draw Market line as a cross
draw GAP (arrows in sub-window to show strong currency momentum GAP)
GAP Market Fib (23) (angle/slope of currency to draw arrow)
show Bars back (how many candles back the indicator prints the currency lines)
quick chart open in new window (false: change pair in same chart)
Show CS labels end of line
==== Color settings
AUD Color (currency line colors, change to your needs)
CAD Color
CHF Color
EUR Color (Euro is white, please change if you use white chart background)
GBP Color
JPY Color
NZD Color
USD Color
Market Color (Market dot color)
EXOTIC Color
Market Fibs Color 0
Market Fibs 23 Color (Market Fibonacci breakout Zone 23 line color)
Market Fibs 50 Color
Market Fibs 100 Color
Market Fibs 161 Color (Market Fibonacci Reversal Zone 161 line color)
Market Fibs 261 Color (Market Fibonacci Reversal Zone 261)
background Color button
=== Other Settings
open support charts! (SPECIAL: Automated MT4 history updates with background charts! This charts are for updating external currency quotes. Remove all indicators from this chart. Keep it minimized.)
Font size button(The size of currency names or buttons)
CS label size
Font spacing X (big screen) (This is for those who have big 4K monitor. It might be needed to add to horizontal spacing of the buttons.)
Font spacing Y (same as above but vertical spacing)
use EXO-PIN
Tips
GET FIRST MT4 CHART HISTORY ! (With version 1.4 it is automated.) To update the MT4 chart history 7 support charts will be opened. (See below).

Use my template. (See below)

If USD strength line and the product strength line go in opposite direction it is strong signal. (Double-GAP)
Stay within the trend (GAP) of the higher time frame

Watch for reversal if the line is at Market Fibonacci 161 or 261
Check history at what levels the product likes to reverse.
Keep your chart feeds up to date. (With version 1.4 it is automated.)
Study the complete trading system, read my news and blogs for trading system examples
UPDATE Version 1.50 - 2018.08.19
Added new buffers to show historically the dynamic Market Fibonacci reversal levels instead of horizontal lines.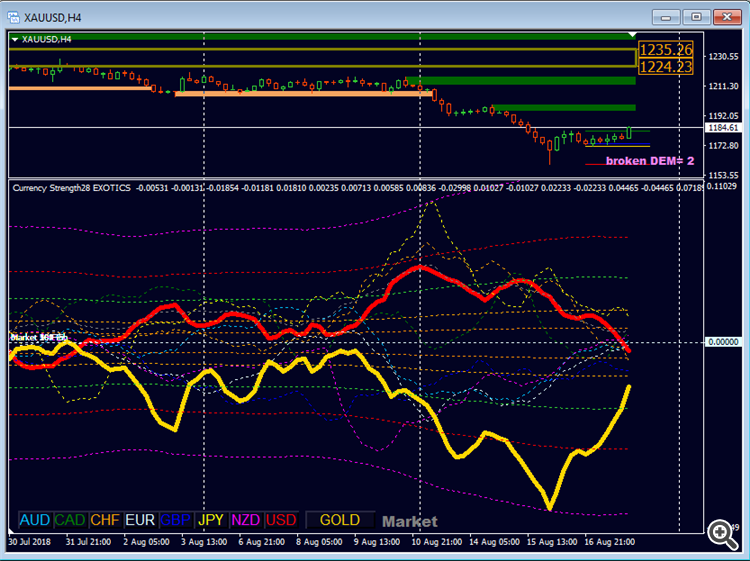 Version 1.80 released 2019.06.09
A great update.
The special function "Currency Strength Characteristics" will now apply also to the exotics symbol.
The golden line will now fit much better into the sub-window.
Compare with input
use currency specific characteristics
Version 2.1 2020.09.07
MAJOR UPDATE 2020

Added GAP-Arrow. Arrows to show strong currency momentum GAP in the sub-window.
New inputs:
+ draw GAP arrow
+ GAP Market Fib (23) slope (For volatile symbols use higher values.)
---
Specials !

Discounts are available for MT4 versions, now.
Profit now with a lower price. Limited offer with discount.
Original Price: 160$
Discounted Price: 128$
Get it now with discount 20% OFF!

MT4 CLICK HERE
I will always help you if you have any questions.

Thanks, I wish you many green pips in the future.

Best regards, Bernhard
www.CurrencyStrength28.com
Just send an email to get more info and detailed description.
bernhardfxcontact@gmail.com
---
We have decided to open up a brand new Forum for the Advanced currency strength system. We are opening the forum on our website where our loyal members can register.
The forum will be a place where we can support each other, discuss trading ideas, and make money in the market together.
To be eligible for joining the forum, you must:
Own one of my indicators.
Please you fill the requirements for joining the forum on www.CurrencyStrength28.com
---
THIS MANUAL WILL BE continuously be UPDATED !! So check again.
READ ALSO THE NEXT 20 COMMENTS.