Do you like the article?
Share it with others —
post a
link
to it!
Use MQL5.community channels and group chats
11 307
11
The MQL5.com site features more than one thousand algo-trading articles, tens of thousands of free source codes and trader services where users can purchase trading applications or copy signals. In addition to implementing innovative trading functions in our platform and maintaining an ultimate infrastructure around it, we strive to provide the best user experience for our community members. Therefore, in addition to the convenient forum in 11 languages we have created the MetaTrader chat integrated with terminals. Use chats for private messages, create group chats or broadcast trading ideas to large audiences through channels.
Chats for communicating with traders and brokers

Create an account in the MQL5.community and communicate with other traders at any time of the day. This single account can be used on the site, in the desktop platform and in MetaTrader mobile apps.

The MQL5.com site was originally launched with the built-in messaging system. Later, this system was redesigned and updated several times. Through this system, MQL5.community traders could discuss privately the questions that could not be discussed in public.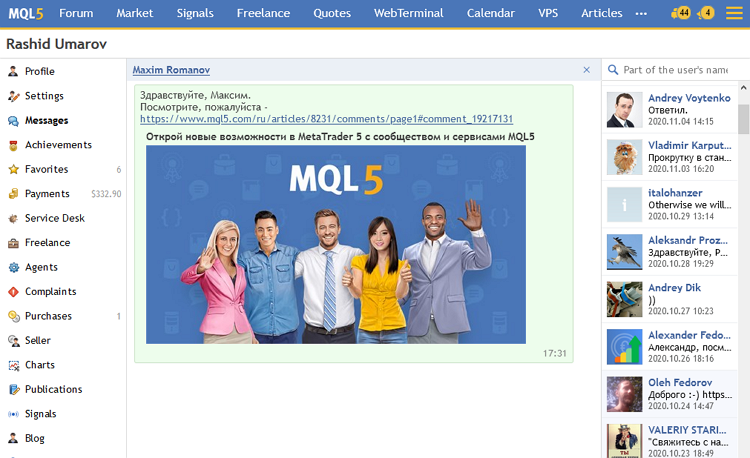 The development of MQL5 services and the rapid growth of MetaTrader mobile users clearly showed that traders needed not only a private messaging system, but also a full-fledged chat service with groups and channels. After moving to a new system in 2012, scattered messages were conveniently arranged into threads. With the introduction of push notifications, the messaging system became absolutely mobile and instant.
In 2016, chats were integrated into the desktop terminal, enabling communications with friends and fellow traders without opening a web browser. Two years later, the desktop terminal offered native support for chats and channels, through which brokers could provide technical support to their clients straight in the trading platform. Thus, in addition to offering a convenient tool for communicating with like-minded people, chats provide the quickest possible method to request assistance from your broker.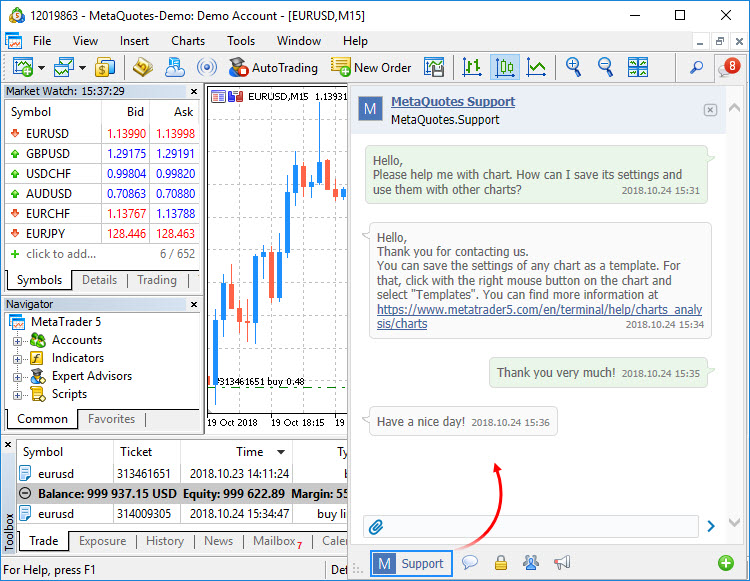 To create a technical support chat in MetaTrader 4/5, the broker needs to register an MQL5 account and request extended business permissions. The technical support account assigned to a trading server is displayed in a priority position and is always available to all traders from the relevant server.

Group or channel?

Like most of the existing instant messengers, MetaTrader chats offer opportunities for broadcasting messages to large audiences. Two messaging types are available: groups and channels. Both types allow communicating with friends and colleagues, as well as sharing images, videos and files. Each of the types can be additionally used as a means to increase revenues from MQL5 services, such as Signals and Market.
Channels are usually used for broadcasting information to subscribers and thus they can serve as a microblogging platform. For example, they provide an efficient way to share news and important announcements with Signal subscribers or Market product users. If you make a channel public, any MQL5.community member will be able to subscribe to it. In private channels, only the owner and users with administrator permissions can invite members. A distinctive feature of this chat type is that message can only be sent by the channel owner or administrators. Subscribers can only read posts, without the ability to write messages.
Please pay attention to this feature when choosing a form for your chat. Use channels if you only want to share information, without receiving any feedback or comments.

All messages written by administrators in channels are anonymous and are signed with the channel name, without distinguishing between administrators. If you want all users to be able to write messages, you should create a group chat.

Channels can be conveniently viewed in MetaTrader mobile apps for iPhone and Android.

We have additionally created a separate messenger app MQL5 Channels for iPhone, which supports all the functionality of MQL5.community chats. With the highly efficient data packing, your messages are delivered using as little data as possible. Messages are delivered quickly, even on slow networks and devices.
The channel owner can appoint additional administrators, giving them the right to write posts, and thus a channel can be managed by a group of editors. In this case, all new messages are signed with the channel name, without showing the name of the actual message author. Group chats provide a powerful tool to build communities, allowing all members to share messages and images. Each message in groups is signed with the relevant author's name, and each is displayed in a separate color.

Creating a group chat

Group chats are intended for communities and teams. Any group member can write messages in such groups, as well as post images and files of supported formats. Groups are convenient for shared projects and investment discussions with friends and teammates. Traders can use group chats for developing trading strategies, sharing ideas and working in projects.
Every MQL5.community user can create their own channels and groups. The channel or group author is its main administrator, who can assign additional permissions to other subscribers.

In the web browser version, group and channel creation buttons are available in the User Profile, in the upper corner of the Messages section. Using the search button next to them, you can easily find an existing chat or user by typing the name.


Specify the name of the group and add a logo that will be displayed in the list of chats. A good logo will make it easier for subscribers to find your group. Add short and clear group descriptions.
You can also add one or more links that will be visible to subscribers in the group description section.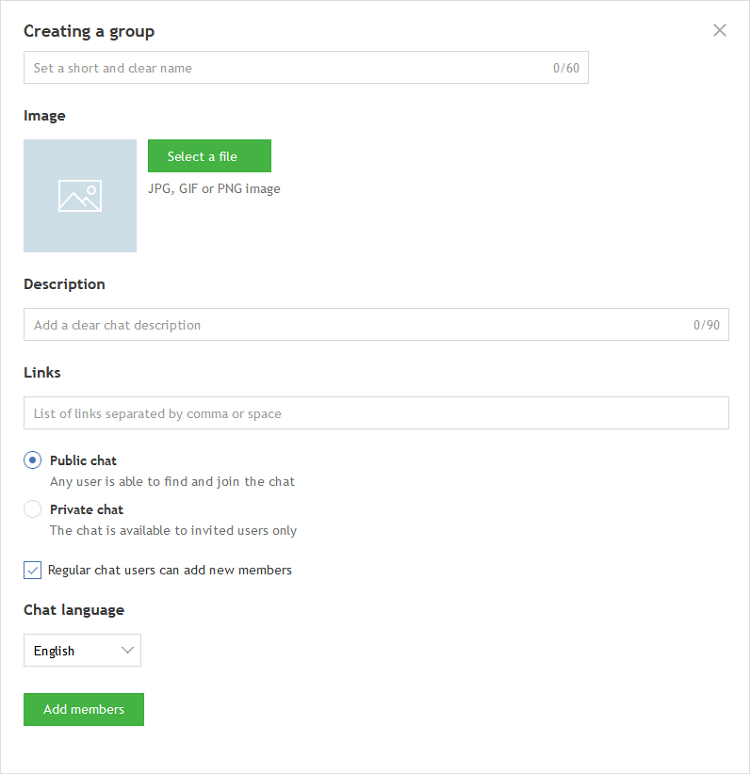 The system supports two types of group chats:
Public — any authorized MQL5.community user can join such a group.
Private — such groups are not displayed to other users during search. Access to them can be granted by group administrators or members if the "Regular chat users can add new members" option is enabled.
You can give moderator or administrator permissions to group users, as well as restrict user rights, for example disable the ability to post messages.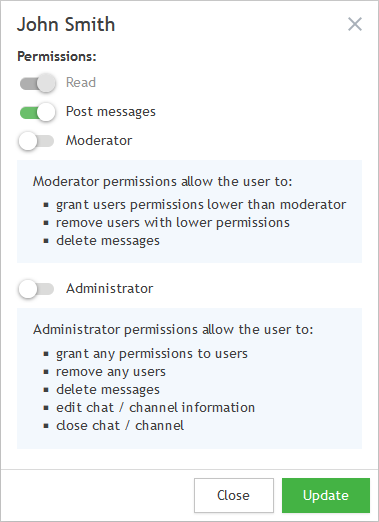 Navigation in chats
To switch between chats, groups and channels, use the icon under the list of threads. The relevant tooltips appear when you hover the mouse over the icons.


The relevant commands in the desktop terminals perform the same actions, but they have slightly different icons. The section description also appears in a tooltip on hover.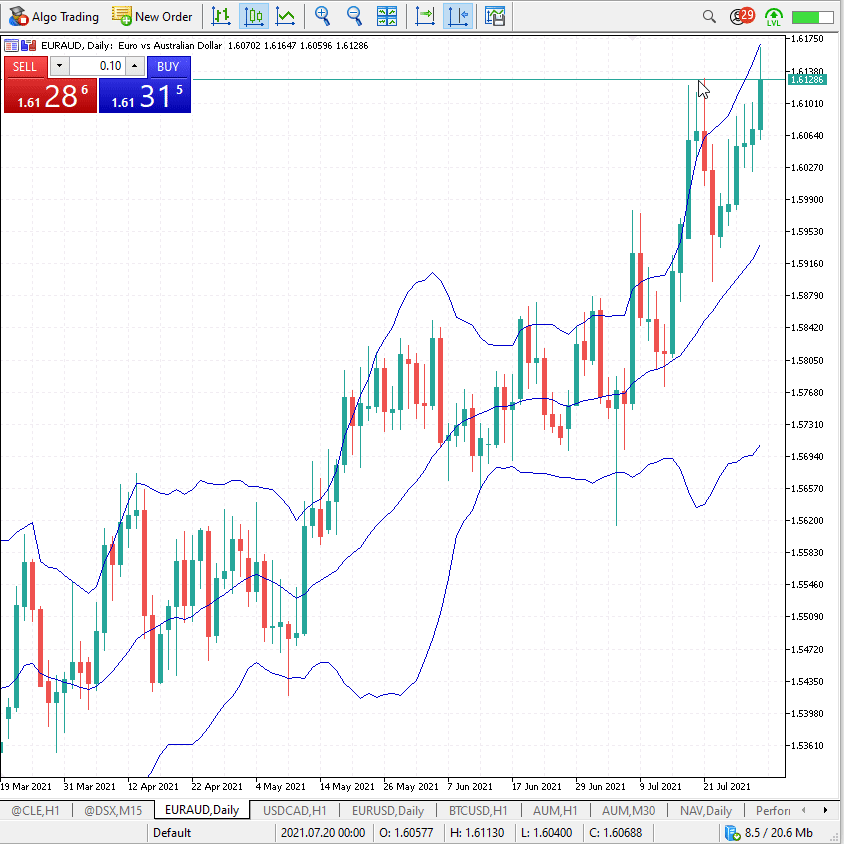 These icons provide access to the following sections (from left to right):
Broker technical support chat, if the broker has enabled this option for the trade server

List of all chats

Private chats by names of MQL5.community users

Group chats by group names

Channels

Use chats in MQL5 services

Group chats provide a convenient tool for Market and Signals sellers to reach their customers. For example, you can promptly react to arising issues and answer questions, as all messages are instantly delivered to mobile terminals. You will increase the customer loyalty by providing efficient product support.
Market sellers can announce the releases of new product versions and answer customer questions. Signal providers can publish periodic reviews on current market developments and share trading reports. Use group chats and channels to present your new products to potential customers and to raise your product awareness.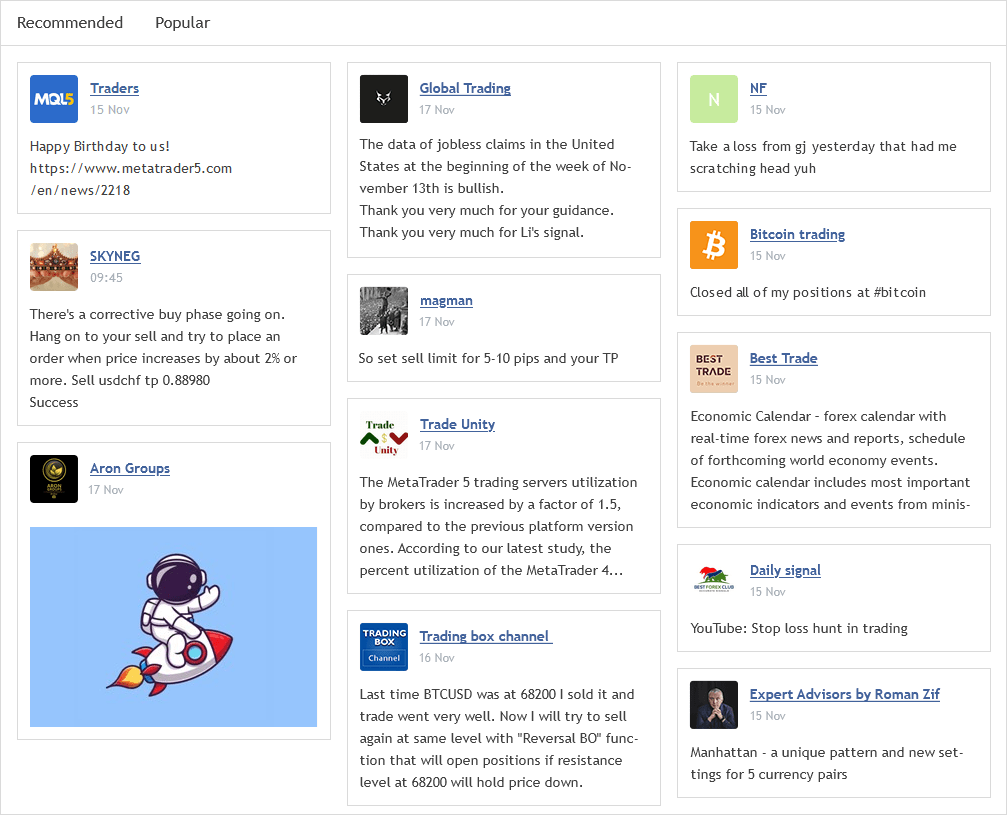 Use MetaTrader chats!

Communicate with like-minded people and traders from all over the world, send private messages, create public or private communities and broadcast information to large audiences.
Create group chats and channels to reach millions of traders who use MetaTrader terminals and MQL5 services.

Translated from Russian by MetaQuotes Ltd.
Original article: https://www.mql5.com/ru/articles/8586
Fix PriceAction Stoploss or Fixed RSI (Smart StopLoss)
Stop-loss is a major tool when it comes to money management in trading. Effective use of stop-loss, take profit and lot size can make a trader more consistent in trading and overall more profitable. Although stop-loss is a great tool, there are challenges that are encountered when being used. The major one being stop-loss hunt. This article looks on how to reduce stop-loss hunt in trade and compare with the classical stop-loss usage to determine its profitability.

Graphics in DoEasy library (Part 87): Graphical object collection - managing object property modification on all open charts
In this article, I will continue my work on tracking standard graphical object events and create the functionality allowing users to control changes in the properties of graphical objects placed on any charts opened in the terminal.

Using AutoIt With MQL5
Short description. In this article we will explore scripting the MetraTrader 5 terminal by integrating MQL5 with AutoIt. In it we will cover how to automate various tasks by manipulating the terminals' user interface and also present a class that uses the AutoItX library.

Graphics in DoEasy library (Part 86): Graphical object collection - managing property modification
In this article, I will consider tracking property value modification, as well as removing and renaming graphical objects in the library.

You are missing trading opportunities:
Free trading apps
Free Forex VPS for 24 hours
Over 8,000 signals for copying
Economic news for exploring financial markets
Registration Log in
If you do not have an account, please
register