Successfully operating for 1.5 years, MQL5 Market has become the largest traders' store of trading strategies and technical indicators. It offers around 800 trading applications provided by 350 developers from around the world. 80% of all programs are Expert Advisors and indicators. Traders can also benefit from various panels, analyzers and utility programs that allow you to add extra functionality to the MetaTrader 5 trading terminal.
Developers try to impress traders with a variety of products offered in a wide price range. Both free (19% of the total programs offered) and commercial products with prices from 10 to over 1 000 US Dollars are now available to buyers.

In only 6 quarters of MQL5 Market operation, traders have bought and downloaded to their MetaTrader 5 terminals more than 100.000 trading applications. Downloads of free programs and demo versions of commercial products were about equal in number. Summarizing the results for Q2 2013, the number of downloads via MQL5 Market has increased by 30% as compared to the previous quarter.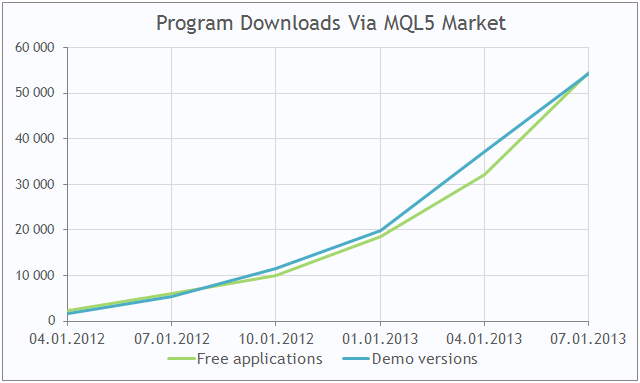 Looking at the breakdown of purchases by category of products available in MQL5 Market, we find the following: In quantitative terms, technical indicators take the leadership with 41% share in total purchases. However, their share has decreased by 4% compared to the previous quarter. Further, we see a strong growing demand for trading robots. The share of Expert Advisors is almost as high as that of indicators, now reaching 40% (3% increase compared to the previous quarter).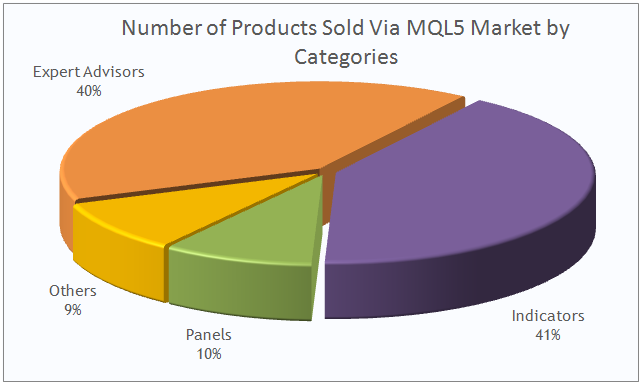 In terms of money, the breakdown of sales by product category looks somewhat different. Trading robots take the lead with impressive 84%. It has to do with the fact that the average price of Expert Advisors is usually higher than that of other products.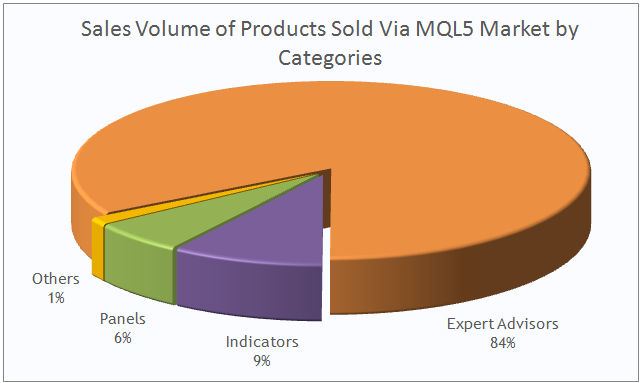 High quality, expensive products for automated trading in financial markets are still in demand. This is where active developers take advantage of the situation. They monitor customer requests and post the relevant trading applications right when they are required.


MQL5 Market TOP-10 Sellers
Summarizing the results for Q2 2013, we have prepared a new list of TOP-10 MQL5 Market developers. The list represents the best and brightest of 350 sellers on MQL5 Market with the highest sales volumes on all their products over the quarter. The first six developers on the list are the same as in the list prepared for the previous quarter report, whereas the last four names are new.

TOP-10 MQL5 Market sellers (Q2 2013):
The total sales of the TOP-10 sellers have reached 43% of all MQL5 Market programs in Q2. The most profitable seller is the developer known as johnnypasado. While being third on the previous TOP-10 list, he has now taken the lead. It looks like his sales strategy is 100% successful.

Please note that at the end of the reporting period, we launched a new reward scheme for attracting users. It is intended for assisting developers in promoting their trading programs. Each seller can now find promoters among MQL5.community users who will post affiliate web links to relevant products for a certain reward. Thus, sellers can attract trader's attention to their programs and increase sales volumes. It may well be that the chance to hit the next TOP-10 list will be in direct relation to the extent of seller's participation in the affiliate program launched.
Post your best products, set reasonable prices and attract traders using the new reward scheme for attracting users.
Go to MQL5 Market
Translated from Russian by MetaQuotes Software Corp.
Original article: https://www.mql5.com/ru/articles/698