Do you like the article?
Share it with others —
post a
link
to it!
Why Is MQL5 Market the Best Place for Selling Trading Strategies and Technical Indicators
59 846
10
We have created MQL5 Market to help Expert Advisors and indicators developers with selling their products. This service provides Expert Advisors developers with the already formed market consisting of thousands of potential customers!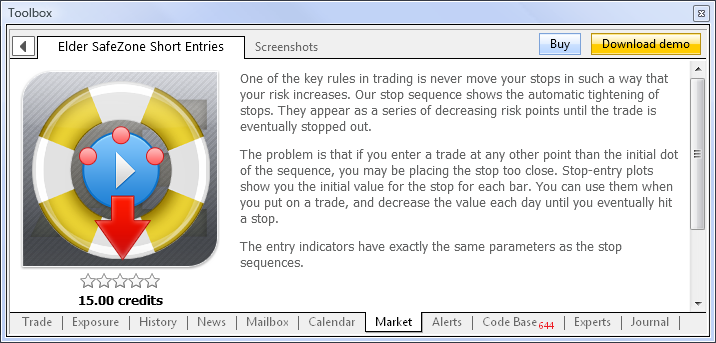 The Issues of Traders and Developers

Let's imagine a trader who has decided to buy a trading robot. As there are no popular websites dedicated to this subject, the trader will use an Internet search engine and find some little-known website containing lots of programs of questionable quality. And most probably it will not contain the application the trader really needs.

Such a situation is equally difficult both for traders who have to sift through a great amount of various websites looking for the desired program, and for application developers. To gain some popularity, the latter ones need to promote their websites for quite a long time.

Besides, both parties are concerned about sales insecurity. A trader transfers funds to PayPal or Webmoney accounts and gets a desired program from a website or via an email. In fact, the trader gets a pig in a poke. However, developers are also unprotected, as a purchaser can publish a program code on the Internet. Therefore, the whole process is complicated enough both for buyers and sellers.
What Issues Does MQL5 Market Solve?
Realizing all mentioned disadvantages, we decided to create the service, which eliminates them.
MQL5 Market is a unified place for selling trading robots and indicators. Traders no longer have to examine dozens of websites looking for trading applications and wasting their time. Developers, in their turn, get confidence that traders will find their application in MQL5 Market. The risks are reduced, while sales go up.
Another important advantage of MQL5 Market is a tight integration with MetaTrader 5 trading platform. An Expert Advisor can be purchased and launched right from the trading terminal. Traders do not even have to look for a website where trading robots are published. Our solution minimizes the distance between a buyer and a seller and accelerates the sales process.
Besides, we have ensured the safety of the whole process for the convenience of both parties. When purchasing a program, buyer's funds are transferred to the developer's account and the buyer can download and activate the application several times. Such an arrangement leaves no place for various violations and fraud.
On the other hand, application developers are also protected, as no third party can get their product. Each application is encrypted depending on the buyer's hardware parameters. In addition to their own PCs, purchasers will be able to activate an Expert Advisor on four more ones. The code cannot be launched anywhere after that. Sellers can set more than five activations if they want. If any dispute arises, our company can act as an arbitrator to resolve it.
The additional advantage is support of several well-known payment systems, including credit cards. This has been achieved by integration of MQL5.com with Gate2Shop e-commerce solution. Your customers can deposit their MQL5.com accounts in any convenient way. After selling an application, you will be able to withdraw the funds to your PayPal or WebMoney account.
By integrating MQL5 Market to the trading platform, we have been able to provide an additional option to the customers. Working with our store, you can download and test a program applying your own conditions. The downloaded Expert Advisor will work only on a definite PC and only in the Strategy Tester allowing to evaluate the application parameters in advance. In other words, this prevents traders from buying a pig in a poke and also stimulates sales.
We have also prepared a bonus for developers - trading applications updates delivery system. After you have fixed an error in your Expert Advisor, you can be sure that traders will get the new version of your application. You do not have to phone or email them asking to update the program. Hundreds and thousands of your customers will be able to update it on their own!
MQL5 Market service allows to avoid most common issues when selling Expert Advisors and indicators. The motto of the service is "Nothing should prevent programmers from developing and customers from buying". With MQL5 Market, both developers and buyers are protected to the maximum extent, as they have all necessary information about each other, and all transactions are performed as quickly as possible.
Note: use of MQL5 Market is absolutely free but our company charges 20% from each sale.
But that is not all. The most important feature of the service is the market itself. Being integrated into MetaTrader 5 trading platform, it automatically gives developers a direct access to the widest possible range of customers. Speaking short, developers, among other things, get access to the already formed market and the shortest path to their customers.
If you want to sell your programs on MQL5 Market, you should know only one thing - how to develop them. We have already solved all other issues!
Become a seller on MQL5 Market and make profit!
Translated from Russian by MetaQuotes Ltd.
Original article: https://www.mql5.com/ru/articles/401

The Most Active MQL5.community Members Have Been Awarded iPhones!
After we decided to reward the most outstanding MQL5.com participants, we have selected the key criteria to determine each participant's contribution to the Community development. As a result, we have the following champions who published the greatest amount of articles on the website - investeo (11 articles) and victorg (10 articles), and who submitted their programs to Code Base – GODZILLA (340 programs), Integer (61 programs) and abolk (21 programs).

OpenCL: From Naive Towards More Insightful Programming
This article focuses on some optimization capabilities that open up when at least some consideration is given to the underlying hardware on which the OpenCL kernel is executed. The figures obtained are far from being ceiling values but even they suggest that having the existing resources available here and now (OpenCL API as implemented by the developers of the terminal does not allow to control some parameters important for optimization - particularly, the work group size), the performance gain over the host program execution is very substantial.

Money-Making Algorithms Employing Trailing Stop
This article's objective is to study profitability of algorithms with different entries into trades and exits using trailing stop. Entry types to be used are random entry and reverse entry. Stop orders to be used are trailing stop and trailing take. The article demonstrates money-making algorithms with a profitability of about 30% per annum.

Limitless Opportunities with MetaTrader 5 and MQL5
In this article, I would like to give an example of what a trader's program can be like as well as what results can be achieved in 9 months, having started to learn MQL5 from scratch. This example will also show how multi-functional and informative such a program can be for a trader while taking minimum space on the price chart. And we will be able to see just how colorful, bright and intuitively clear to the user trade information panels can get. As well as many other features...

You are missing trading opportunities:
Free trading apps
Free Forex VPS for 24 hours
Over 8,000 signals for copying
Economic news for exploring financial markets
Registration Log in
If you do not have an account, please
register