Do you like the article?
Share it with others —
post a
link
to it!
Why Virtual Hosting On The MetaTrader 4 And MetaTrader 5 Is Better Than Usual VPS
147 618
76
Renting a virtual server right from the MetaTrader 4 and MetaTrader 5 terminals is the optimal way to ensure uninterrupted work of your trading robots and Signal subscriptions. Essentially, it is an analogue of a VPS though it is better and more suitable for addressing needs and challenges that a trader comes across. The server can be rented straight from your MetaTrader. It takes only a couple mouse clicks for Experts Advisors, indicators, scripts together with Signal subscriptions and settings to be transferred to the virtual server. The Virtual Hosting Cloud network was developed specially for MetaTrader and has all the advantages of a native solution.
Certainly, there are alternatives to virtual hosting but a closer look reveals that they do not compete. The first thing that comes to mind is using a home computer as a budget option. It could work, however a stable internet connection and uninterrupted power supply are not guaranteed. A VPS can be rented from a suitable provider found on the internet. That could be feasible but it implies a manual search for a server having minimum latency with the required Forex-broker's. Such a puzzle does not suit everyone.

| | |
| --- | --- |
| | Clearly, why not skip this painful process of finding the lesser of two evils and opt for the best solution customized to meet your trading requirements. Get a virtual server right now and try it out. You have free 24 hours of hosting so you can appreciate all of the advantages of our service! |


Virtual server + your MetaTrader = powerful engine "all in one" for autonomous trade of your robots
As automated trading and copy trading develop, virtual hosting becomes irreplaceable. There is no other way of achieving consistent around the clock work of trading robots and subscriptions to successful traders' signals. Native virtual hosting ideally suits for launching any trading robots in the MetaTrader terminals regardless of whether you wrote them yourself, bought them on the Market or commissioned third party developers in the Freelance. Rather, the robots bought in the Program Market have an additional advantage. The number of allowed installations does not change unlike when launching licensed products on a usual VPS.
If you do not trade with Experts but actively use signals and copy other traders' deals, you will see that virtual hosting offers all you need. It guarantees uninterrupted work of all your subscriptions. Only with MetaTrader, can you with just one click obtain a correctly configured and ready terminal located on the server of your choice ensuring a minimum latency with your trader.


A virtual server ensures minimum network delays

One of the most important advantages of the virtual hosting over ordinary VPS is the proximity of our servers to the brokers' trading servers. It brings down to the minimum the network delays at trading operations. VPS servers can be located anywhere as they are designed for a wide range of tasks and are not customized for work with brokers' servers. Even specialized Forex VPS services usually have 1 or 2 server locations, which do not cover all brokers.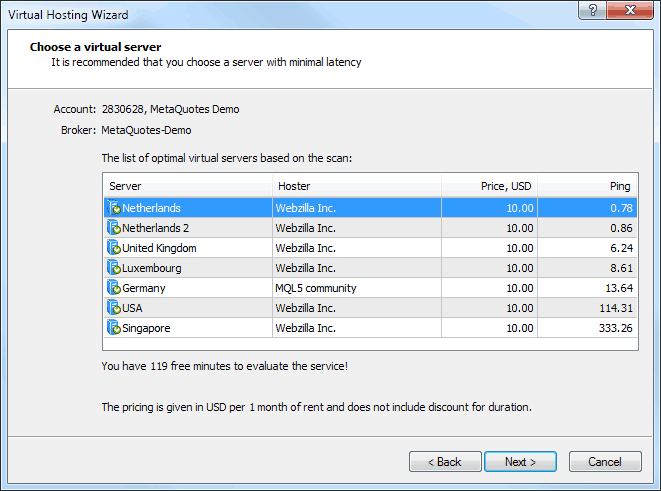 If you rent a standard VPS, you will need to find suitable types of servers yourself through trial and error. It is a waste of time and money, which does not guarantee that the rented VPS will have low latency to the broker's trading server. Virtual hosting in MetaTrader is good enough to stop this fruitless search. Rent a virtual server straight from your terminal and compare it with an ordinary VPS. You have a free 24 hours that you can either use continuously or break them down.


It is as simple as ABC because the virtual terminal does not require installation nor setting up

Another advantage of the virtual hosting is simplicity of launching a terminal. You do not need to install or set the terminal up.
The virtual terminal was created specially for work in the virtual hosting network and receives all settings right from your terminal after manual synchronization. Just start your MetaTrader 4 or MetaTrader 5, open required charts and symbols, launch indicators and Experts, specify the terminal settings and you are ready for automated trading. Now all you need to do is to rent a virtual server from your MetaTrader and perform migration.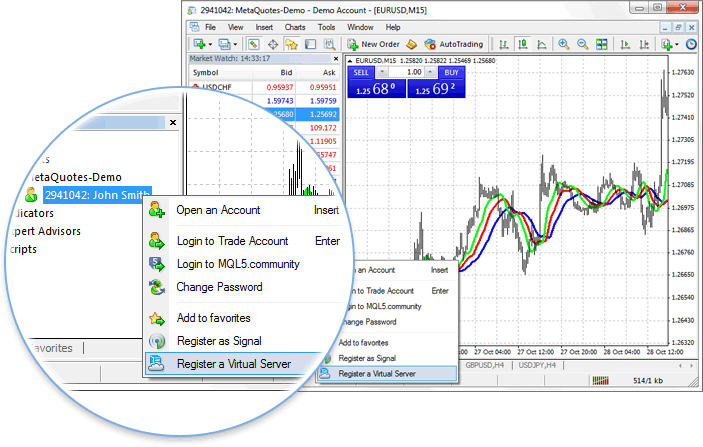 Renting a server is very easy and managing it does not take any effort. Starting, stopping, canceling hosting and control over usage of the virtual server resource are immediately available from MetaTrader. For that, a fully subscribed trading account Navigator features an icon with the location name and the state of the virtual server. Simply call the context menu and when you click on "Details" you will get the control and management dialog window.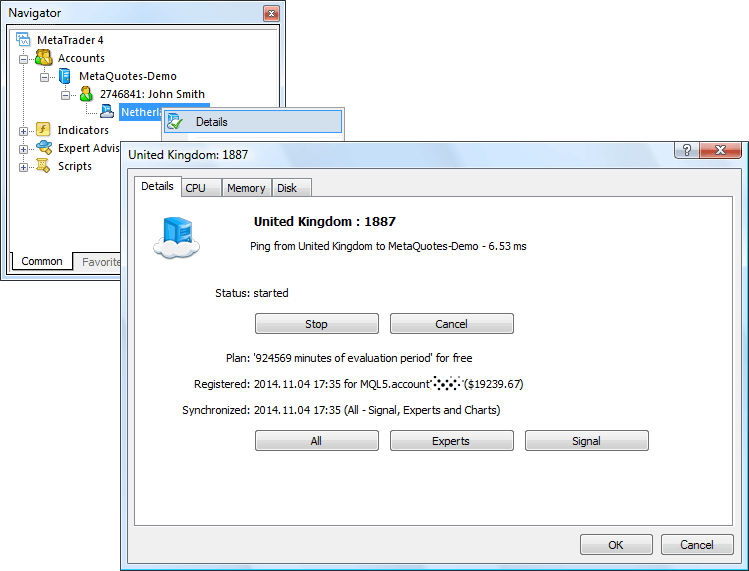 There you can start and stop a terminal copy, synchronize the client terminal current environment with the virtual one and view the charts of processor resource utilization as well as disk space and RAM. It must be emphasized that migration of your charts, launched robots and indicators as well as parameters of copying trades are performed only per your request. This way you have full control over transferring your launched robots and signal subscriptions as there is no automatic synchronization of the client terminal and the virtual one.

This is why virtual hosting in MetaTrader 4/5 is better than standard VPS
Summing up:

Creating a terminal copy is very simple and you can do it right in your MetaTrader platform.
You can easily rent a server with minimal network delays to your broker's trading server.

You can control the work of the virtual terminal right from your client terminal connected to the relevant trading account.

The rent fee is deducted automatically - in the MQL5.community payment system or from your trading account.

You can test the virtual hosting in a 24-hours' free trial period.
Trading with MetaTrader, it is truly logical to rent a virtual server right from the terminal.

Are you still in doubt? Rent a virtual server right now, launch a virtual terminal and check out the advantages of the native hosting!
See also:
Translated from Russian by MetaQuotes Ltd.
Original article: https://www.mql5.com/ru/articles/1171

MQL5 Programming Basics: Global Variables of the Terminal
This article highlights object-oriented capabilities of the MQL5 language for creating objects facilitating work with global variables of the terminal. As a practical example I consider a case when global variables are used as control points for implementation of program stages.

MQL5 Cookbook: Handling BookEvent
This article considers BookEvent - a Depth of Market event, and the principle of its processing. An MQL program, handling states of Depth of Market, serves as an example. It is written using the object-oriented approach. Results of handling are displayed on the screen as a panel and Depth of Market levels.

Liquid Chart
Would you like to see an hourly chart with bars opening from the second and the fifth minute of the hour? What does a redrawn chart look like when the opening time of bars is changing every minute? What advantages does trading on such charts have? You will find answers to these questions in this article.

How to Access the MySQL Database from MQL5 (MQL4)
The article describes the development of an interface between MQL and the MySQL database. It discusses existing practical solutions and offers a more convenient way to implement a library for working with databases. The article contains a detailed description of the functions, the interface structure, examples and some of specific features of working with MySQL. As for the software solutions, the article attachments include the files of dynamic libraries, documentation and script examples for the MQL4 and MQL5 languages.

You are missing trading opportunities:
Free trading apps
Free Forex VPS for 24 hours
Over 8,000 signals for copying
Economic news for exploring financial markets
Registration Log in
If you do not have an account, please
register