Interesting script?
So post a
link
to it -
let others appraise it

Trading Simulator - expert for MetaTrader 4
Views:

68973

Rating:

Published:

2009.09.07 08:03

Updated:

2016.11.22 07:32
You are missing trading opportunities:

Free trading apps
Free Forex VPS for 24 hours
Over 8,000 signals for copying
Economic news for exploring financial markets

If you do not have an account, please

register
The program-simulator for sharpening strategy, run of indicators and trainings of trading skills in general.
The new version of the program is available! Trading Simulator 2 (http://codebase.mql4.com/en/code/9220)
I welcome!
Has decided to please here you new programm
.

Download, use, train, turn out skills and intuition. Receive profit.

And a rating to put do not forget - let others to now about...)

The description:

The program realizes an opportunity to conduct virtual trade on historical data. Thus probably to test manual strategy in a high-speed mode, really and safely (!) estimating a parity of profit and the loss and your own abilities.

The program will help to feel really " fighting conditions ", with an opportunity of "scrolling" of events or pauses for decision-making or analysis of flights.

Train, fighters!))

Using:

The expert should be placed in a folder experts (C: \Program Files\...\experts).

It is required to start it in a tester of strategy with visualization.

In the bottom of a window there will be text labels which will operate trade.

For buying it is necessary to select (twice to click on a label) Buy to drag it a little from the bottom edge of a window and to release.

The label will change color and the warrant with preset values
Lot
,
Profit
and Stop- loss will open.
Near to a label there will be a value of profit/loss of that order.
For closing the order the corresponding label should be drawn back to the bottom edge of a window. Lot, Profit and Stop- loss
it is possible to change through property corresponding Label (to click twice and the right button to cause the menu).
In the top corner of a window the information about balance and the general profit is displayed.
It is possible to open simultaneously two opposite orders, so-called, lock.
There is an opportunity to close a part of a position!
It is necessary for this purpose:
To put a tester on a pause.
To change value of a label Lot to a part demanded for closing.
To drag up a label of the order (Buy or Sell) to a bottom of a window.
To resume a tester from a pause.
The specified part of the order will be closed, and other part remains in trade,
The label of the order (Buy or Sell) will jump aside back in the top active position.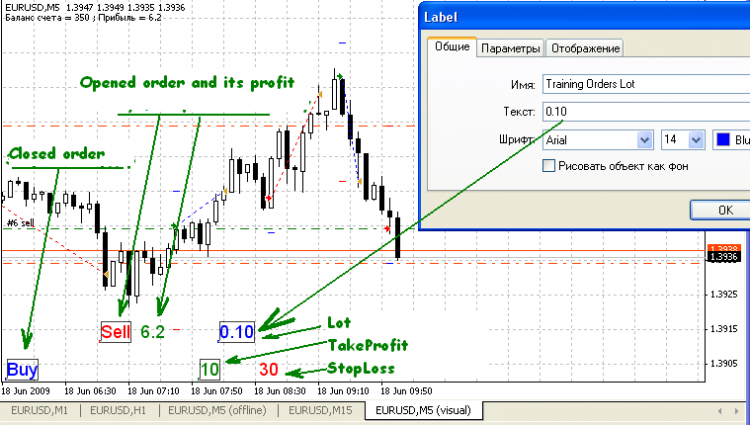 On management this expert is similar to other my indicator
Translated from Russian by MetaQuotes Ltd.
Original code: https://www.mql5.com/ru/code/9185

Custom indicator based on Heiken Ashi and aimed to handle swing trades
This indicator uses Heiken Ashi method to enable traders to keep their trades the maximum time.

Indicator to real time get InvestMiner.com news on Graph
With this indicator you can check data mining news from InvestMiner.com while analysis a symbol Graph.

VHF (Vertical Horizontal Filter)
Вертикальный горизонтальный фильтр (VHF) показывает, в какой фазе находится рынок: в фазе направленного движения или застоя.

Adaptive RSI
Adaptive RSI indicator