Interesting script?
So post a
link
to it -
let others appraise it

VHF (Vertical Horizontal Filter) - indicator for MetaTrader 4
Views:

30181

Rating:

Published:

2009.09.08 06:06

Updated:

2014.04.21 14:54
You are missing trading opportunities:

Free trading apps
Free Forex VPS for 24 hours
Over 8,000 signals for copying
Economic news for exploring financial markets

If you do not have an account, please

register
ВЕРТИКАЛЬНЫЙ ГОРИЗОНТАЛЬНЫЙ ФИЛЬТР
Вертикальный горизонтальный фильтр (VHF) показывает, в какой фазе находится рынок: в фазе направленного движения или застоя.
VHF впервые описал Адам Уайт в 1991 году.
Существует три способа интерпретации VHF:
Можно использовать сами значения VHF для определения степени направленности цен. Чем выше VHF, тем устойчивее тенденция.

Направление движения VHF позволяет определить, развивается ли фаза направленного движения или застоя.Рост VHF означает развитие тенденции; падение VHF указывает на возможное вступление рынка в фазу застоя.

Можно использовать как индикатор противоположного мнения. Если значения VHF высоки - ждите вступление рынка в период застоя; если низки - ждите начала тенденции.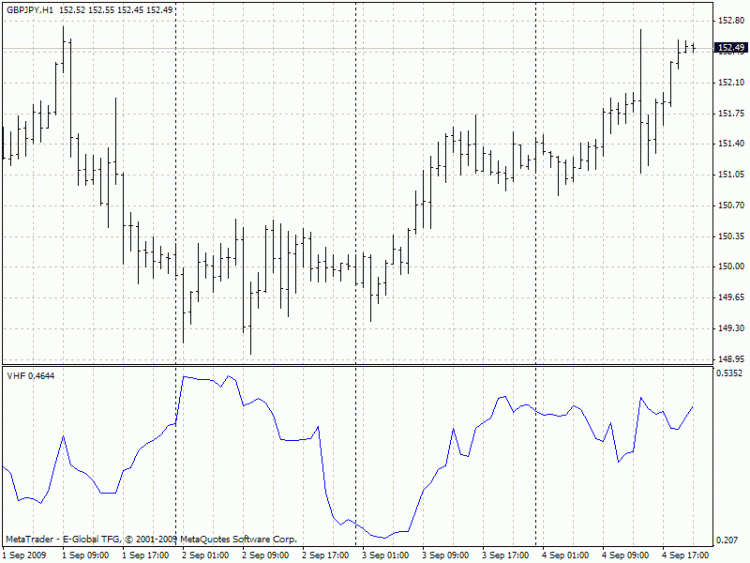 Trading Simulator
The program-simulator for sharpening strategy, run of indicators and trainings of trading skills in general.

Custom indicator based on Heiken Ashi and aimed to handle swing trades
This indicator uses Heiken Ashi method to enable traders to keep their trades the maximum time.

Adaptive RSI
Adaptive RSI indicator

VIDYA indicator
Variable Index Dynamic Average indicator