Real author:
TrendLaboratory
This is a moving where effect of retardation is lessened by means of damped cosinusoid defining coefficients' ratios in equation of the linearly weighted average (LWMA).
Statical filter (in points) helps to remove small spurts of the medium which gives a shape of stair-stepping.
Input Parameters:



input int                 MAPeriod       = 13;          
input  ENUM_MA_METHOD     MAType         = MODE_EMA;    
input ENUM_APPLIED_PRICE  MAPrice        = PRICE_CLOSE; 
input uint                Filter         = 0;           
input uint                ColorBarBack   = 1;           
input double              Deviation      = 0;           
input int                 Shift          = 0;           
This indicator was first implemented in MQL4 and published in CodeBase on September 21, 2006.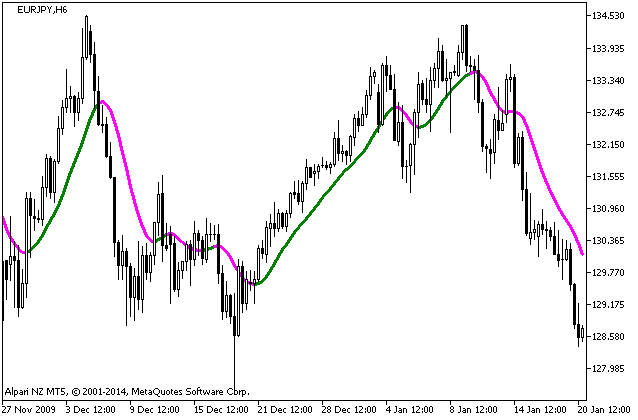 Fig.1. NonLagMA_v5 Indicator