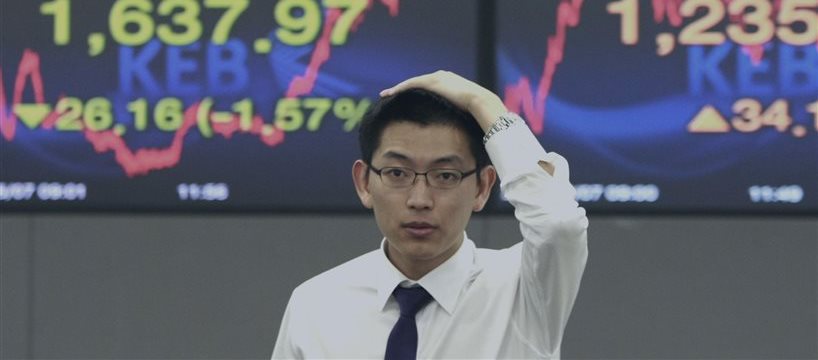 On Friday the yen kept weakening in Asia on a mix of civil turmoil in Hong Kong and disappointing serice industry surveys in Australia and China.
USD/JPY traded at 108.93, up 0.43%, while AUD/USD fell to 0.8778, down 0.27%.
The Australian dollar held early weakness on Friday after a disappointing services index reading with investors focused on Hong Kong as markets return to trade after a two-day break.
In Australia, the September AIGroup services index fell 4 points to 45.4, dashing hopes for a move higher into expansion zone from 49.4 in the last reading.
Markets in China remain shut until Oct. 8, but Hong Kong, where a week of civil protests for democratic elections has halted much of the central business district, will open after a two-day break.
Inspite of the China holiday, CFLP services PMI was released for September and came in at 54, below an average of 54.6 so far this year, and last month's figure of 54.4.
Hong Kong Chief Executive Leung Chun-ying said he had no plans to resign, but would appoint his second-in-command to represent the government in talks with protesters, as demonstrations continue to paralyzed large parts of the city.
The announcement came at a late news conference Thursday, just minutes before a midnight deadline set by protesters for a response to their demands for his resignation. It was the first hint of conciliation from the city's Beijing-backed government since the standoff began a week ago. So far, the details of the talks were not immediately available.
Overnight, the dollar traded mixed to lower against most major currencies, buoyed by upbeat data out of the U.S. labor market, while pressured lower by an Ebola scare and a European Central Bank decision to hold off on fresh stimulus measures.
The U.S. Labor Department reported earlier that the number of individuals filing for initial jobless benefits in the week ending Sept. 27 decreased by 8,000 to 287,000 from the previous week's revised total of 295,000.
Analysts had expected jobless claims to rise by 2,000 to 297,000 last week, which gave the dollar some support.
The data came after payroll processor ADP on Wednesday said that the U.S. private sector added 213,000 jobs last month, slightly ahead of expectations for jobs growth of 210,000.
Investors are now expecting Friday's U.S. nonfarm payrolls report, which was expected to show that the economy about 215,000 jobs in September.
Despite its recent rate cuts and announced plans to buy assets, the European Central Bank concluded on Thursday it would take a wait-and-see approach to current stimulus tools before loosening policy further should the need arise.
ECB President Mario Draghi reiterated that the bank is unanimous in its commitment to using additional unconventional measures if necessary, but a decision to stick with policies in place gave the euro support, which came at the greenback's expense.
Also yesterday, Draghi outlined details of its asset-purchasing program announced last month, which will include the purchase of covered bonds beginning this month and asset-backed securities later in the fourth quarter.
The program is to run for two years and will substantially increase the ECB's balance sheet, he said, adding that it will also help get inflation back to the ECB's long term target of 2%.