2014-09-11 01:30 GMT (or 03:30 MQ MT5 time) | [AUD - Employment Change]
if actual > forecast (or actual data) = good for currency (for AUD in our case)
[AUD - Employment Change] = Change in the number of employed people during the previous month. Job creation is an important leading indicator of consumer spending, which accounts for a majority of overall economic activity.
==========
The unemployment rate in Australia fell to a seasonally adjusted 6.1 percent in August, the Australian Bureau of Statistics said on Thursday. That topped forecasts for a rate of 6.3 percent and was down from 6.4 percent in July.
The figures, which were much better than expected, follow a surprise spike in July to 6.4 per cent from 6 per cent in June. The participation rates also improved in August, from 64.8 to 65.2 per cent.
Economists were immediately sceptical about the massive surge in new jobs, which was the largest single month-on-month increase since the series started in 1978:
"The wise thing [in the July figures] would have been to take the exceptional weakness with a grain of salt," UBS strategist Andrew Lilley said.
"This time the market should take the exceptional strength with a grain of salt.
"[The new job figure] is like saying the number of new jobs in the US is 1.5 million - it's an insane number. It is a sample error," he said.

Monthly change in employed persons (thousands, seasonally adjusted):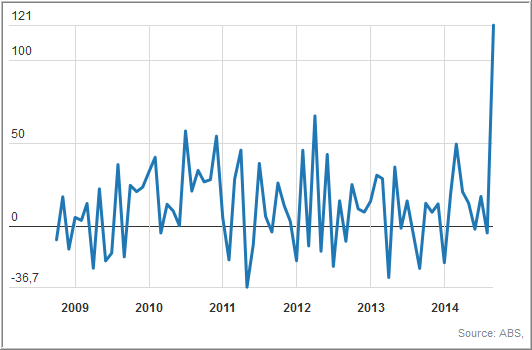 AUDUSD M5 : 65 pips price movement by AUD - Employment Change news event