Do you like the article?
Share it with others —
post a
link
to it!
How to become a Signals Provider for MetaTrader 4 and MetaTrader 5
283 333
235
Do you want to offer your trading signals and make profit? Register on MQL5.com website as a Seller, specify your trading account and offer traders a subscription to copy your trades. The solution is simple, while the efforts are minimized.
Access to a huge audience
The entire market of millions of MetaTrader 4 and MetaTrader 5 users is at your fingertips. You will receive direct access to your potential subscribers.


Built-in trade copying system
The Signals service is built directly into the MetaTrader platform. Copying trades does not require any additional tools or settings. Subscribing to signals is easy and convenient. You do not have to worry about technical issues and support.


Payment support
The service provides a ready-made mechanism allowing you to securely accept payments for your signals. The system supports credit cards and popular payment wallets. The payment, minus the service fee, is made to the seller's internal account, from which the money can be conveniently withdrawn at any time. The service also supports auto renewal of subscriptions.

Register as a Seller
Complete a simple registration procedure to get the Seller status. The registration is fully automatic and takes no more than five minutes.

Go to the Seller section of your profile, read the service rules and accept them: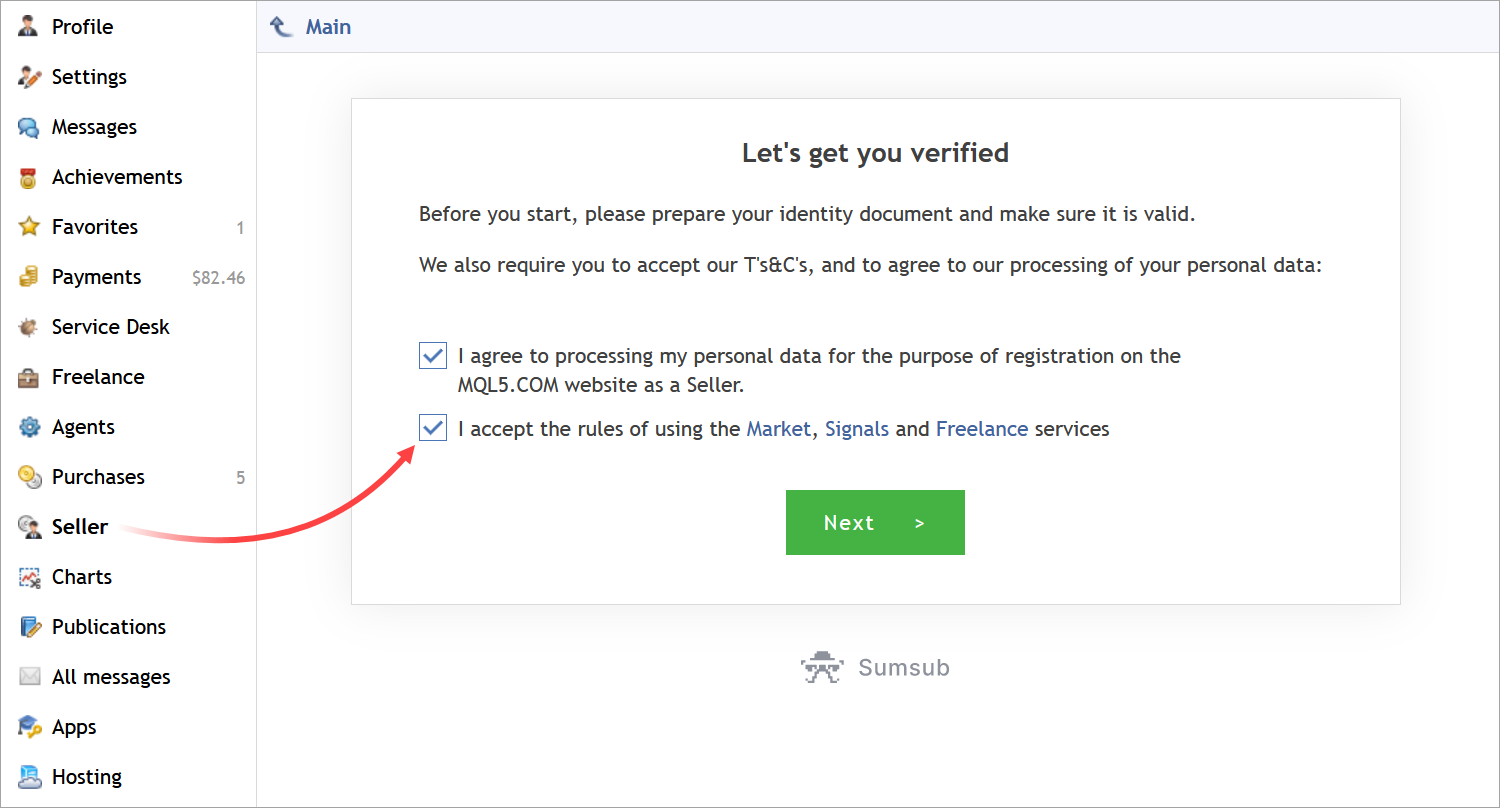 To verify your identity, take a photo and upload one of the proposed documents. You should upload a recent photo. Please note that scanned copies are not accepted. The photo must be of good quality, featuring the document in full, with readable information.
In the next step, take a photo with this document in hand, as shown in the figure below.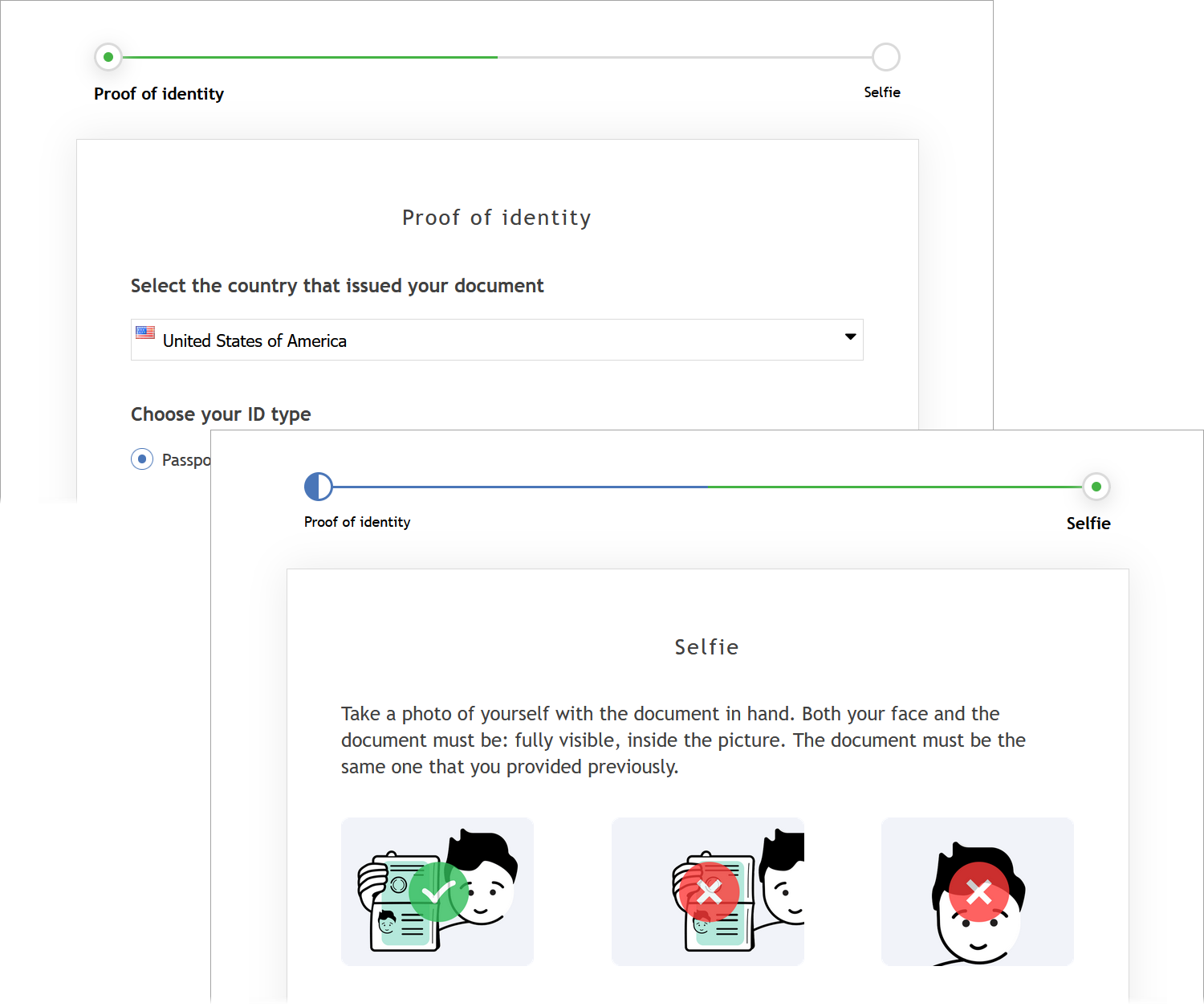 Document verification takes only a few minutes. Once the verification is complete, you will receive a notification via the website message, by email and SMS. Upon registration, a relevant icon will appear next to your name in your profile.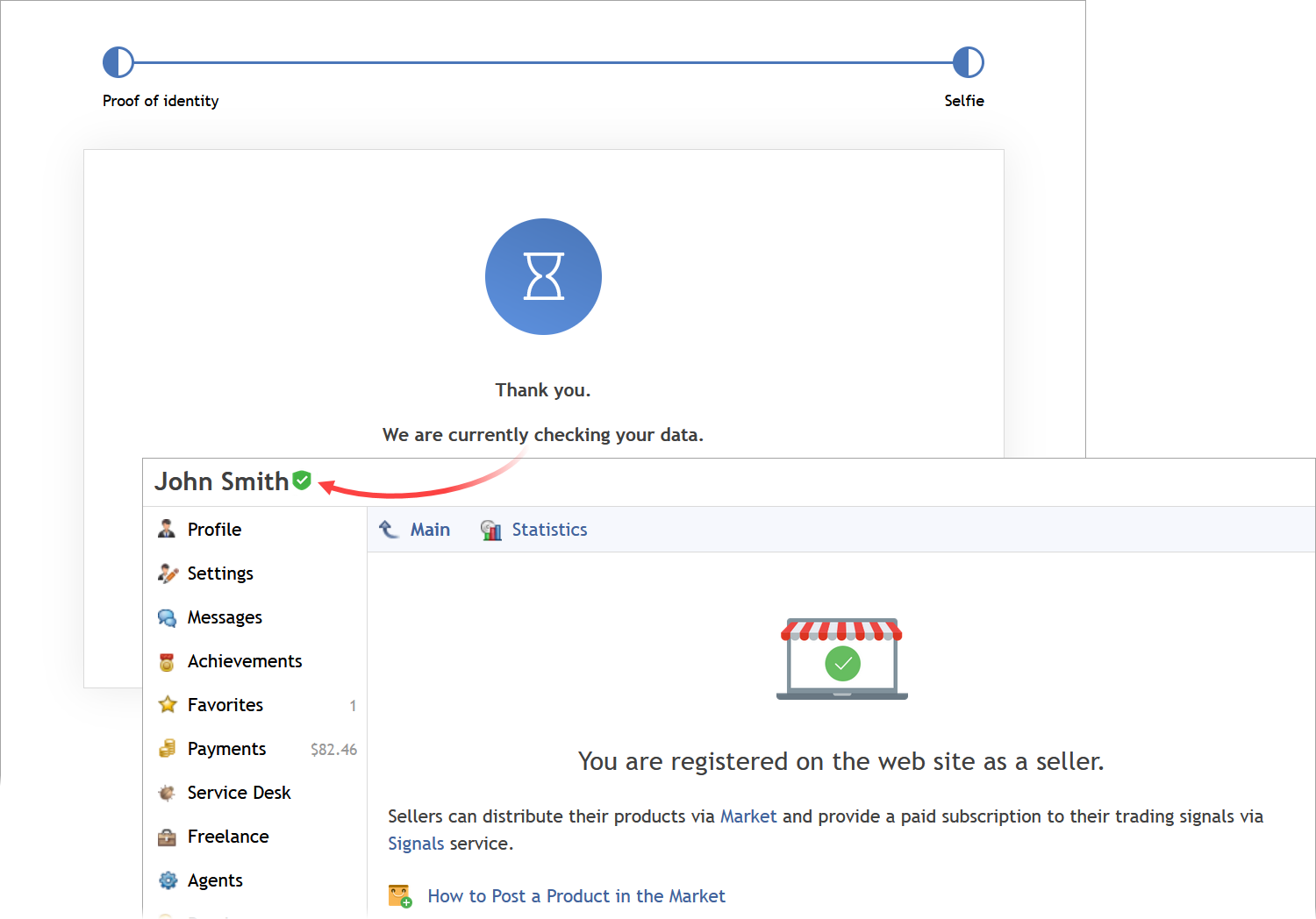 Create a signal

Go to Signals and click "Create signal".

Fill in the following fields in the form that appears:
Signal name.
Signal access mode: private for monitoring or public for sale.
Account number.
Investor password. This password allows connecting to the account in read-only mode without access to trading. You do not need to specify a master password. Your account remains completely secure.
Broker server name. Start typing a company or a server name and then select the appropriate option from the list.
Monthly subscription price. Only signals broadcast from real accounts can be paid.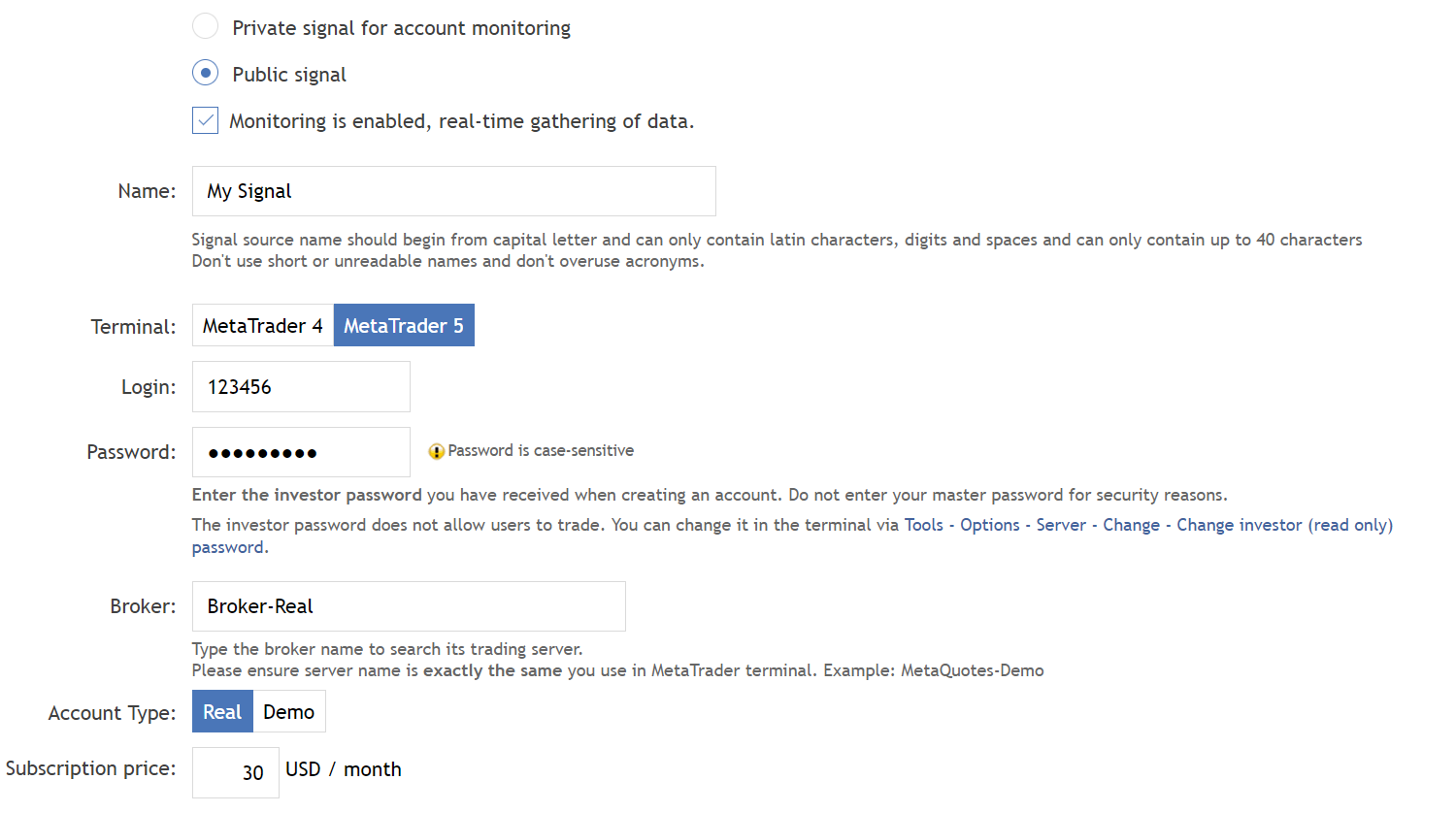 After entering all the data, click Add to make your signal available for subscription. It will display the entire trading history of the account, as well as various statistics and graphs based on it, so that potential subscribers can evaluate your experience.

As you can see, everything is quite simple. Register as a Seller, send your identification details and put your signal up for sale. When everything is done, you will become a Signals Provider. Lots of traders using MetaTrader 4 and MetaTrader 5 will be able to subscribe to your signal.
JOIN IN
We also recommend reading the following articles on signals:
Translated from Russian by MetaQuotes Ltd.
Original article: https://www.mql5.com/ru/articles/591

MetaTrader 4 on Linux
In this article, we demonstrate an easy way to install MetaTrader 4 on popular Linux versions — Ubuntu and Debian. These systems are widely used on server hardware as well as on traders' personal computers.

How to Test a Trading Robot Before Buying
Buying a trading robot on MQL5 Market has a distinct benefit over all other similar options - an automated system offered can be thoroughly tested directly in the MetaTrader 5 terminal. Before buying, an Expert Advisor can and should be carefully run in all unfavorable modes in the built-in Strategy Tester to get a complete grasp of the system.

Interview with Juan Pablo Alonso Escobar (ATC 2012)
"Everyone who is struggling with programming and who were not able to participate in this year's competition, know that it becomes a lot easier in time", said Juan Pablo Alonso Escobar (JPAlonso), the hero of today's interview.

Interview with Dmitry Terentew (ATC 2012)
Is it really necessary to be a programmer to develop trading robots? Do we need to spend years monitoring price charts to be able to "feel" the market? All these issues have been discussed in our interview with Dmitry Terentew (SAFF), whose trading robot has been occupying the first page of the Championship from the very beginning.

You are missing trading opportunities:
Free trading apps
Over 8,000 signals for copying
Economic news for exploring financial markets
Registration Log in
If you do not have an account, please
register