Interview on Automated Trading Championship 2011 from 22.11.2011.
Interview with Boris Odintsov (bobsley) is the last one within the ATC Champions League project. Boris won the Automated Trading Championship 2010 - the first Championship held for the Expert Advisors in the new MQL5 language. Having appeared in the top ten already in the first week of the ATC 2010, his EA brought it to the finish and earned $77,000. This year, Boris participates in the competition with the same Expert Advisor with modified settings. Perhaps the robot would still be able to repeat its success.

Boris, let's talk about your first place in the Automated Trading Championship 2010. This was your first Championship, and it was successful. Don't you have the feeling that all this is very easy?
On the one hand, yes, but on the other hand, not. What helped me to win last year was that MQL5 had just appeared, and not all could learn it for the Championship. On the other hand, those who had mastered it quickly were both experienced traders and experienced programmers.
Do you also consider yourself an experienced trader and programmer? What helped you to take the first place - a little more experience, luck, or something else?
I consider myself an experienced programmer. But as a trader, I am a newcomer - I've been trading forex since 2008. It's not easy to become an experience trader. As for taking the first place, I think my approach to modeling helped me, as well as error-free coding. Last year, many good strategies were victims of programming errors.
Approach to modeling and error-free coding - is that enough to win? In general, have you derived your formula of success?
Let's say, it's half the battle. In general, it all depends on luck. By luck in the Championship I mean a certain function depending on the number of participants, the average strength of a participant's Expert Advisor and the strength of your own EA.
In addition to the prize money, what other bonuses have you obtained from your win?
A doubtless bonus was that I met new people, including those not connected with the Championship.
If not a secret, can you tell us how you've spend the prize money?
Approximately half was spent on pleasing myself and my relatives and friends. Spend money to have fun. The remaining money was deposited and invested in the stock market.
Has your win somehow affected your relationship with the financial markets? Perhaps, have you become more confident or more cautious on the contrary?
My relationship remained the same. I've always tried to be extremely careful when dealing with money.
What happened to the winning program? Do you run this Expert Advisor on your live account?
Yes, I used the same robot on my live accounts both in MetaTrader 4 and MetaTrader 5. But I had to quit trading on real forex accounts for some time. I had a PAMM account with the 75% share of investors, which was completely lost in two months.
Now I'm trying different variants of Expert Advisors on cent accounts.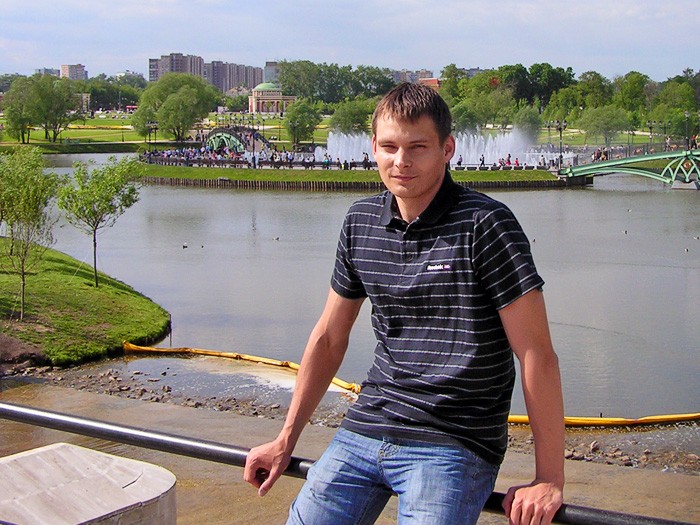 You write that you have quit real Forex trading. But in the Championship your Expert Advisor increased the initial deposit more than 7 times. Why can't real Forex trading be profitable, in your opinion?
I think the reason is in the difference of live accounts from demo, and the difference is dramatic. I've checked it: I run the same robot on cent accounts with 3-7 different brokers. After 2 months I compared results. The results showed the deviation of the account balances up to 40%. And I still don't know what to do with it.
Of course, there can be many different reasons. One broker had slippages, the other had server crash, etc. All this in the long term had an impact on the accounts balance.
In the end, I came to a conclusion that the obstacle to being profitable in Forex is lack of a single vendor of prices.
Did you have any offers to sell your winning EA? Generally, the first place in the Championship brings fame. Do you receive orders for the development of Expert Advisors?
Yes there were different offers, most people would only buy its fully break-even lossless version.
I receive orders, but I don't have time for that. Sometimes, I just help with the finalization of EAs in terms of bug fixes and optimizations.
When did you decide to take part in the ATC 2011? Does the first place in the previous Championship give any confidence?
Yes, it gives confidence, especially in psychological terms. I decided to take part immediately after the ATC 2011 was announced. I had a ready Expert Advisor and only needed to adjust it to the Championship rules. I use the same last year EA in its slightly improved and optimized form. All the information about it can be found in discussions of my EA at the ATC 2010.
What has changed in it?
I've changed the internal settings of the indicator, Stop Loss and Take Profit levels. But of course I will not tell you about all its settings - let it have its own secret.
Do you use the same Expert Advisor because it already performed well, or simply because you didn't want to develop a new program?
Yes, exactly, I never got to write a better Expert Advisor than the ATC 2010 winner, although I tried many different strategies.
You use the same pair EURUSD, despite the fact that the markets are highly volatile. Why have you chosen this pair?
Well, I use the same pair, because of its highest liquidity. True, the market volatility has increased greatly, but I've modified the EA's settings accordingly.
A year ago, your Expert Advisor did not like flat highly volatile market periods. It had no protection from them. Have you added anything to protect it now?
No, no protection has been added. It still remains the most vulnerable point of my EA.
The Experts journal contains messages of error in the request got before sending them to the server. What's the reason or such entries? Do you use OrderCheck() before sending an order to the server?
Yes, of course, I use it. I use standard libraries for trading. And after the OrderCheck() function, in case a request cannot be executes, an error message is added to the journal.
The reason for such entries is simple. I used to comment these lines to prevent logging of such errors. But with the update of the MetaTrader 5 Client Terminal, all the libraries are also updated - this is what I forgot to check before submitting my Expert Advisor.
But I don't think this is an error.
From the first deal, your EA has been trading large lots (from 2.6 to 3.2). Could this be the reason for such a large drawdown? Have you tried to use a more cautious and flexible money management system?
On real accounts, of course, the risk is much lower. But in the Championship, I think, the risk should be maximum, otherwise you would not catch up with the leaders.
But the EA's start was not quite good. Why is that? Was the behavior of the market unexpected?
At the beginning of the Championship there was the flat period. And my EA's balance was "hanging" between $2000 and $12,000. But then the market entered the phase of the trend, and the balance began to grow. Only time can tell what happens next.
And seeing the first results, were you disappointed? Or were you sure that it would get featured on the first page with the appearance of trend?
I optimized my EA by the recovery factor. Therefore, I hoped to see it in the top ten. So it happened. And I am very happy, regardless of its future behavior.
Watching the performance of your EA last year, you must have noticed some of its parts to be improved. And you've had such an opportunity. Now, looking at it, do you want to change anything else?

No, now you see the completely finished version of the Expert Advisor. It's can't be better.

This year, the first lines get often occupied by multicurrency Expert Advisors. Don't you want to try trading several pairs?
Of course I would like to trade several currencies. But most of multicurrency EAs are gridders. I do not want to create a multicurrency gridder. To make a good multicurrency EA, you need to choose strategies for different pairs. I haven't managed to find such strategies yet.
A year has passed, the MetaTrader 5 platform continues to evolve, as well as the MQL5 language and development environment. Did you make predictions about the possible number of participants before the start of the competition?
My predictions were not fulfilled. I thought that there would be about 1,000 EAs in the Championship. And the number of registered was about 2,000. However, the number of admitted Expert Advisors was slightly higher than last year.
The MetaTrader 5 terminal includes the generator of Expert Advisors MQL5 Wizard. Have you tried it?
Yes, I've tried it. It is a very handy tool for beginners. It allows to construct an Expert Advisor in 5 minutes. But it is not enough for developing a really good trading robot with a complicated logic.
What are its weak points?
It is almost impossible to implement a complex strategy (algorithm) in it. Here's a simple example: If I want to close an order, say, at 14:00, regardless of the reason, I can't do it in the Wizard. Also, you can't implement multicurrency Expert Advisors with different strategies.
You follow the evolution of the MQL5 development environment and the new services?
Launch of the new services is a powerful step forward for your company. I especially like the MQL5 Cloud Network, where in case of lack of your computer's capacity you can access virtually unlimited resources for optimizing your strategies. Another good service is the MQL5.community Market, where you can buy and sell various kinds of services.
Do you now follow the Championship? What do you think about the participants? Can you make a prediction on the winner or a possible balance of the winning EA?
It's difficult to make any predictions. Here is a recent example of the sixth week report of the Championship "The Expert Advisor of Igor Korepin (Xupypr) has eventually left our TOP-10 and never again will its chart cross the Championship leader - the Expert Advisor of mysterious ias".
Nevertheless, only 2 days passed, and their charts crossed a couple of times.
As for the participants, I like aharata for his audacity and assertiveness. He is working hard to be successful. That's the way it should be. I also like the balance curves of AAA777 from Belarus and ronnielee from Singapore, and of course ias with its mysterious multicurrency strategy.
I wish success to all participants. And remember - to get anywhere you have to put one foot in front of the other. I'm glad to see you all here!
Boris, thank you for the interview. Good luck to you!
Translated from Russian by MetaQuotes Software Corp.
Original article: https://www.mql5.com/ru/articles/550