The main purpose of the Championship is to popularize automated trading and accumulate practical information in this field of knowledge. However, some Participants are interested only in getting prize money. For this purpose, they use various unfair methods.
As the Organizer of the Championship, we are doing our best to provide a fair competition and suppress all attempts to "play booty". It is this reasoning that sets the strict Rules of the Championship.
In order to identify each Participant of the Championship unambiguously, we conduct the annual Registration. In this year it will start on the 1st of July and finish on the 19th of September 2008. You should enter correct details about yourself, since, in case of infringement of the Registration rules, you may be disqualified at any stage of the Championship.
The Registration page contains four sections:
Public
Private
Files
Comments
The first section, Public, contains information that (except the e-mail address) will be available to all visitors of the Championship website.
The next section, Private, contains the details that will only be available to the authorized representatives of the Organizer and of the Sponsors.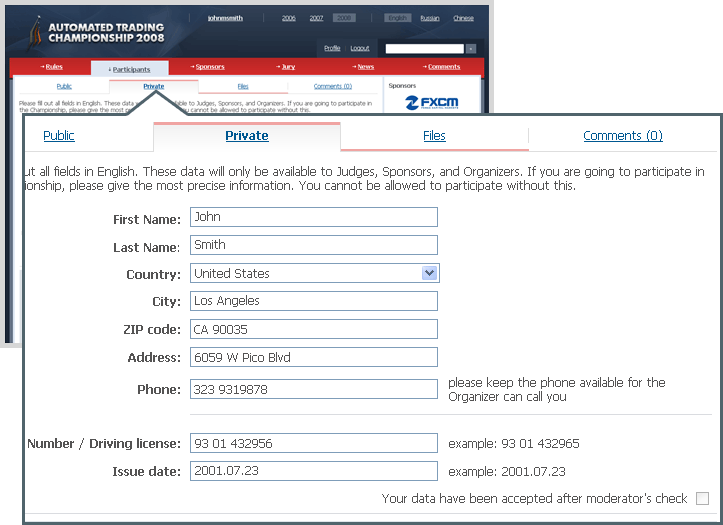 All information of the contest Participant must be provided in the most reliable and error-free manner. In case you don't comply with this requirement, you won't be admitted to take prize places.
This section also contains an additional provision:
If you win, you must, according to the Championship Rules, submit the photocopy of your passport (pages with your photo) to the Organizer by fax or email info@mql4.com within 7 working days after the Winners have been announced. This is necessary to identify you. In case of breaking this rule, you will be, unfortunately, automatically disqualified.
In addition, you must submit your bank details to the Organizer within 7 working days after your win. The prizes will be transferred to the Winners' accounts through a bank within 7 working days after the Winners' bank details have been received.
In case the Organizer cannot contact you by phone given above within 7 days after the Winners have been announced, you will be disqualified by the Judges' decision and the winners list will be revised.
Remember: If you leave any fields in this section unfilled or filled out with violation of the rules, you will not be able to complete Registration! You can check whether your details have been accepted or not by viewing the "Your details are accepted after moderator's check" field. If it is checked, your details have been accepted.

In section Files, you must specify the name of your Expert Advisor in the English language (!), select a symbol and a timeframe for your EA to trade. Your EA will be launched exactly on the chart with this currency pair and on the specified timeframe, if you are allowed to participate in the Championship. You won't be able to correct any mistakes after the Registration is closed.
Below is the form you should use to upload in your Participant's profile all allowed files, namely:
one EA file as a source code or as an executable file;
one file containing the data that may be necessary for your EA to work;
up to 5 libraries;
up to 5 indicators.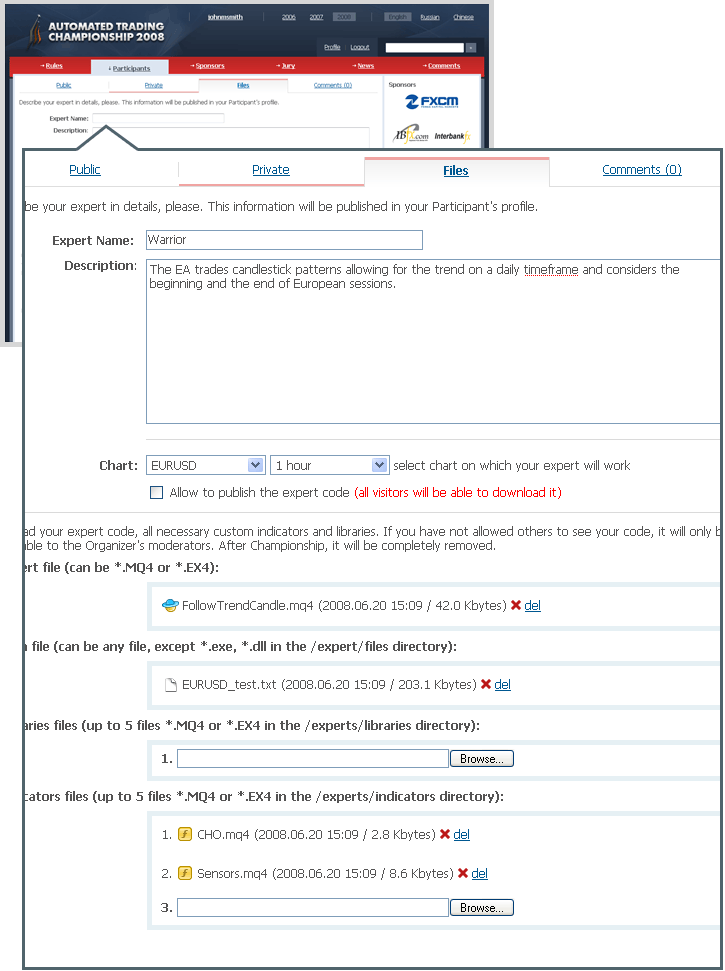 You can modify, delete and upload again any of the above files until the Registration is closed.
If you forgot to add something or to modify a file on the Files page, you will not be able to make any changes after the Registration is closed on the 19th of September 2008. No exceptions are provided for.
Section Comments is intended for contacting moderators and for technical messages about pre-checks of the EA submitted for the contest. Don't forget to look into it from time to time: It is very likely that your EA will not comply with the Rules and you will have to make urgent changes in it.
Infringements
Participation in the Championship is free of charge, but has its limitations. The amount of Participants of the Championship will be considerably smaller than that of persons completed Registration. EAs submitted for the contest must comply with technical requirements described in the Rules of Automated Trading Championship 2008.

The experiences gained from the previous Championships shows clearly that the amount of competitors intending to trick is very large. Below is the list of most frequent infringements that cause guaranteed non-admission for the authors of Expert Advisors:
submitting one EA by different Participants;
submitting one EA with different parameters by different Participants;
submitting one EA with some insignificant cosmetic changes by different Participants;
submitting EAs written by third parties;

registering relatives and/or friends;
submitting unauthentic registration details;
registering using anonymous proxy servers.

Such infringements will result in unambiguous disqualification of all suspected Participants. No discussions or private investigations of any disqualification cases will be performed. In previous contests, many Participants ignored these rules and set themselves up cleverer than others. This is why many of them (hundreds of registrations) were not admitted to participate. Be rational and don't make such mistakes, please.

Besides:
Any Participant qualified for the competition may be disqualified in the course of the Championship because of cardinal changes in his or her Expert Advisor's working.
Each EA must make at least 5 conscious trades independently (it means that it must independently open and close each position) within the Championship period. Buy&Hold strategies are not allowed.
If an EA consumes considerable CPU resources at the expense of other Participants' EAs, this will result in disqualification, too. The qualification of a Participant must comply with the requirements of economical code writing.
Attention: Organizers are justified in non-admitting to participation in the Championship without assigning any reasons to any developer, in respect of whom there are any smallest suspicions of infringing the Rules.

We conduct the Championship among traders that know how to trade on financial markets and are able to create an Expert Advisor independently. Therefore, each Participant must have sufficient knowledge about this subject and be able to answer one or another question about automated trading. Any suspicion of a Participant's substitution can result in disqualification. If you doubt about whether you have infringed one Rule or another or not, this must set you thinking.
Translated from Russian by MetaQuotes Software Corp.
Original article: https://www.mql5.com/ru/articles/1539