Do you like the article?
Share it with others —
post a
link
to it!
Freelance Jobs on MQL5.com - Developer's Favorite Place
8 451
0
Developers of trading robots no longer need to market their services to traders that require Expert Advisors - as now they will find you. Already, thousands of traders place orders to MQL5 freelance developers, and pay for work in on MQL5.com.
The essence of the service is simple - it is a single place where developers of trading robots meet their clients. The Freelance service allows them to learn about each other and organize the development process so that both parties' interests are secured. As experience shows, both traders and developers have long needed such a mechanism of interaction. For 4 years, this service facilitated three thousand traders to pay for more than 10 000 jobs performed. And the activity of traders and developers is constantly growing!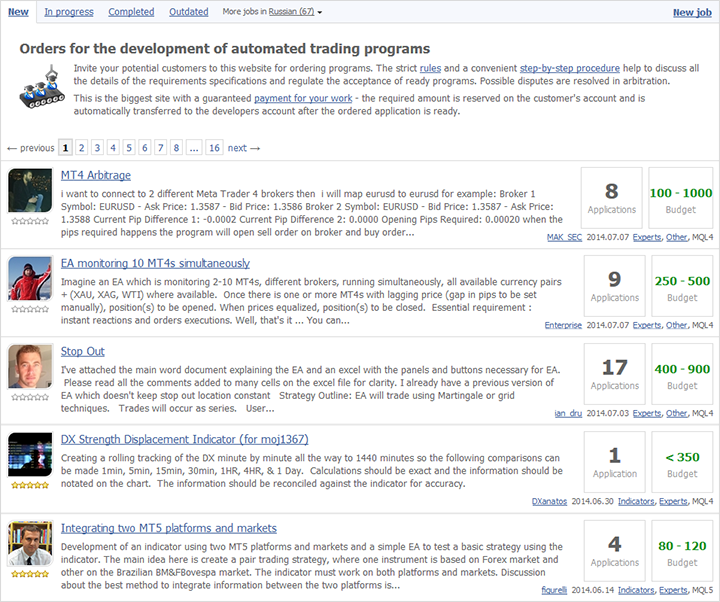 The principle of this service is similar to an auction: trader places an order, and developers compete to win for its implementation, stating their conditions on time and cost. When a trader decides the developer of choice, the agreed fee amount is locked on the trader's account and selected developer begins to fulfill the order.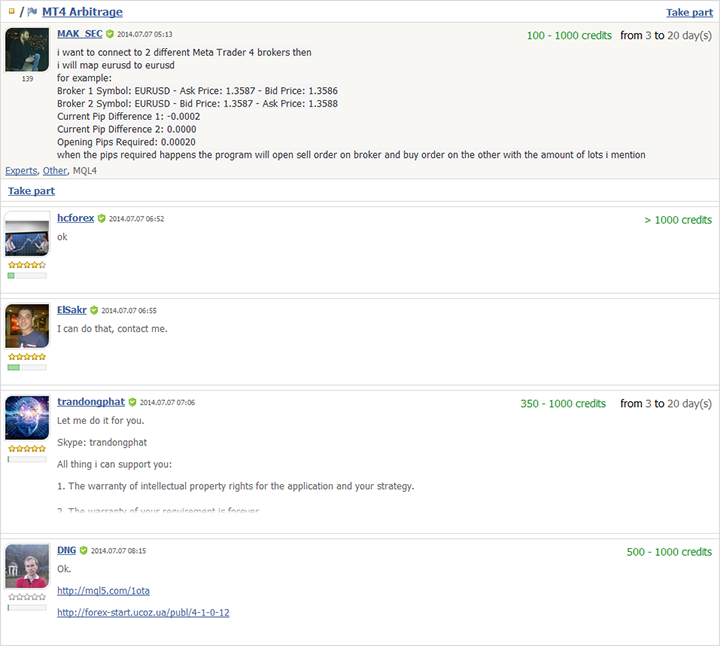 The entire job is split into stages. This way developers get a clear understanding of the job requested by traders, and traders have greater control of the process. It is important that every action is logged: being a developer, you accepted the Required Specifications - this fact is recorded, and you are obliged to create an application exactly as described; being a customer, you accepted the finished order - this fact is also recorded, and money are transferred to developer's account. This mechanism allows to increase the share of successfully completed jobs and reduce the number of disputes.

All the jobs in the service are performed this way, but this is only a part of the picture.
Infrastructure
The Freelance service was created with the goal to eliminate all the hurdles of developers: searching for clients, providing efficient interaction with customers and handling financial operations. All these tasks were successfully completed:
Searching for clients - the most important task for a freelance developer. MQL5.com initially was visited mainly by developers of trading robots who assisted in the development of a huge knowledge base. However, the development of the site and its integration with the MetaTrader 4/5 trading platforms have significantly changed the situation.

Today, most of the MQL5.com visitors are regular traders without programming skills. They visit the site not to learn how to program algorithmic trading, but to use all the advantages of such applications. Everyone can download, buy and, of course, order the development of a trading application. MQL5.com is no longer the site for the advanced programmers, as now it makes algorithmic trading accessible for everyone.




(Click the image to see the full version of the infographic)


Integration of MQL5 Services with trading platforms further increases the audience of potential customers for freelancers. Now, any of the 7 million users can order an application at the Freelance section directly through the trading platform.

Efficient interaction with customers - it is very convenient to use comments that are bound to an order and are always available. Both parties can post comments - this is a great opportunity to log all the order related messages in one place. In addition, the Chat is always available for quick solving of simple questions.

Payment for services - financial challenges of such services are successfully handled using the MQL5.community payment system. For buyer, it doesn't matter what to use: credit card, PayPal or a national payment system. All MQL5.com users can deposit funds to their accounts using a variety of supported methods.




Developers always receive payments to their MQL5.community accounts in U.S. dollars, which can be withdrawn to PayPal, WebMoney or bank account.
Therefore, all the non-production problems have been resolved, so developers do not need to worry about them. Instead, they can concentrate on the essentials - the implementation of an order and receipt of payment. Want to work as a Freelance Developer on the biggest market of traders? Then read the "How to Start Making Money in the Freelance at MQL5.com" article.
Welcome to the Freelance at MQL5.com - the best place for developers of trading robots!
SEE NEW ORDERS
Translated from Russian by MetaQuotes Ltd.
Original article: https://www.mql5.com/ru/articles/1022

Tips for an Effective Product Presentation on the Market
Selling programs to traders effectively does not only require writing an efficient and useful product and then publishing it on the Market. It is vital to provide a comprehensive, detailed description and good illustrations. A quality logo and correct screenshots are equally as important as the "true coding". Bear in mind a simple formula: no downloads = no sales.

Building a Social Technology Startup, Part II: Programming an MQL5 REST Client
Let's now shape the PHP-based Twitter idea which was introduced in the first part of this article. We are assembling the different parts of the SDSS. Regarding the client side of the system architecture, we are relying on the new MQL5 WebRequest() function for sending trading signals via HTTP.

MQL5 Cookbook - Multi-Currency Expert Advisor and Working with Pending Orders in MQL5
This time we are going to create a multi-currency Expert Advisor with a trading algorithm based on work with the pending orders Buy Stop and Sell Stop. This article considers the following matters: trading in a specified time range, placing/modifying/deleting pending orders, checking if the last position was closed at Take Profit or Stop Loss and control of the deals history for each symbol.

Outline of MetaTrader Market (Infographics)
A few weeks ago we published the infographic on Freelance service. We also promised to reveal some statistics of the MetaTrader Market. Now, we invite you to examine the data we have gathered.

You are missing trading opportunities:
Free trading apps
Over 8,000 signals for copying
Economic news for exploring financial markets
Registration Log in
If you do not have an account, please
register