Real Author:
GurievEugen
Two-Line MACD. This indicator is available by default in a great deal of trading platforms. But it cannot be found in Metatrader 5.
This indicator was first implemented in MQL4 and published in at Code Base 02.07.2012.
The indicator uses classes of the SmoothAlgorithms.mqh library (to be copied into terminal_data_directory\MQL5\Include). A detailed description of the use of the classes was given in the article "Averaging Price Series for Intermediate Calculations Without Using Additional Buffers".
Input parameters:



input Smooth_Method XMA_Method=MODE_T3; 
input int Fast_XMA = 12; 
input int Slow_XMA = 26; 
input int XPhase= 100;  
input Smooth_Method Signal_Method=MODE_JJMA; 
input int Signal_XMA=9; 
input int Signal_Phase=100;                  
input int AppliedPrice=PRICE_CLOSE_;
Illustration: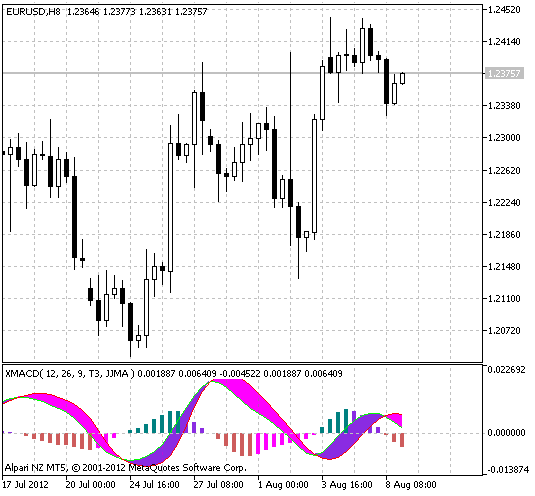 Fig.1 GXMACD Indicator