Interesting script?
So post a
link
to it -
let others appraise it

exp_Amstell-SL - expert for MetaTrader 5
Published by:

Views:

2593

Rating:

votes: 21

Published:

2017.08.10 10:52
You are missing trading opportunities:

Free trading apps
Free Forex VPS for 24 hours
Over 8,000 signals for copying
Economic news for exploring financial markets

If you do not have an account, please

register
Author of the idea: Iurii Tokman.
MQL5 code author: Vladimir Karputov.
Trades without setting Take Profit and Stop Loss levels (these levels are calculated virtually).
Buying:
if there are no BUY positions
if there are BUY positions, and the open price of the last position is higher than the current price by Distance.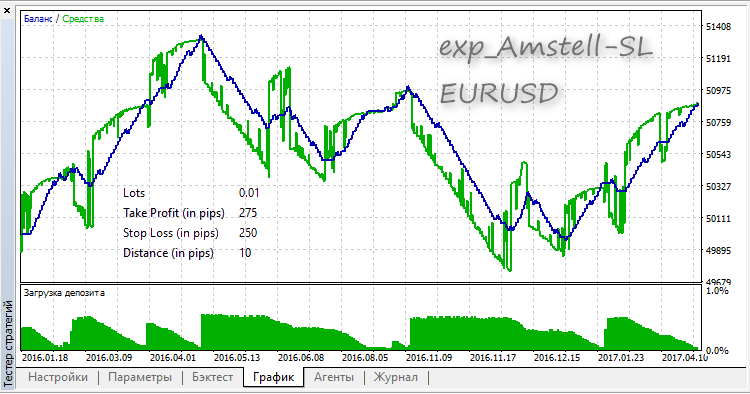 Translated from Russian by MetaQuotes Ltd.
Original code: https://www.mql5.com/ru/code/18443

Crossing of two iMA
Crossover of two iMAs (Moving Averages), one more iMA (Moving Average) is used as the filter. Lot: manual or risk percent of balance. Stop, Market or Limit orders. The EA also sets Stop Loss, Take Profit, Trailing Stop.

NRTR_ATR_STOP_HTF
The NRTR_ATR_STOP indicator with the timeframe selection option available in the indicator input parameters.

Exp_NRTR_ATR_STOP
The trading system is based on the NRTR_ATR_STOP indicator signals.

Vertical line
The indicator draws a vertical line (OBJ_VLINE) and then moves it to the specified time (hours and minutes).