The indicator detects and visualizes one of the fundamental patterns of Price Action. On high timeframes (from 1 day to a month) the pin bar is a strong signal to enter the market in a direction opposite to the long shadow. The indicator is calculated only on complete bars.
The input parameters are:
input

 

int

      MinBarSize=

200

;         input int      PriceOffset=50;         
input double   BarRatio=2.2;           
input double   TailRatio=1.3;          
input bool     UseBodyDirection=false; 
input bool     UseCloseThirds=true;    
                                     
input int      ExtremumOfBars=10;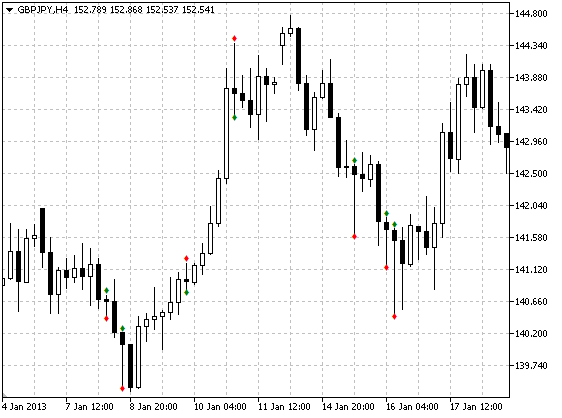 Tips:
The indicator contains two buffers. One of them stores values of the recommended price for opening a stop order (green points), the second one contains recommended values for stop loss (red points). The indicator is built into an Expert Advisor traditionally using the iCustom() function.
In the figure some pin bars with suitable proportions are not indicated because of the value of the ExtremumOfBars parameter. By changing the parameters of recognition you can achieve the desired results.